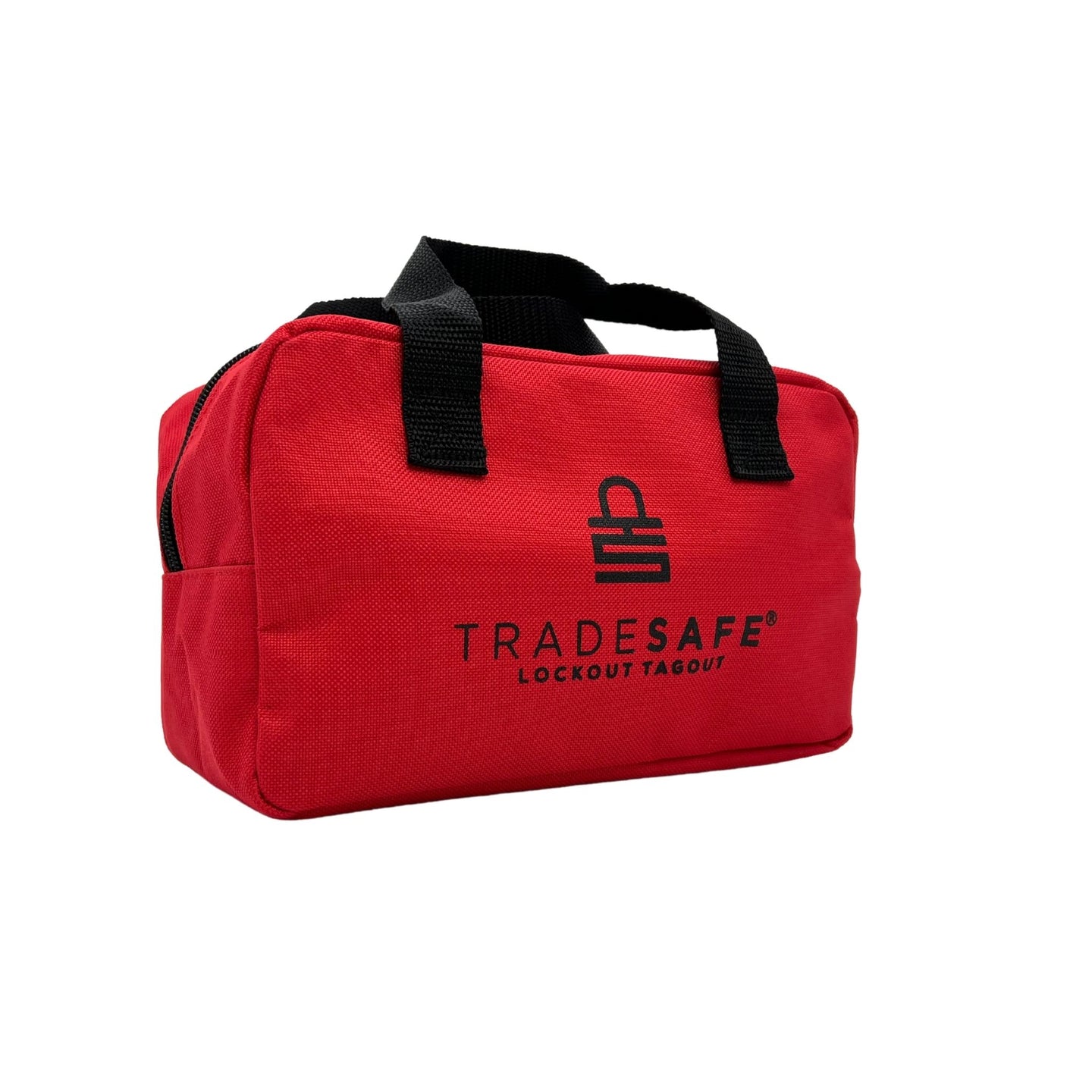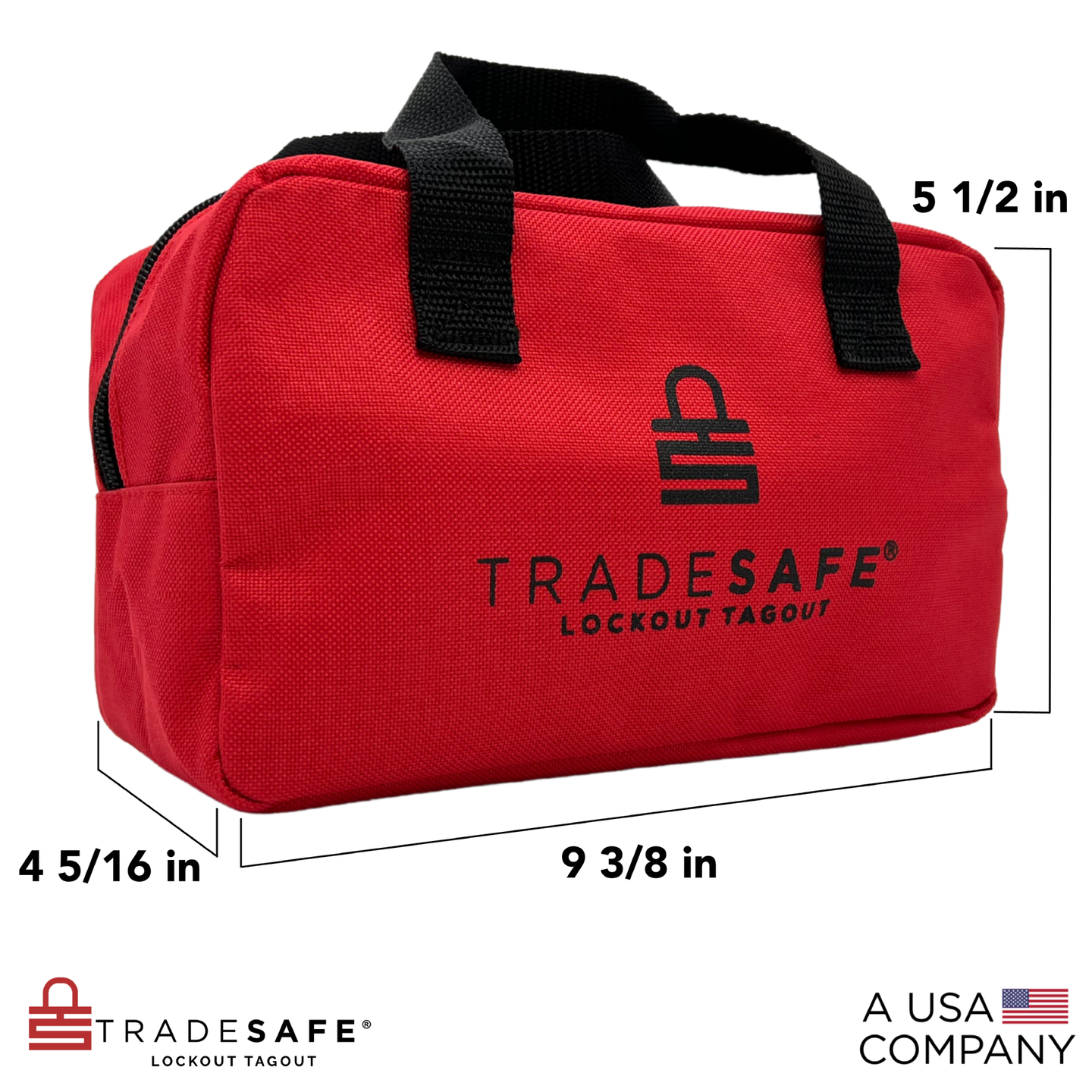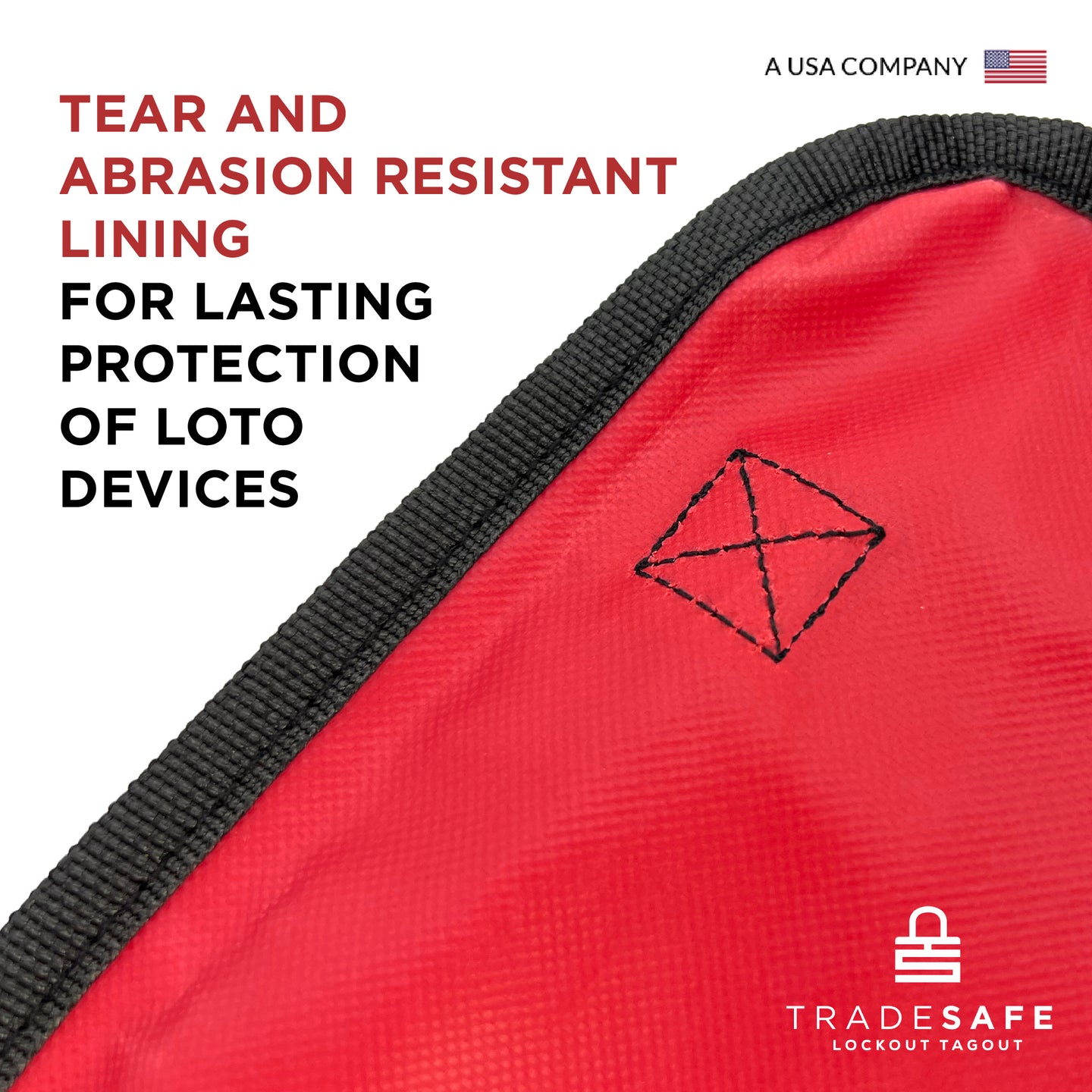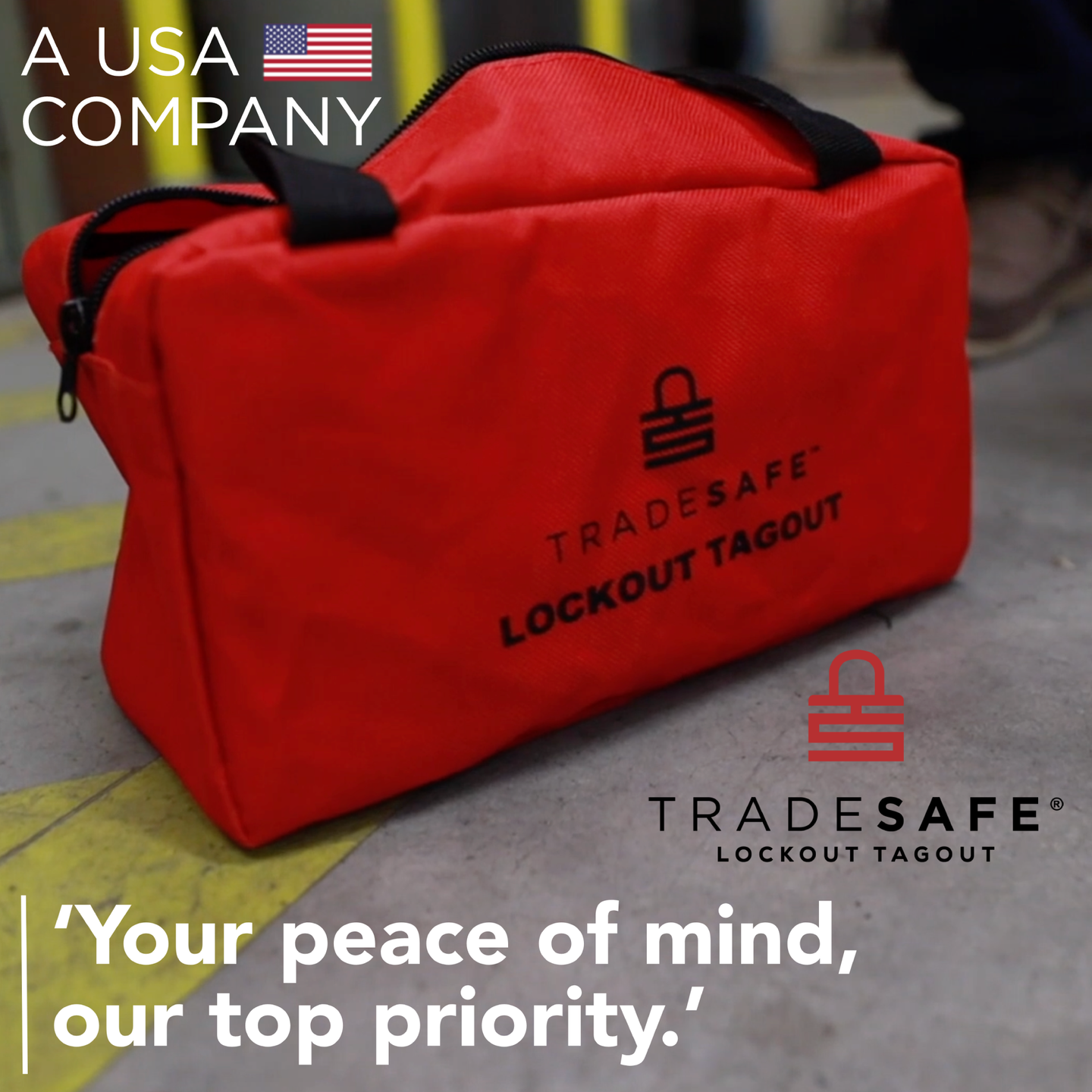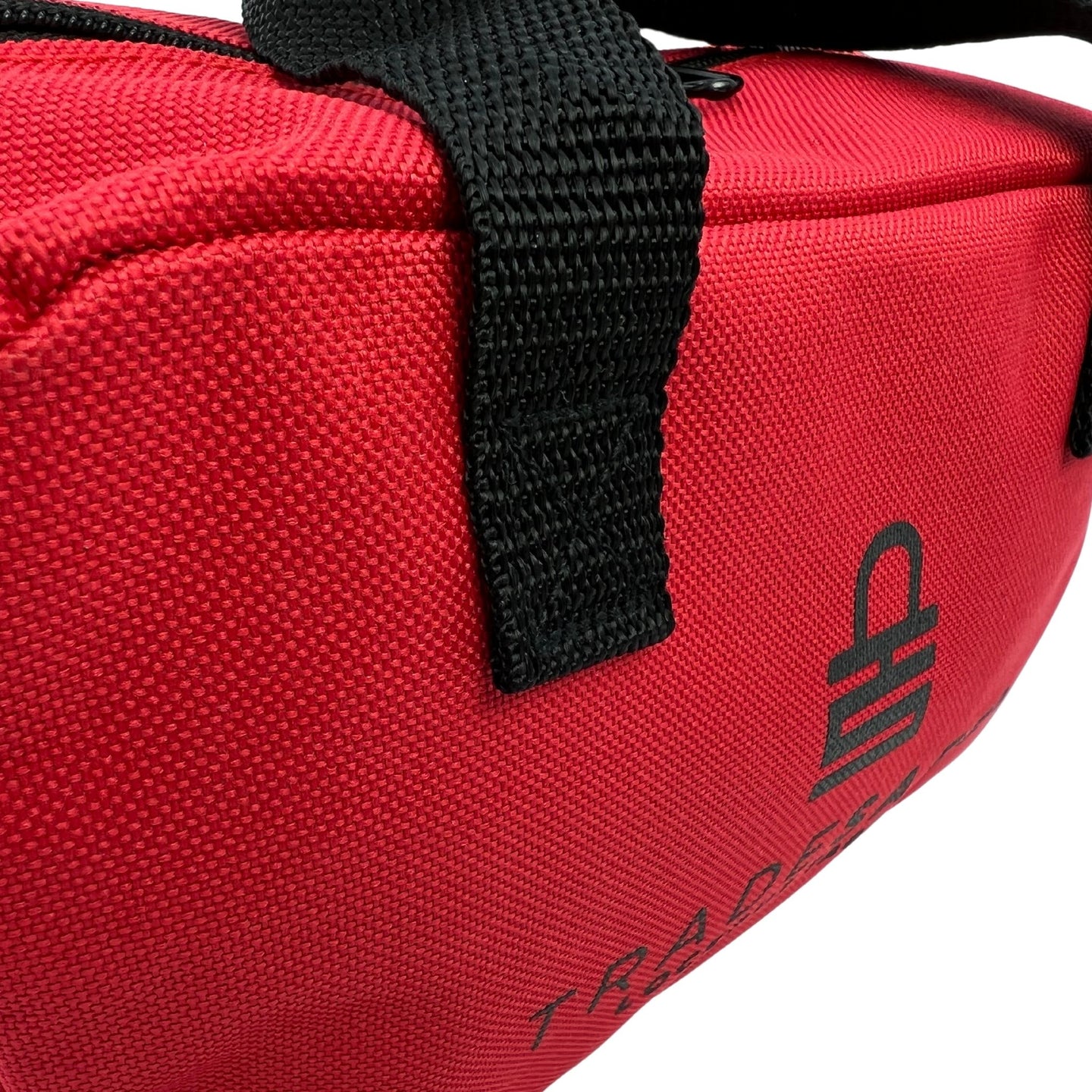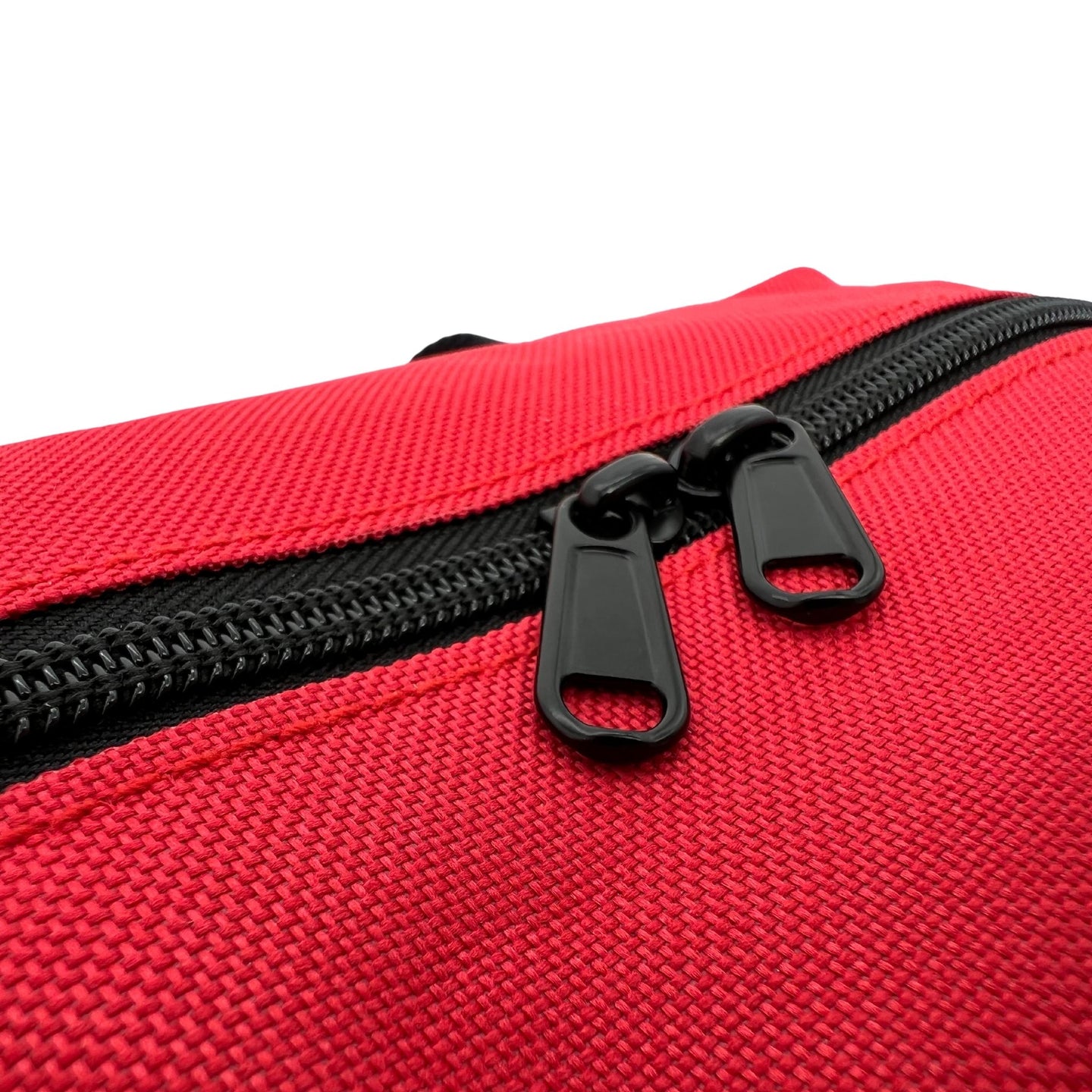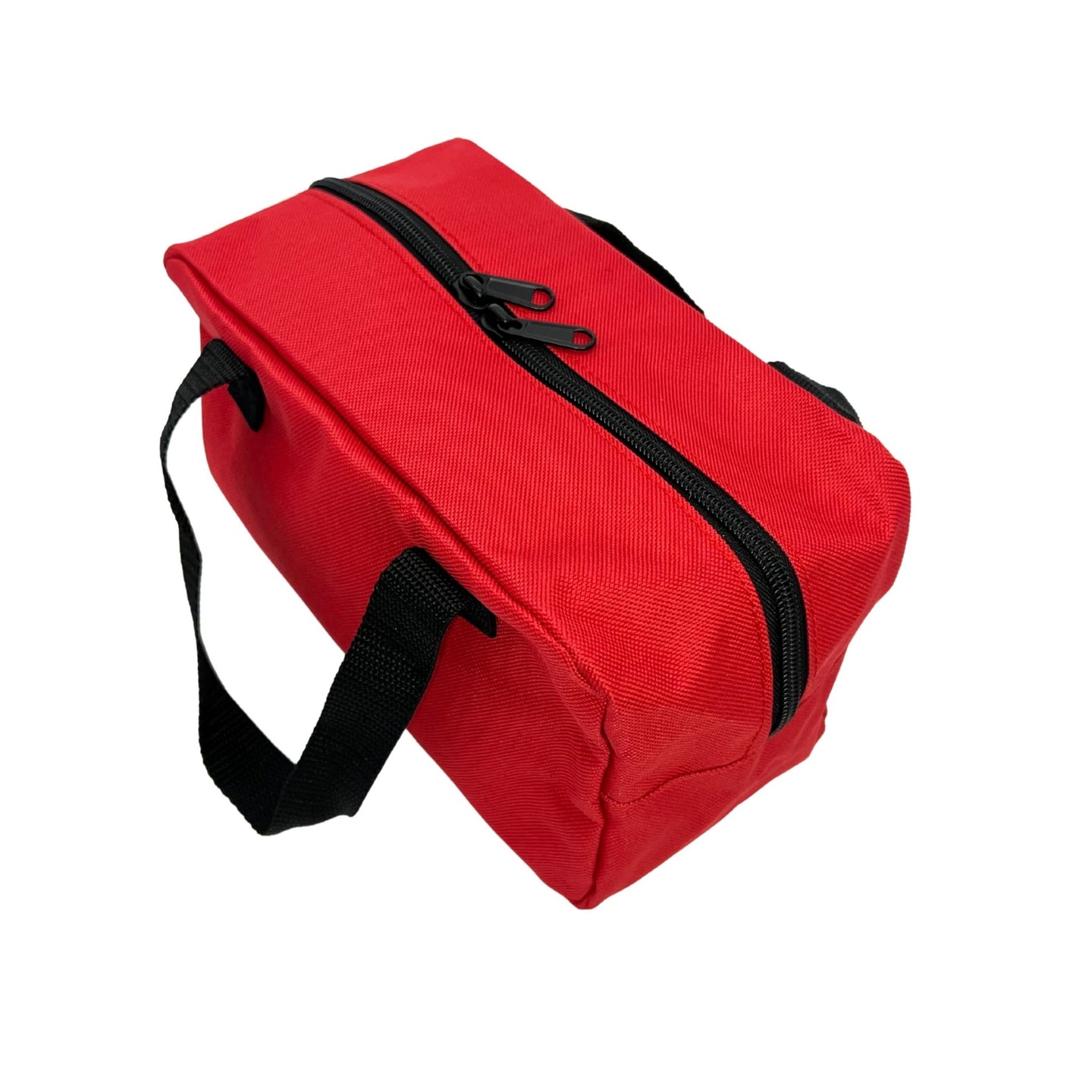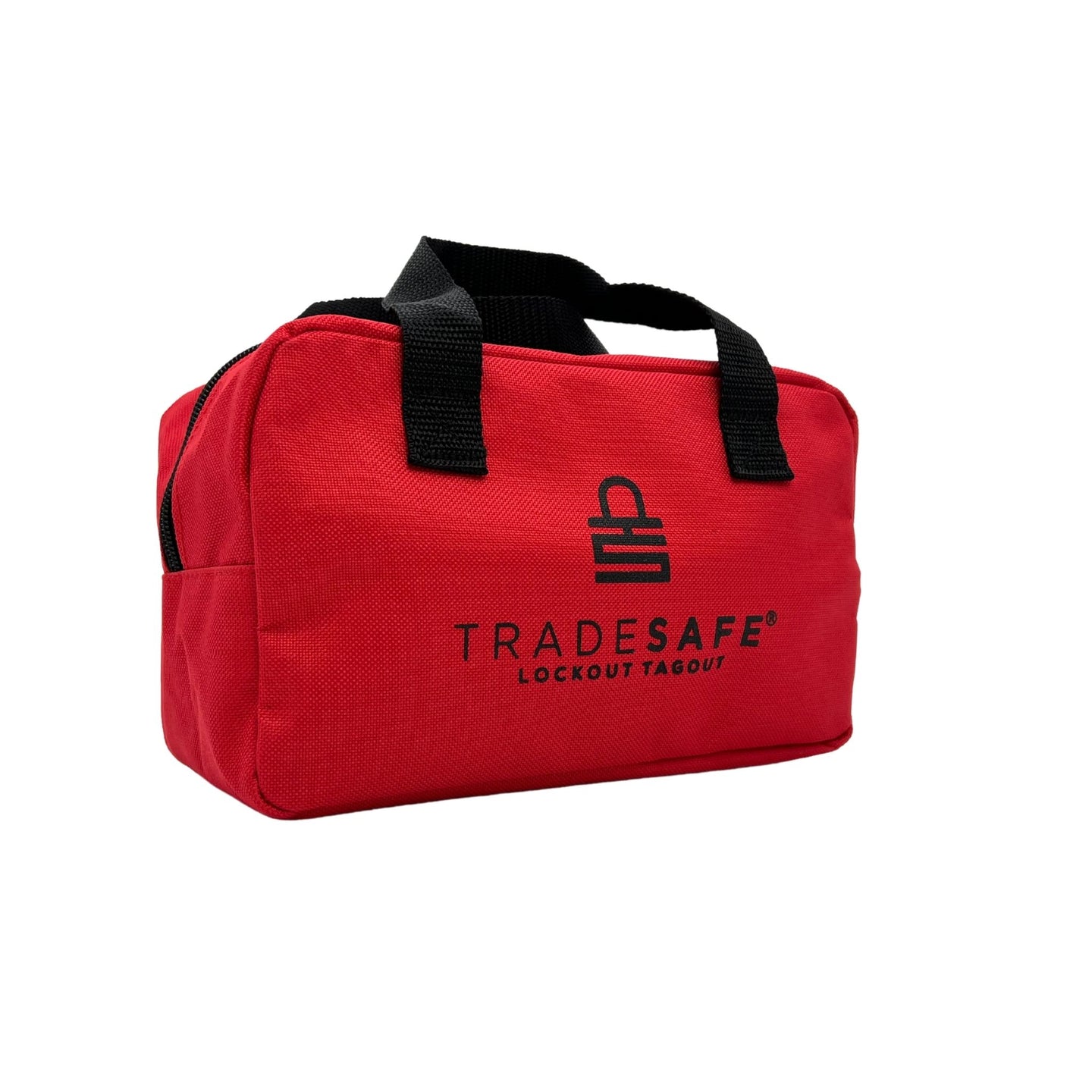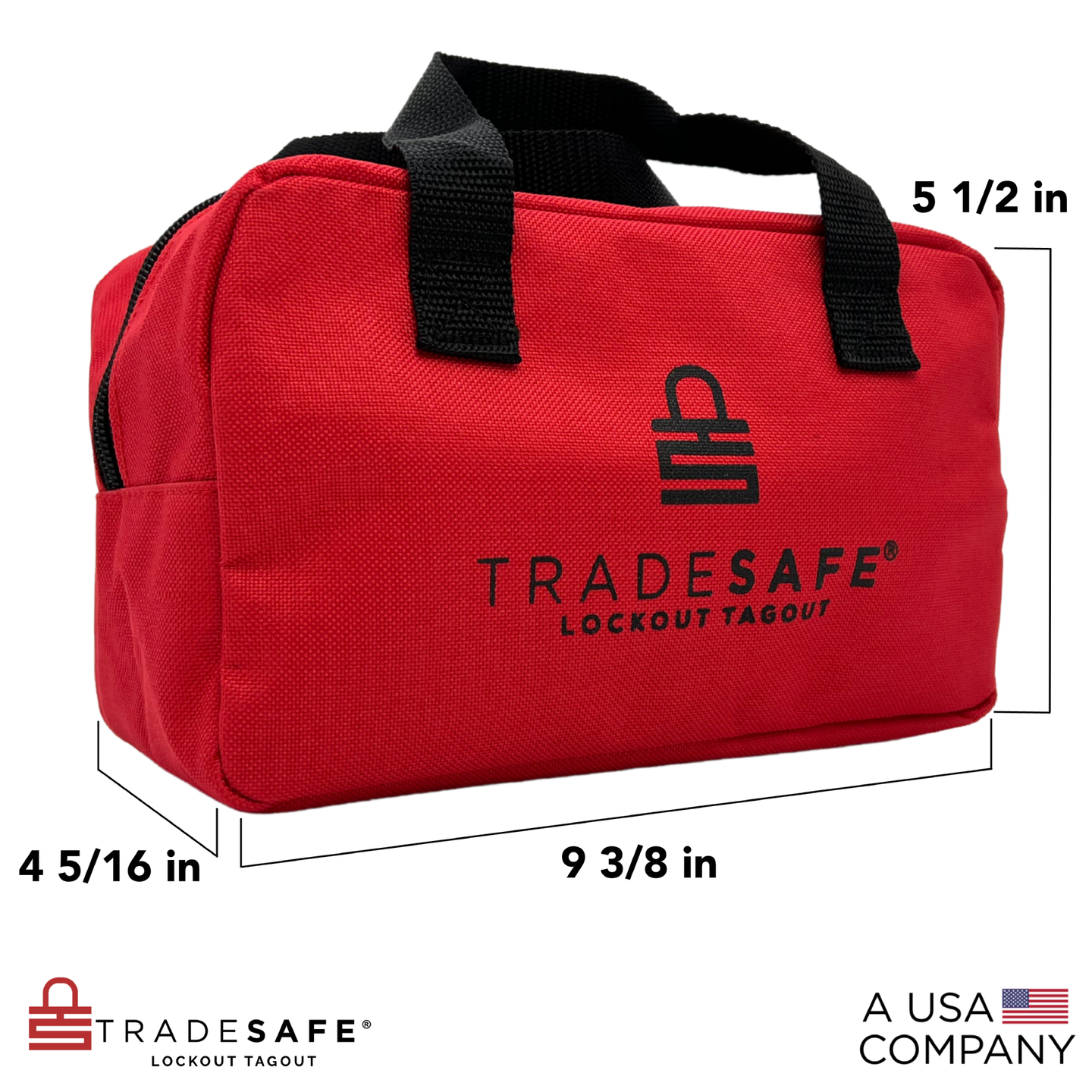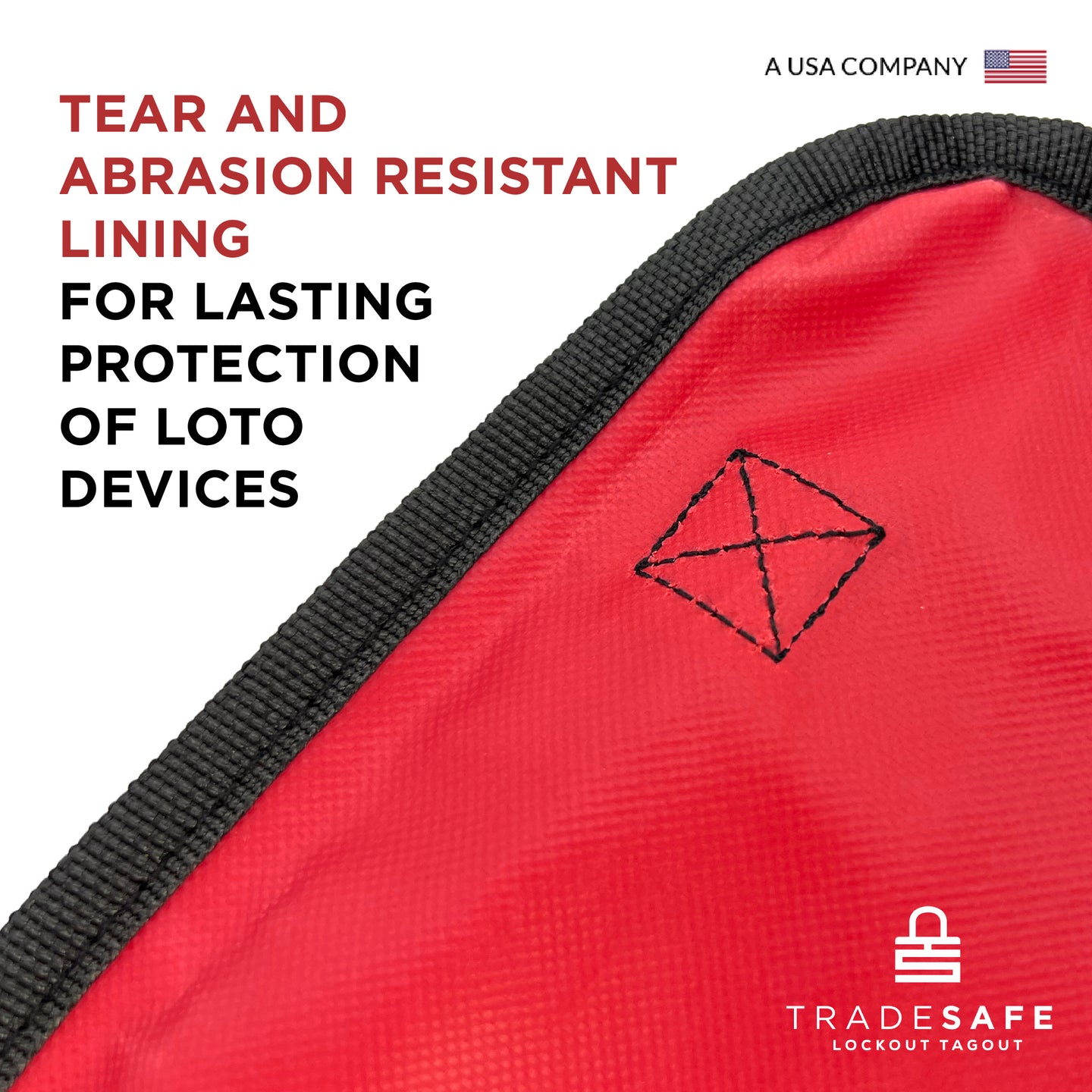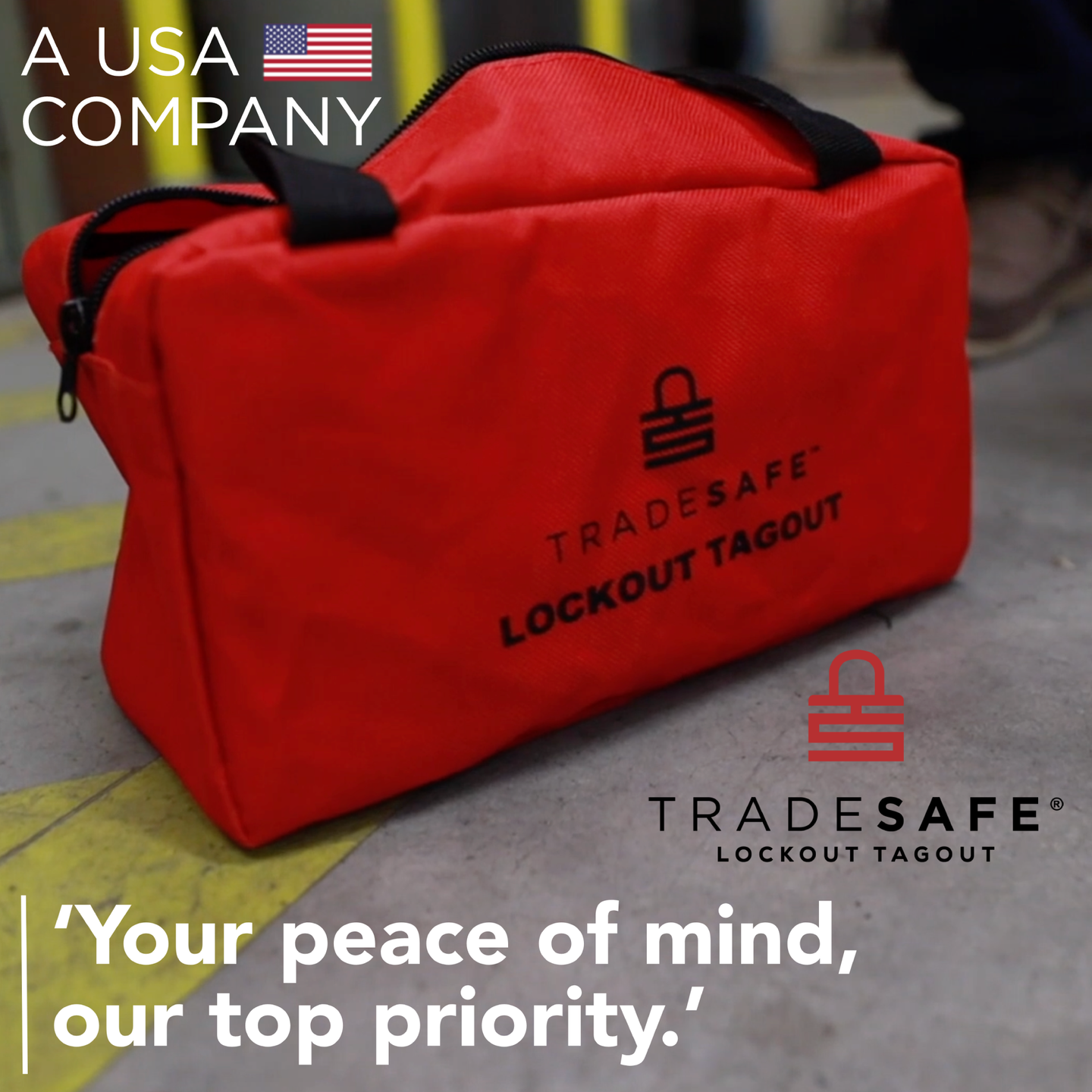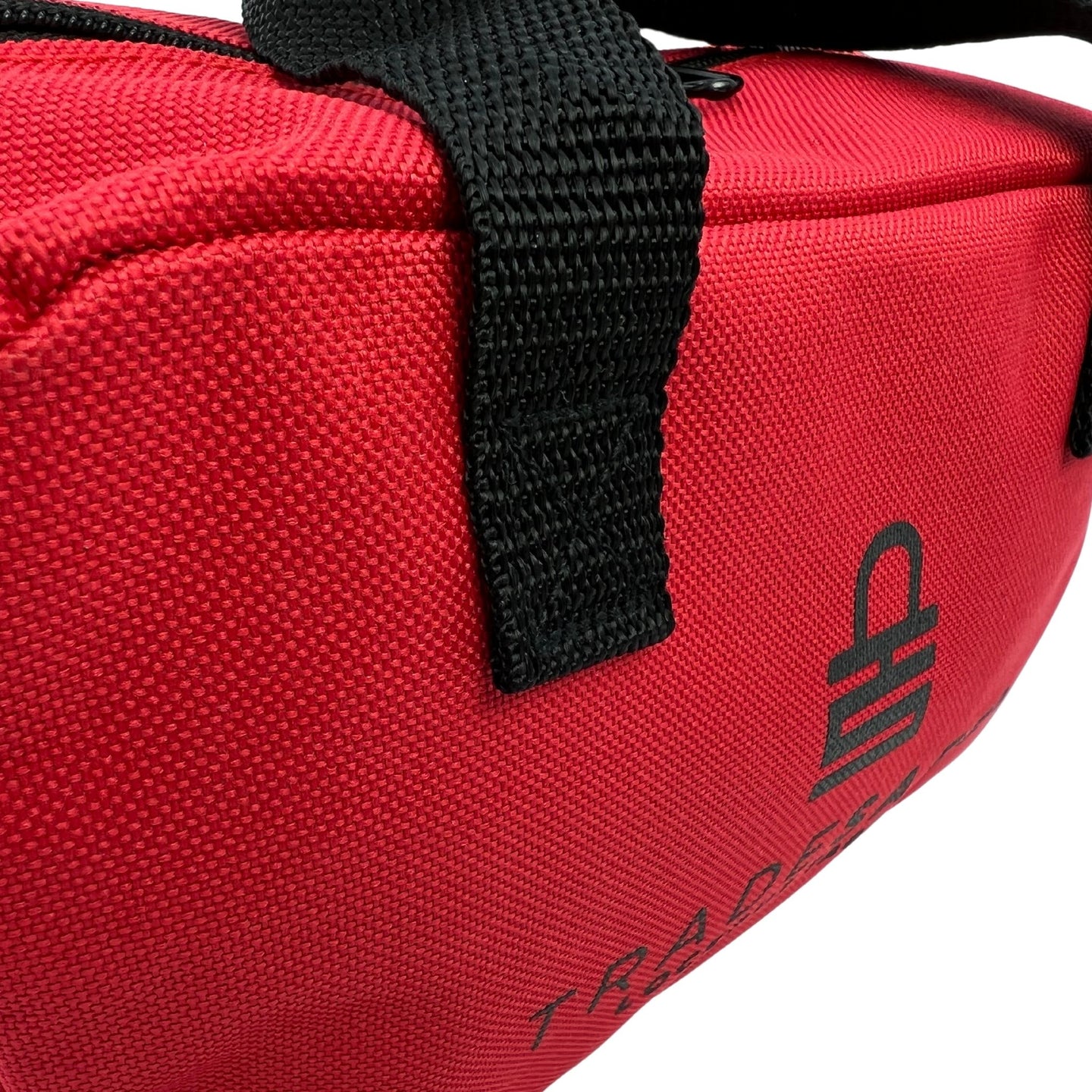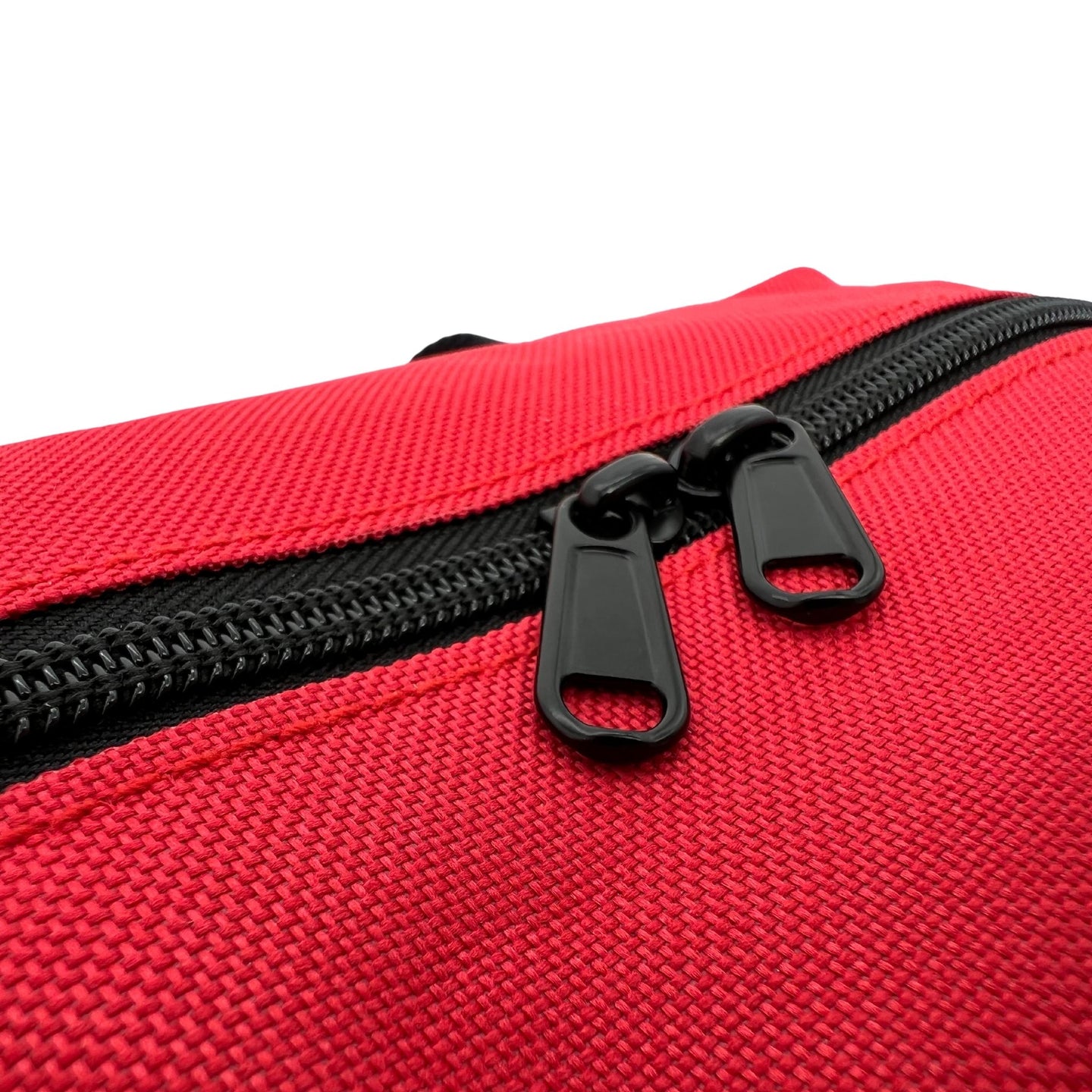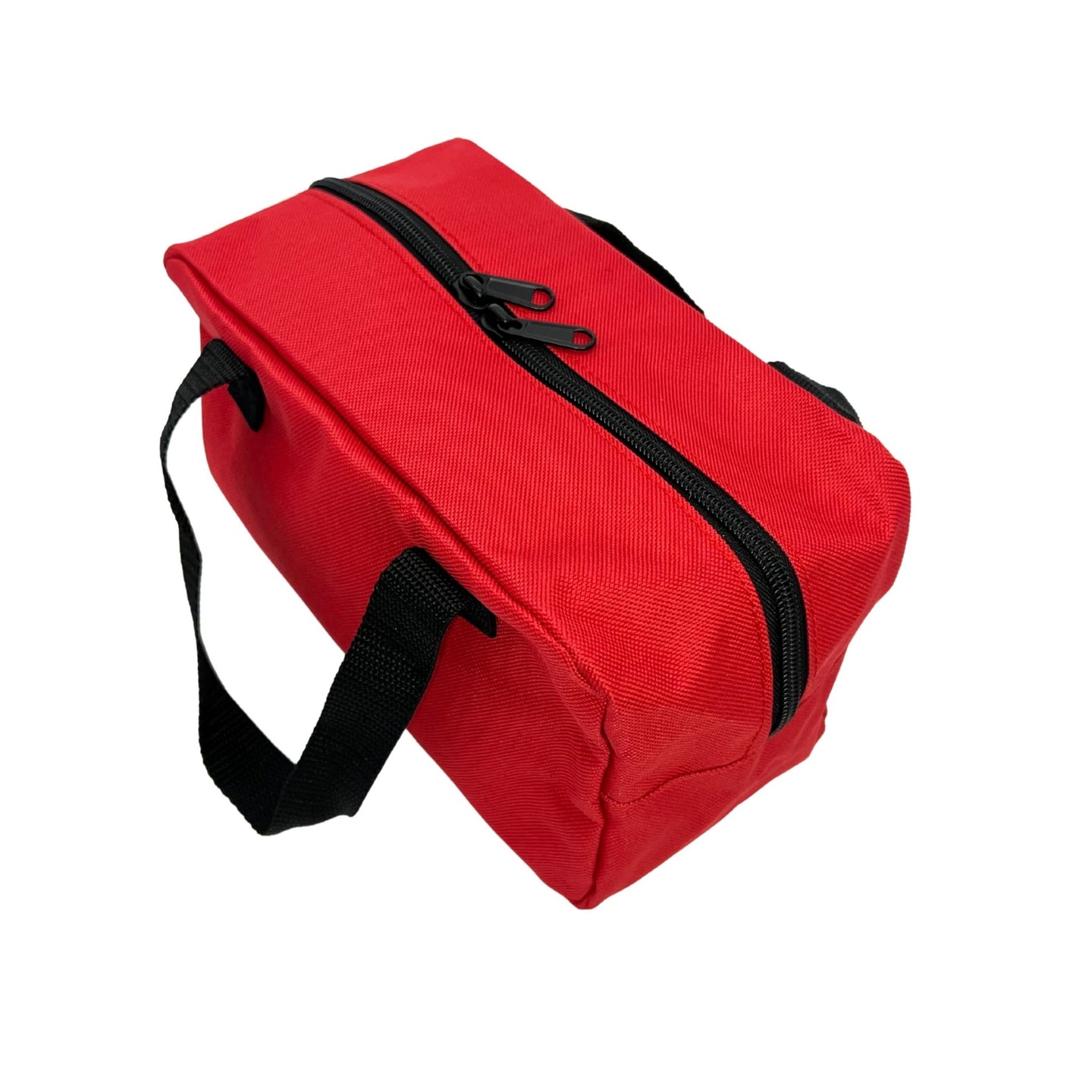 Lockout Tagout Bag, 9-3/8" x 5-1/2" x 4-5/16"
Regular price
$30.00
Sale price
$15.99
Unit price
per
Sale
Sold out
You Save 46% (

$14.01

)
Industrial-grade polyester canvas carrying bag for LOTO devices

Tear-resistant interior lining ensures tools protection

Ultra-resilient handles & zippers

Striking red lockout bag for high visibility
More Details on LOTO Storage Bag
An essential companion for workers, TRADESAFE Lockout Tagout Bag is the perfect solution for organizing all your lockout tagout devices. This convenient and portable LOTO kit bag will revolutionize your workflow, saving you valuable time and effort when searching for the right LOTO device for your specific application. Take control of workplace safety with this must-have storage bag for LOTO devices that can be easily brought anywhere you need it.
Part Number: TSKBAG; similar industry part numbers: 121502, 453XL
(1) Red LOTO bag made with tear-resistant double-stitched polyester canvas, tough interior lining, resilient strap handles, and industrial-strength zipper
Efficiently designed with a wide opening to easily fit various LOTO devices while providing effortless tool access
Boasts meticulous craftsmanship with smaller stitches per inch, ensuring unmatched reliability and longevity
Dimensions: 9 3/8" x 5 1/2" x 4 5/16"
TRADESAFE is an established USA based and owned industry expert and reliable safety partner for LOTO compliance supplies
Highly Visible Lockout Tagout Carrying Case
This LOTO bag comes in bright red color to be easily identifiable and is printed with "LOCKOUT TAGOUT" text to convey that it is used specifically for storing lockout tagout devices. This is also to let people know that this pouch contains and should only contain LOTO devices.
TRADESAFE LOTO bag with its striking red color stands out in any industrial setting, ensuring immediate recognition. Its clear labeling and distinct color collectively foster a more streamlined safety procedure by minimizing any potential misplacement or misuse. This efficient design also boldly conveys the importance of LOTO devices inside the lockout bag.
Portable and Secured LOTO Kit Bag
As you prioritize both portability and security, this lockout tagout bag ensures that your lockout devices are not only within reach but also optimally protected. Its resilient handles make it easy to carry from one worksite to another, while the zipper closure and meticulous stitching ensure that your lockout tools remain safe and protected during transport.
Exceptionally Versatile Lockout Tagout Bag
This LOTO storage bag is crafted with extremely durable and wear-resistant polyester canvas with an abrasion-resistant lining for long-term usability. Its ample interior space can hold a wide array of lockout tagout devices such as safety padlocks, LOTO tags, lockout hasps, circuit breaker lockouts, and other devices; enabling you to build a tailored LOTO kit that meets your specific needs.
OSHA Compliant LOTO Bag
Compliance with the OSHA Standard for The Control of Hazardous Energy (Lockout/Tagout) (29 CFR 1910.147) is vital to the safety of every employee on site. That's why we make sure that all of our products help workplaces remain OSHA-compliant.
TRADESAFE products are made with the requirements for lockout tagout devices in mind. These are the requirements pursuant to OSHA Standard 1910.147:
Durable: Devices must be able to withstand exposure to the environment in which they will be used for as long as necessary.
Standardized: Devices used in a facility must be standardized according to color, shape, or size.
Substantial: Devices must be difficult to remove without the use of excessive force or techniques that are not typically used to remove the devices. They should also be able to prevent accidental removal.
Identifiable: Devices must be able to identify the employee who applied them.
Exclusive for Safety: Devices must not be used for any purpose other than controlling energy.
TRADESAFE: A Trusted USA-Based Partner in Lockout Tagout
TRADESAFE is a USA-based company well-versed in OSHA regulations
People-centered supplier of safety products
High-quality products made of heavy-duty and durable materials
Constant innovation and continuous adaptation to new standards
TRADESAFE is your partner in safety and we always keep the seriousness of that role in mind. That's why all of our lockout tagout products are industrial-grade and meet regulatory standards. They are all ideal for use in the lockout of electrical and many other energy applications.
We don't want to just be your supplier. We want to be your partner. For this reason, we approach things differently. Each and every day our team works to improve our products and the services we provide to the great people and businesses that put so much faith in us.
TRADESAFE is a USA-based company. This helps us stay up to date on the latest OSHA safety standards. We are inspired by the American worker and we are honored to help keep you safe from harm and hazards.