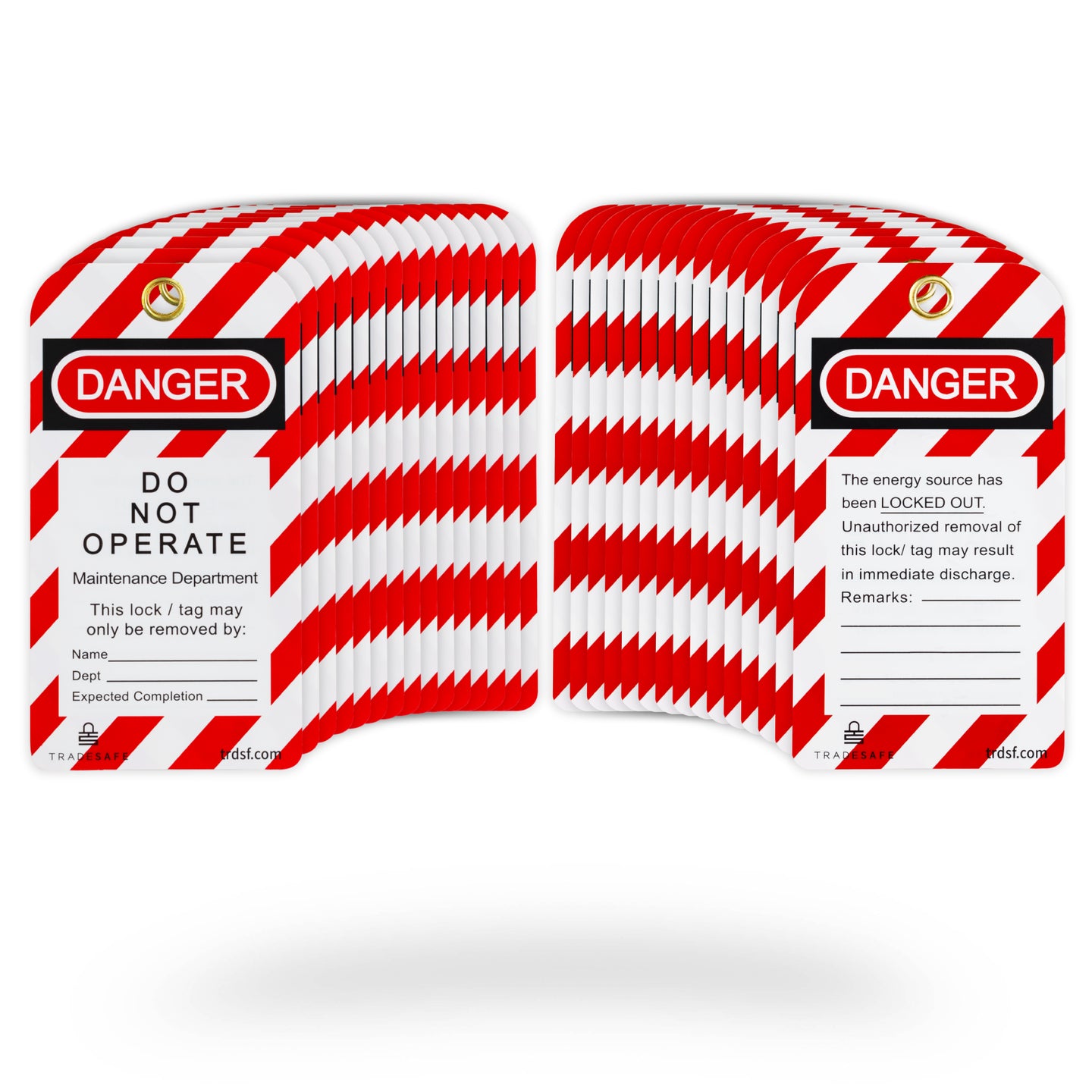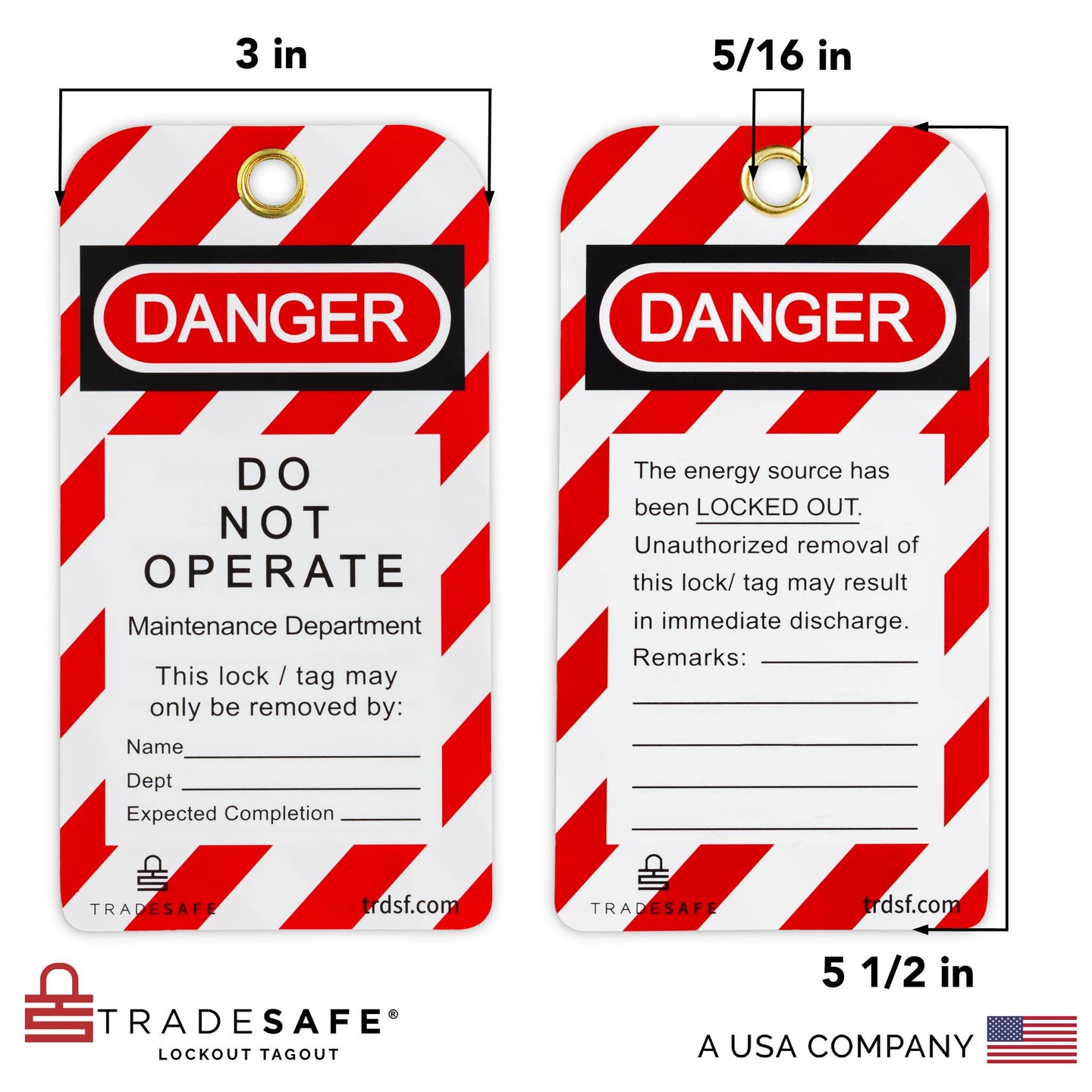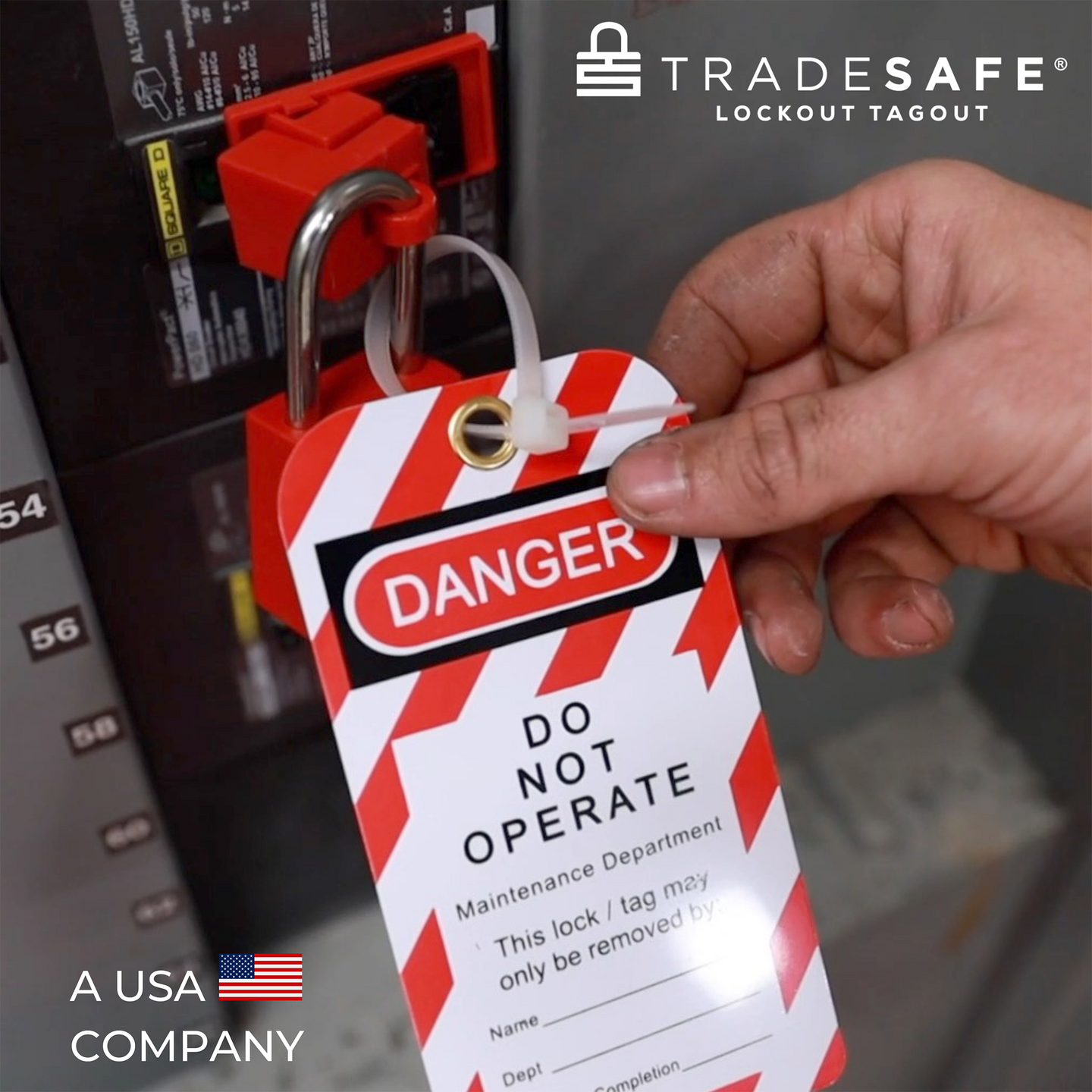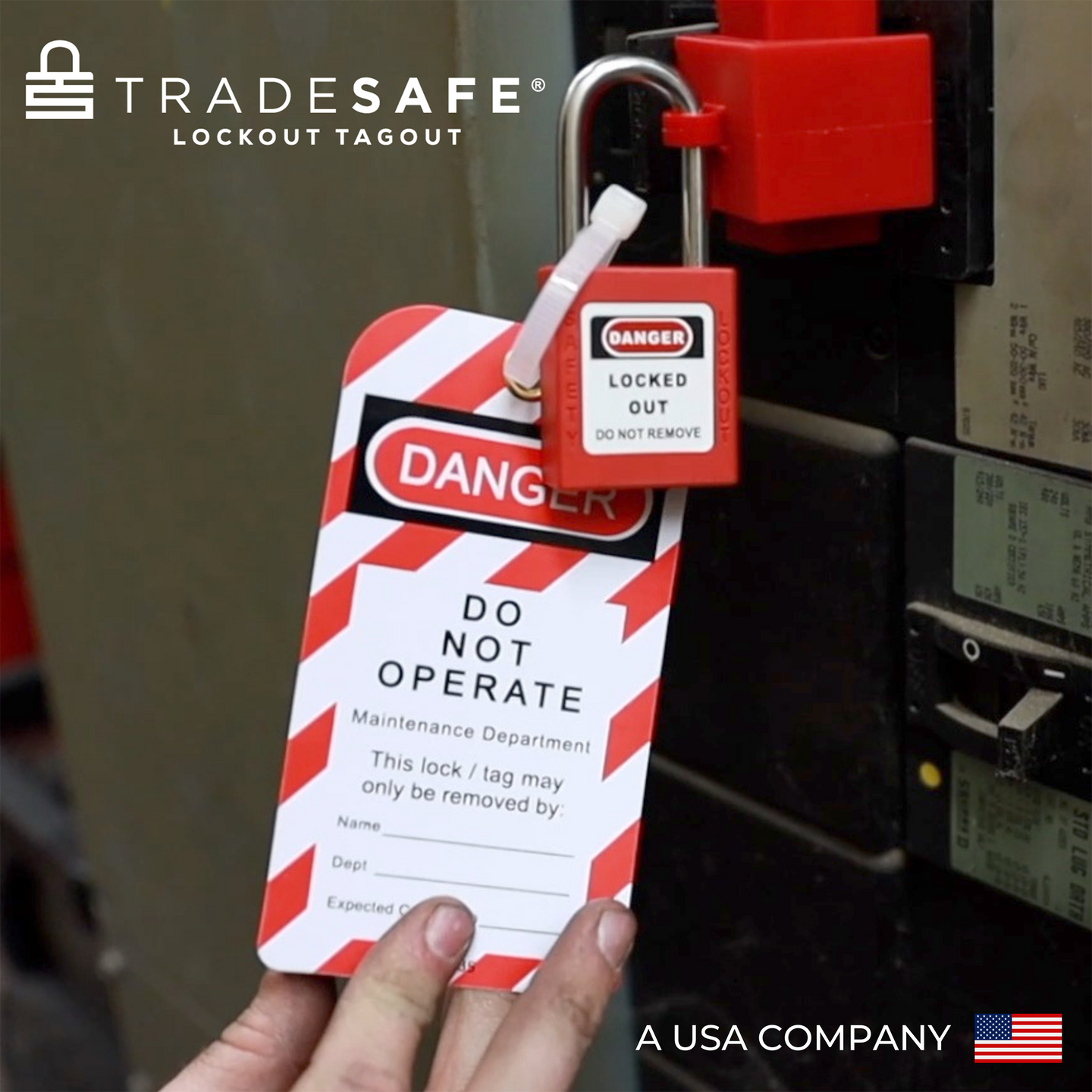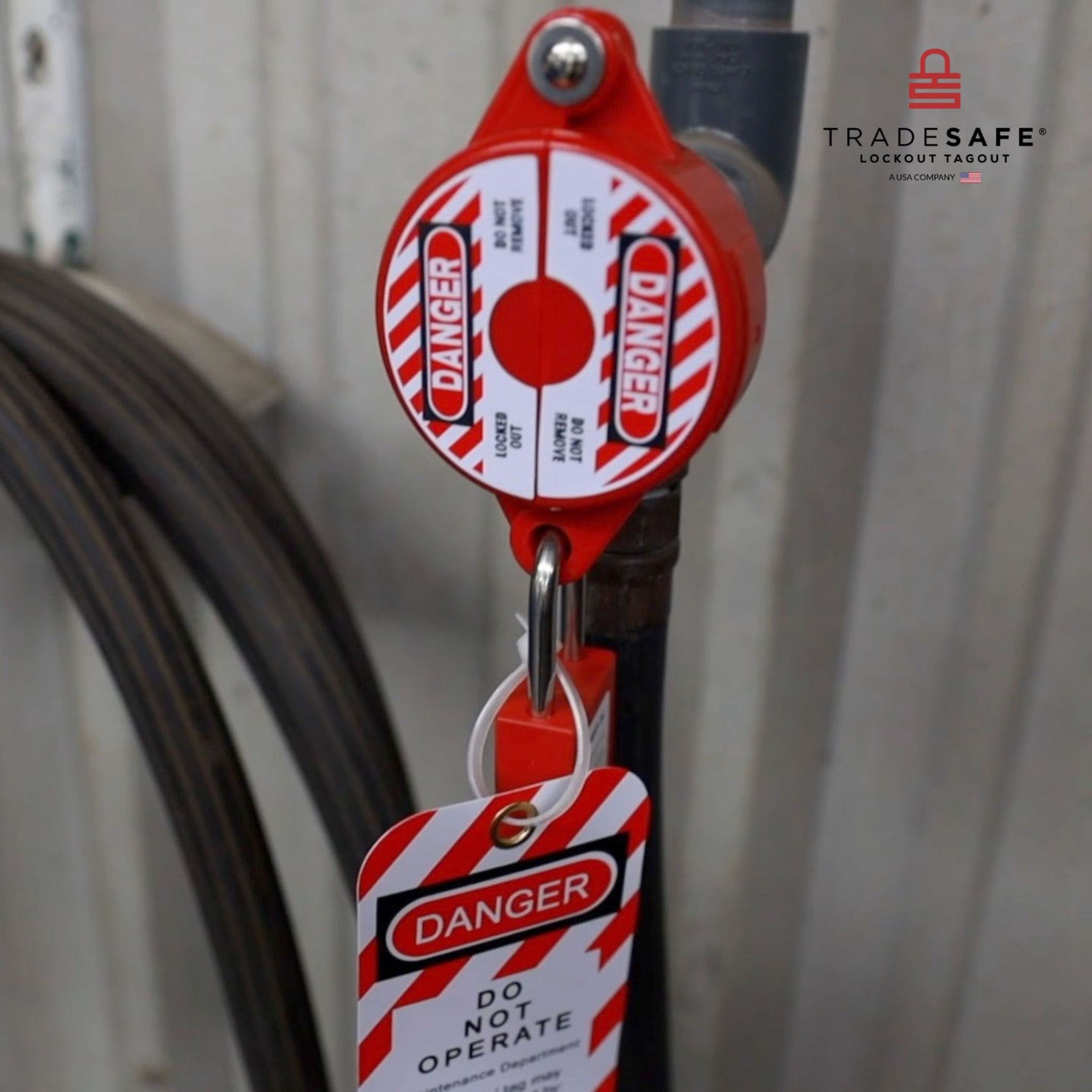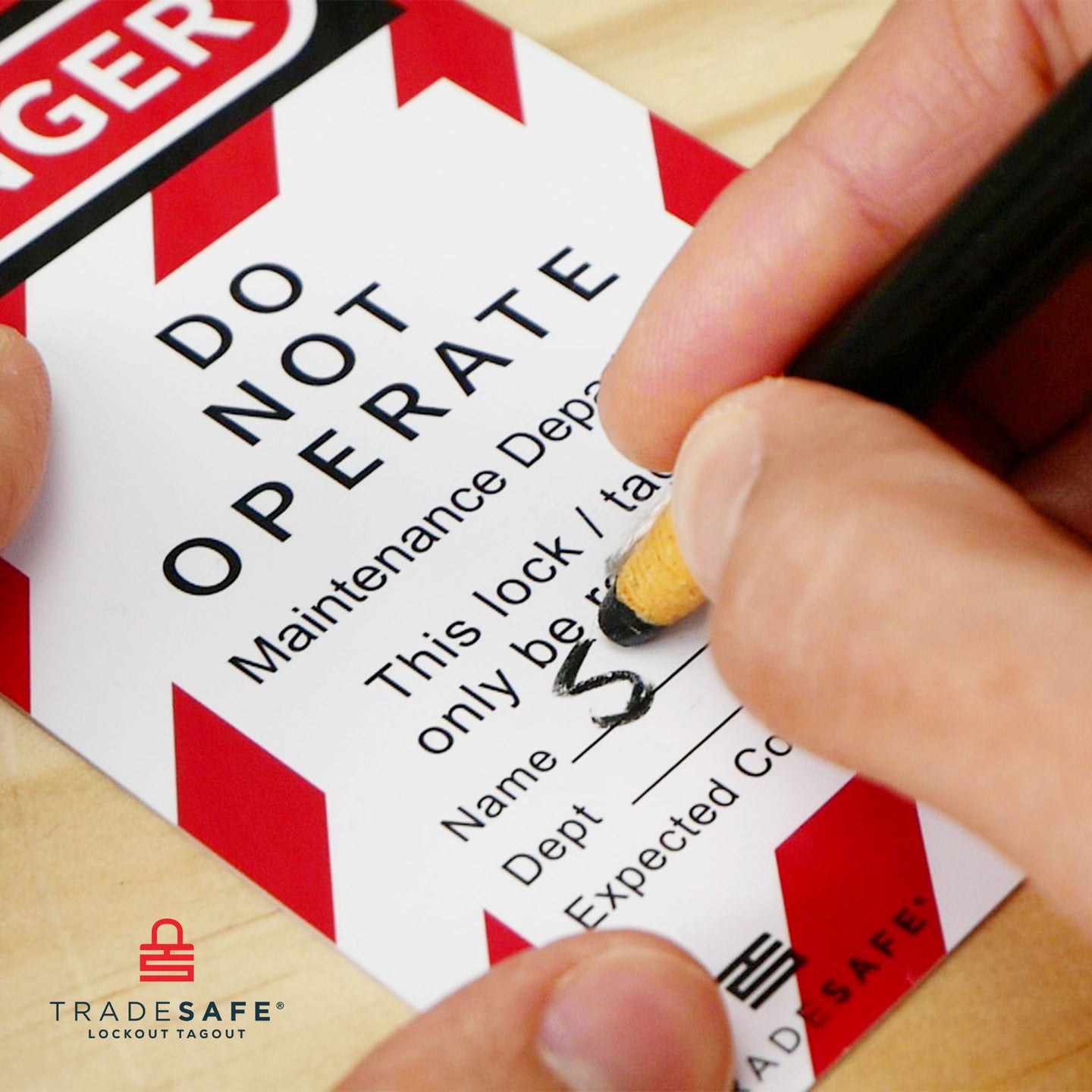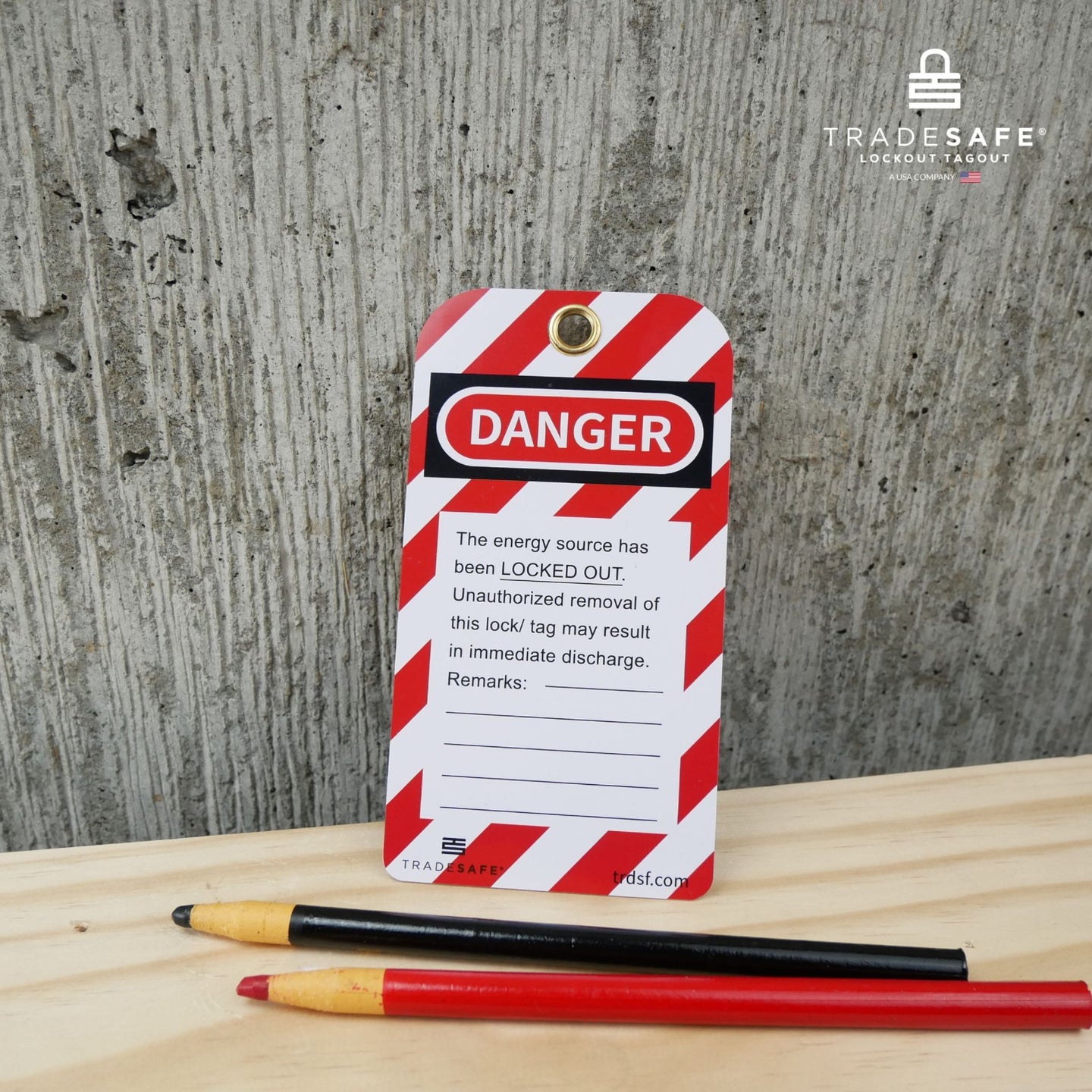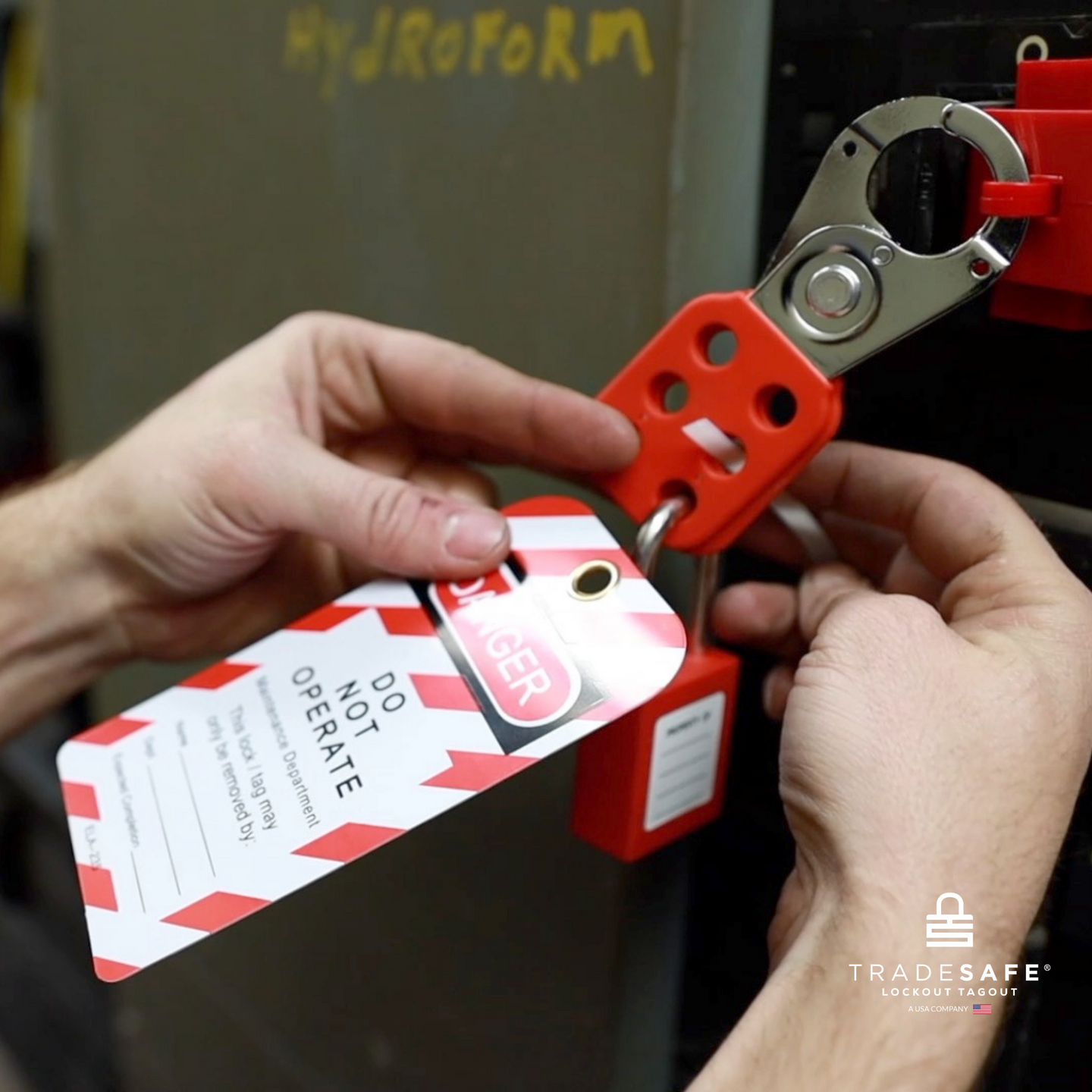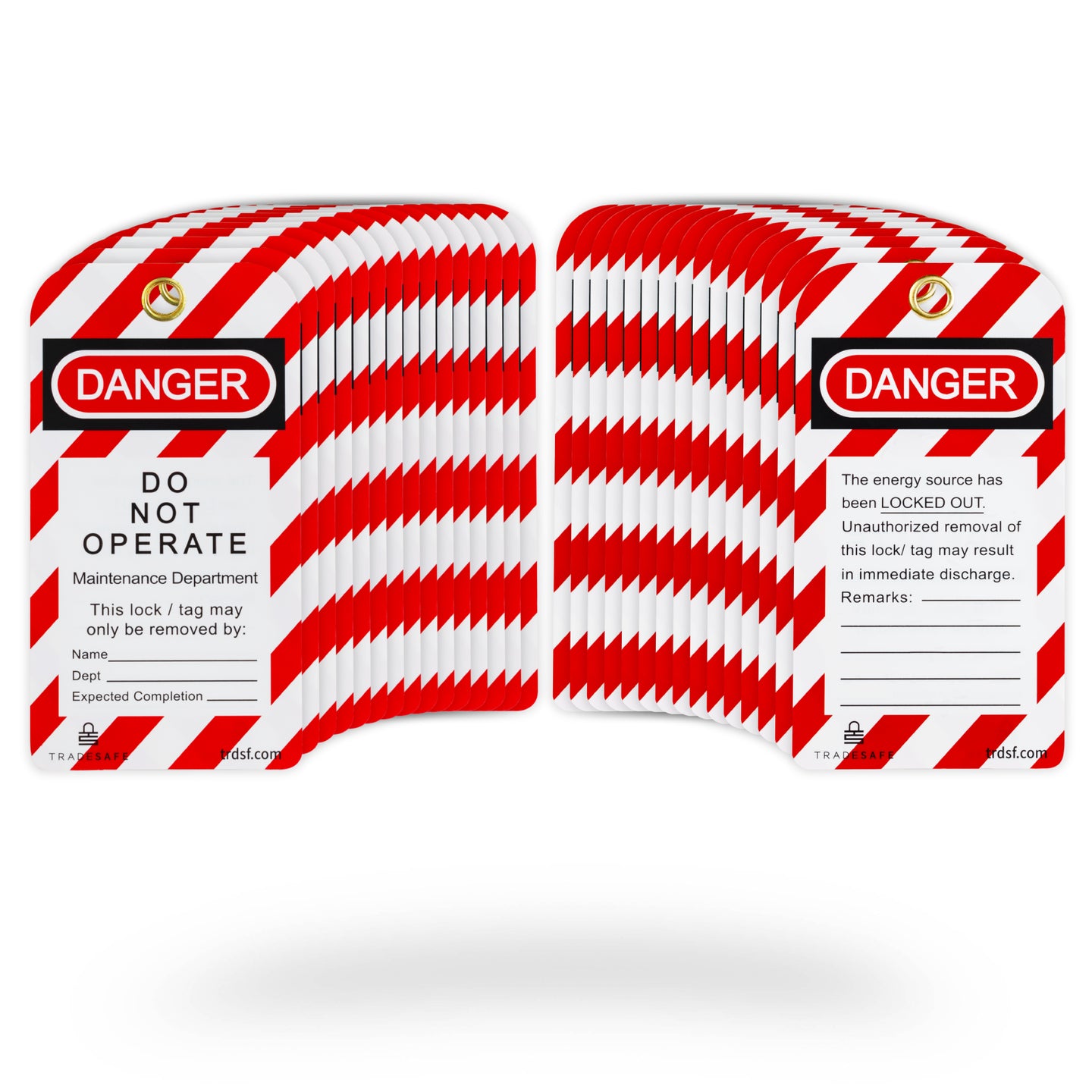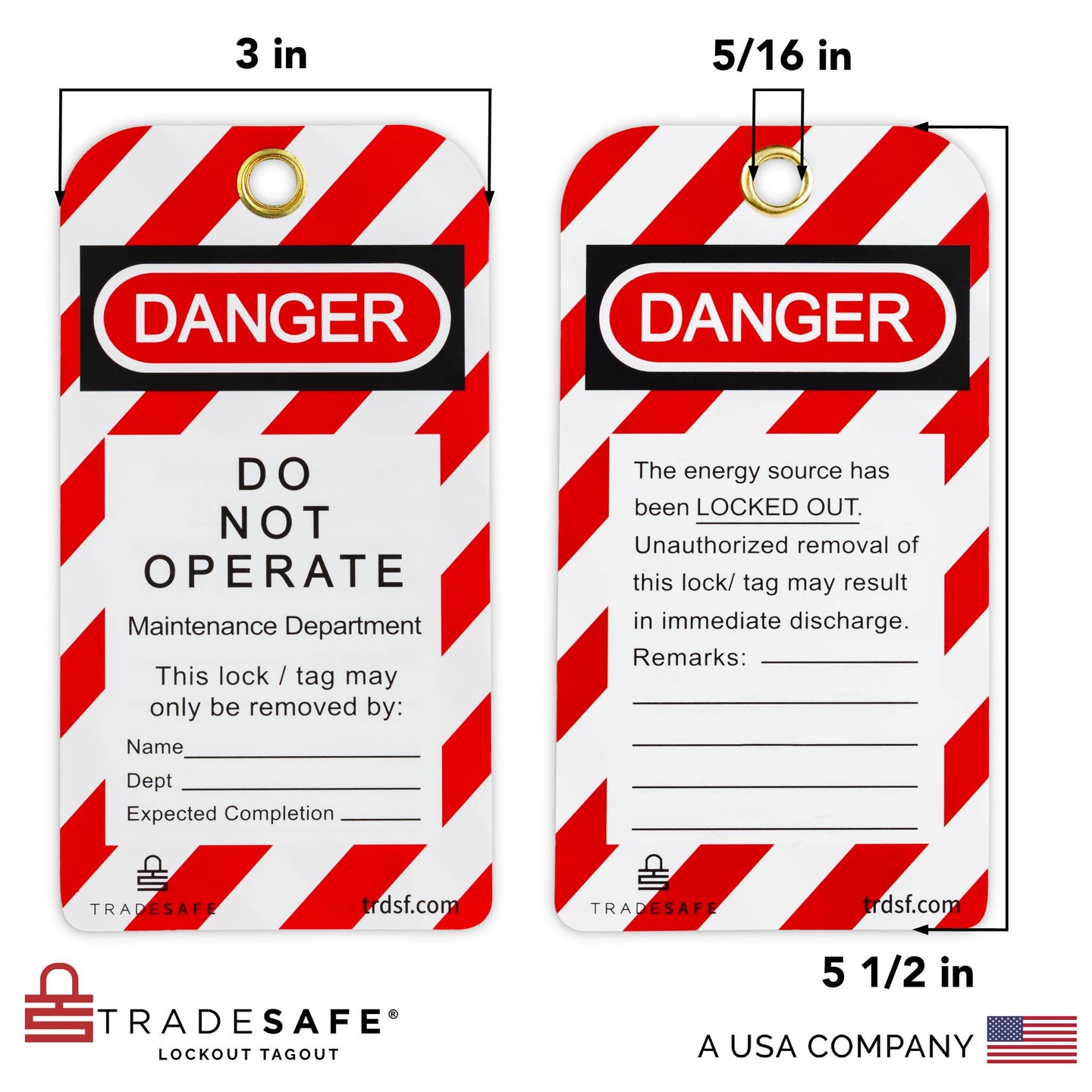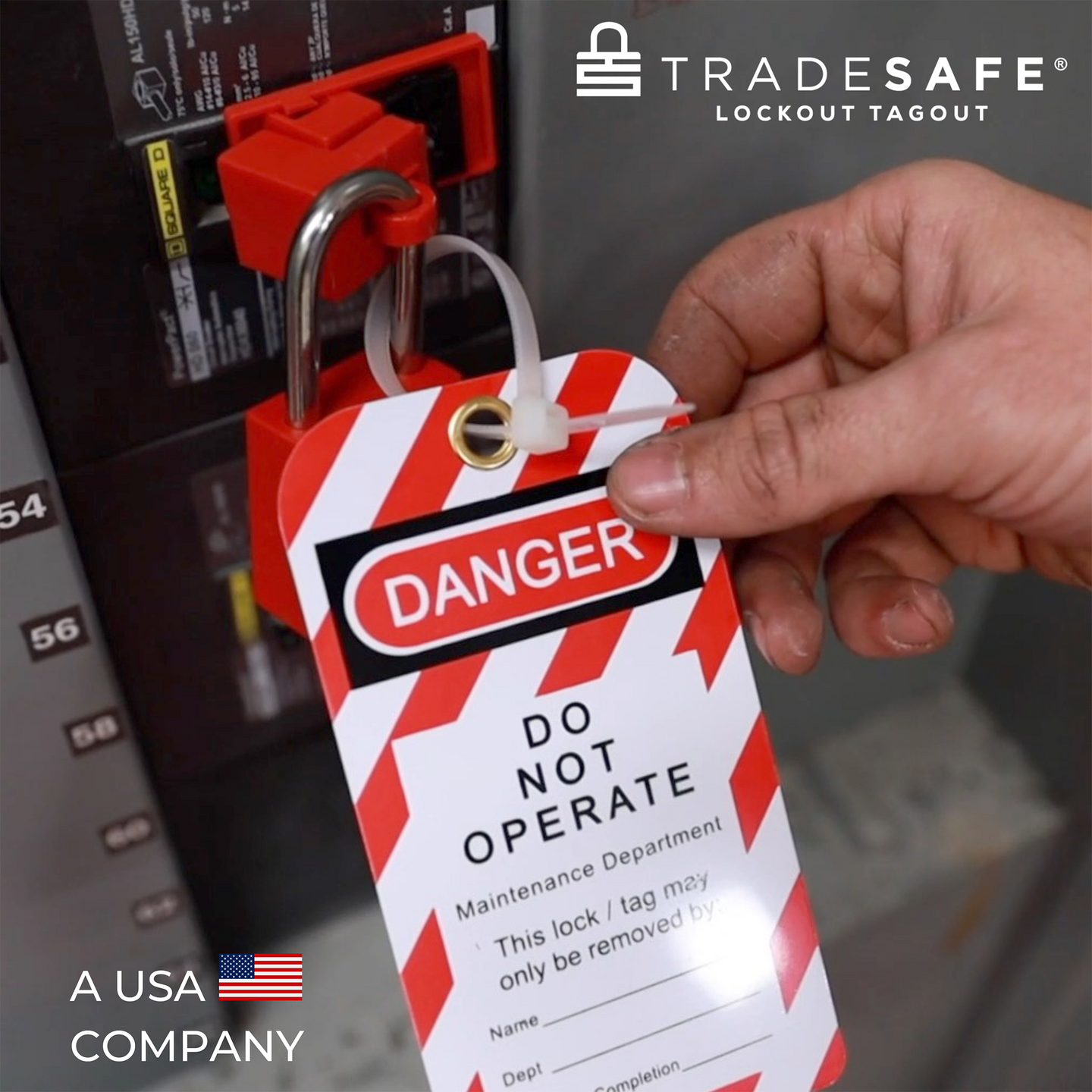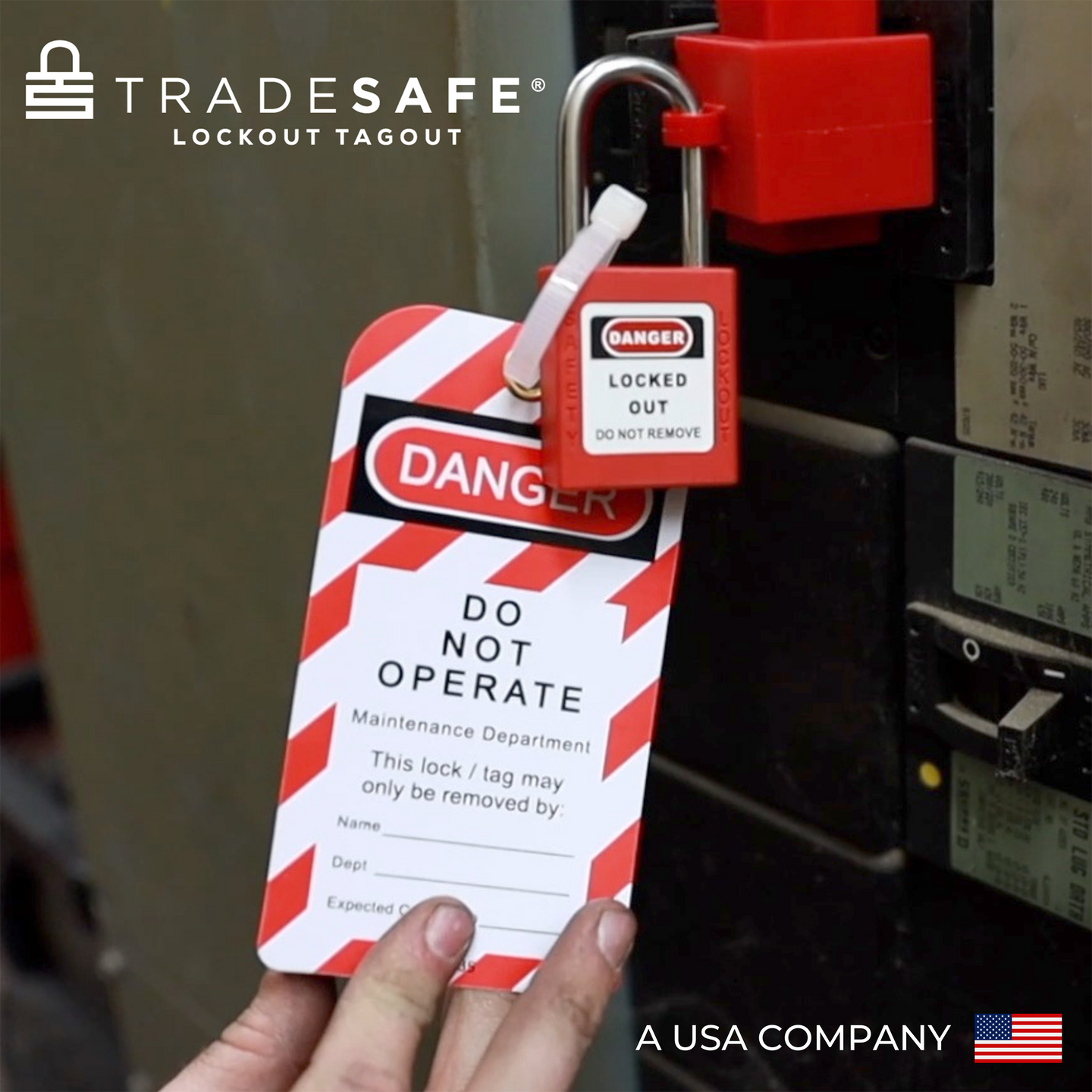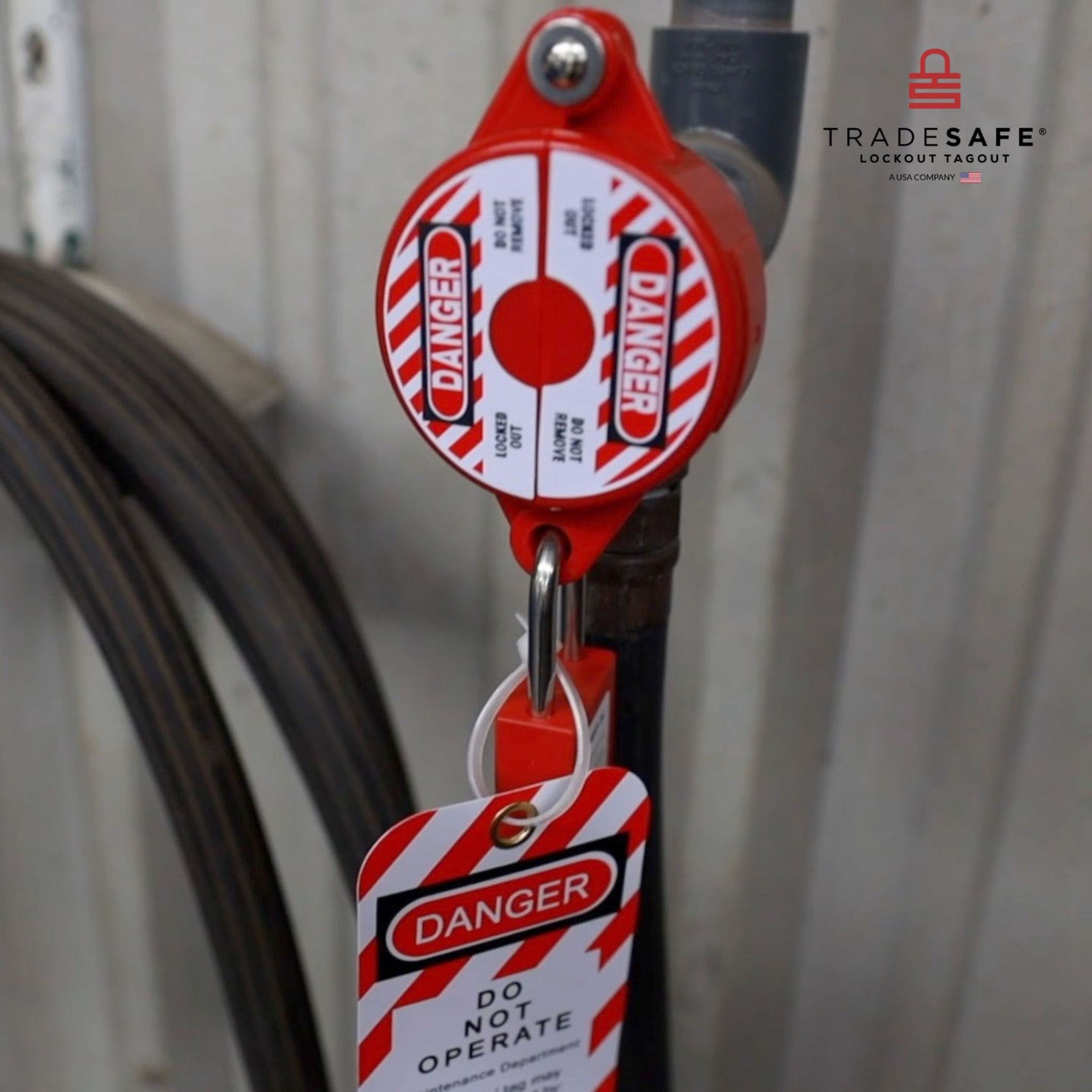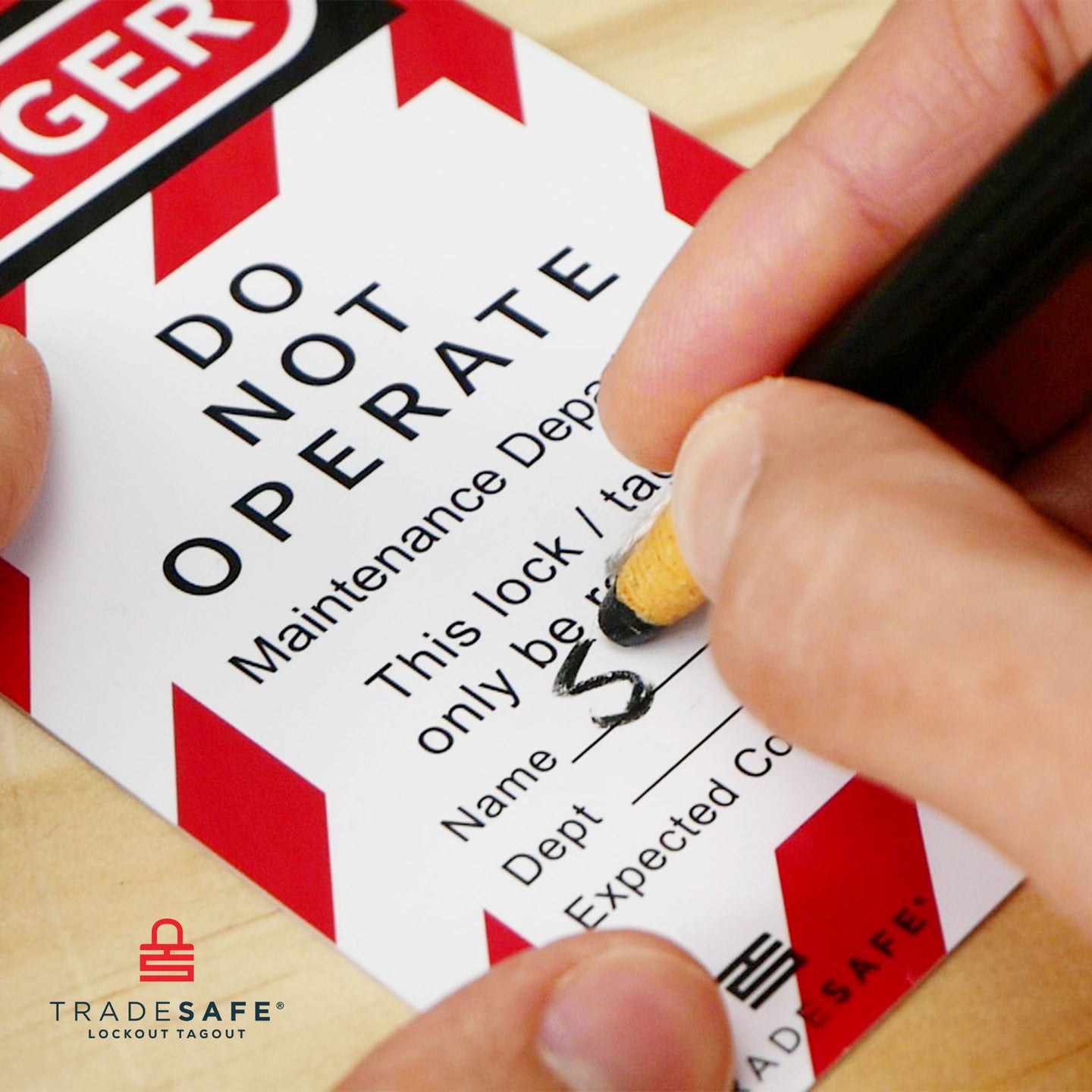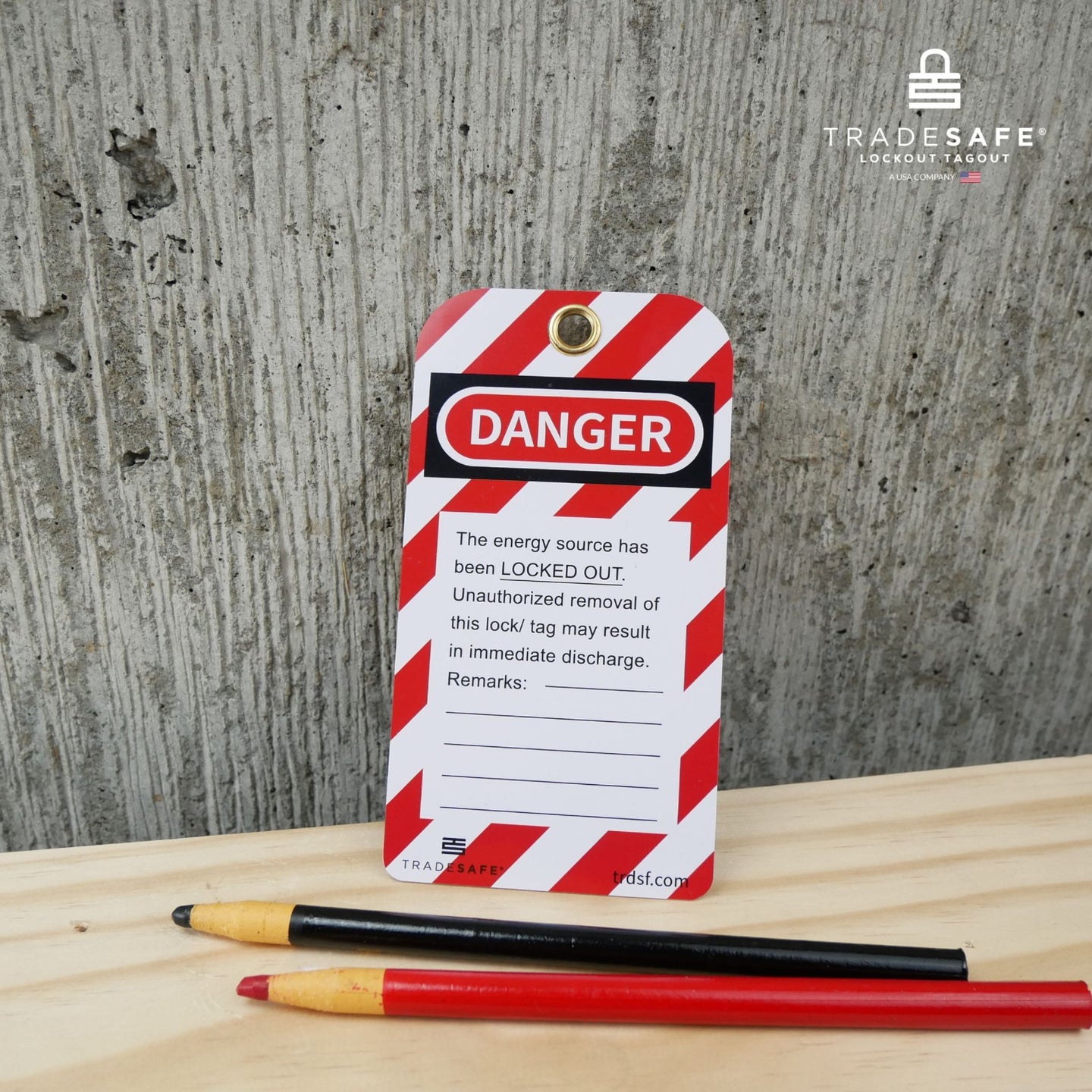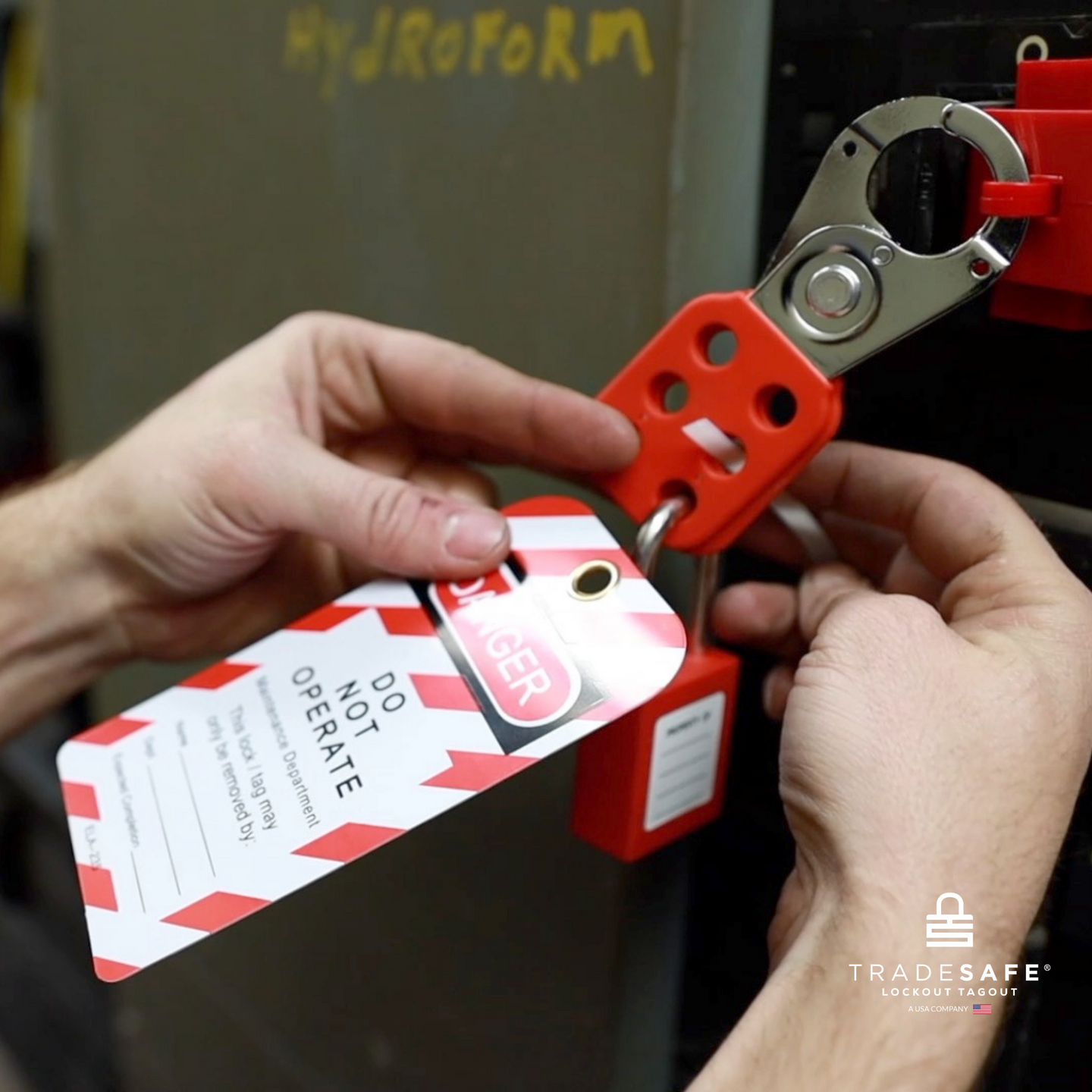 Lockout Tagout Danger Tags – Pack of 30
Regular price
$60.00
Sale price
$36.95
Unit price
per
Sale
Sold out
You Save 38% (

$23.05

)
5-1/2" x 3", 32-mil PVC vinyl LOTO tags

Spacious surface for legible notation

Seamless record using markers or wax/grease pencils

Water, weather, and tear-resistant

30 sturdy zip ties included
More Details About Lockout Tagout Tags
Manufactured with premium quality materials, TRADESAFE LOTO Tags can endure time and withstand the harsh demands of industrial environments. Each Do Not Operate Tag is built with tough PVC vinyl that is tear and weather-resistant. These Danger Tags are engineered with the intent of exceeding OSHA / ANSI standards to ensure maximum reliability and dependability.
Part Number: TSLT1A; similar industry part numbers: 122980, 497A
(30) Weather-resistant PVC vinyl "Danger Do Not Operate" LOTO tags; 5-1/2" x 3", 32-mil thick, 5/16" brass grommet diameter
(30) 6" exceptionally durable nylon zip ties
Seamless notation using permanent markers or grease/wax pencils, not regular pens
Suitable for indoor and outdoor applications in industrial environments
Extreme water, weather, and chemical resistance
Efficiently convey the current status of locked out equipment
Precision-engineered to meet OSHA 1910.147 and ANSI Z535 standards
TRADESAFE is an established USA based and owned industry expert and reliable safety partner for LOTO compliance supplies
Industrial Grade Lockout Tagout Tags
Precision engineered with chemical, weather, and water-resistant PVC vinyl, our lock out tags function excellently indoors and can withstand even the roughest outdoor industrial environments. TRADESAFE only uses premium materials to ensure durability and reliability. Each Do Not Operate Tag is made to be rip-proof and cannot be easily damaged.
Accident Prevention LOTO Tags
Lockout tagout tags are crucial safety precautions in any industrial environment. It is critical to keep individuals aware of the status of equipment or machines and to warn them of any potential hazards within the workplace. With these lock out tags, risks can be effectively communicated to ensure workforce safety.
Efficient Lock Out Tags
TRADESAFE Danger tags feature a more spacious surface compared to other tags to ensure legible recording of critical safety information using permanent markers or wax/grease pencils. Each lock tag has an industrial-strength brass grommet attached to the tie hole to increase use life by preventing the splitting of the vinyl and resisting abrasion caused by frequent use, vibration, and mechanical movements
OSHA-Compliant Lockout Tagout Tags
Compliance with the OSHA Standard for The Control of Hazardous Energy (Lockout/Tagout) (29 CFR 1910.147) is vital to the safety of every employee on site. That's why we make sure that all of our products help workplaces remain OSHA-compliant.
TRADESAFE products are made with the requirements for lockout tagout devices in mind. These are the requirements pursuant to OSHA Standard 1910.147:

Durable: Devices must be able to withstand exposure to the environment in which they will be used for as long as necessary.
Standardized: Devices used in a facility must be standardized according to color, shape, or size.
Substantial: Devices must be difficult to remove without the use of excessive force or techniques that are not typically used to remove the devices. They should also be able to prevent accidental removal.
Identifiable: Devices must be able to identify the employee who applied them.
Exclusive for Safety: Devices must not be used for any purpose other than controlling energy.
TRADESAFE: A Trusted USA-Based Partner in Lockout Tagout
TRADESAFE is a USA-based company well-versed in OSHA regulations
People-centered supplier of safety products
High-quality products made of heavy-duty and durable materials
Constant innovation and continuous adaptation to new standards
TRADESAFE is your partner in safety and we always keep the seriousness of that role in mind. That's why all of our lockout tagout products are industrial-grade and meet regulatory standards. They are all ideal for use in the lockout of electrical and many other energy applications.
We don't want to just be your supplier. We want to be your partner. For this reason, we approach things differently. Each and every day our team works to improve our products and the services we provide to the great people and businesses that put so much faith in us.
TRADESAFE is a USA-based company. This helps us stay up to date on the latest OSHA safety standards. We are inspired by the American worker and we are honored to help keep you safe from harm and hazards.