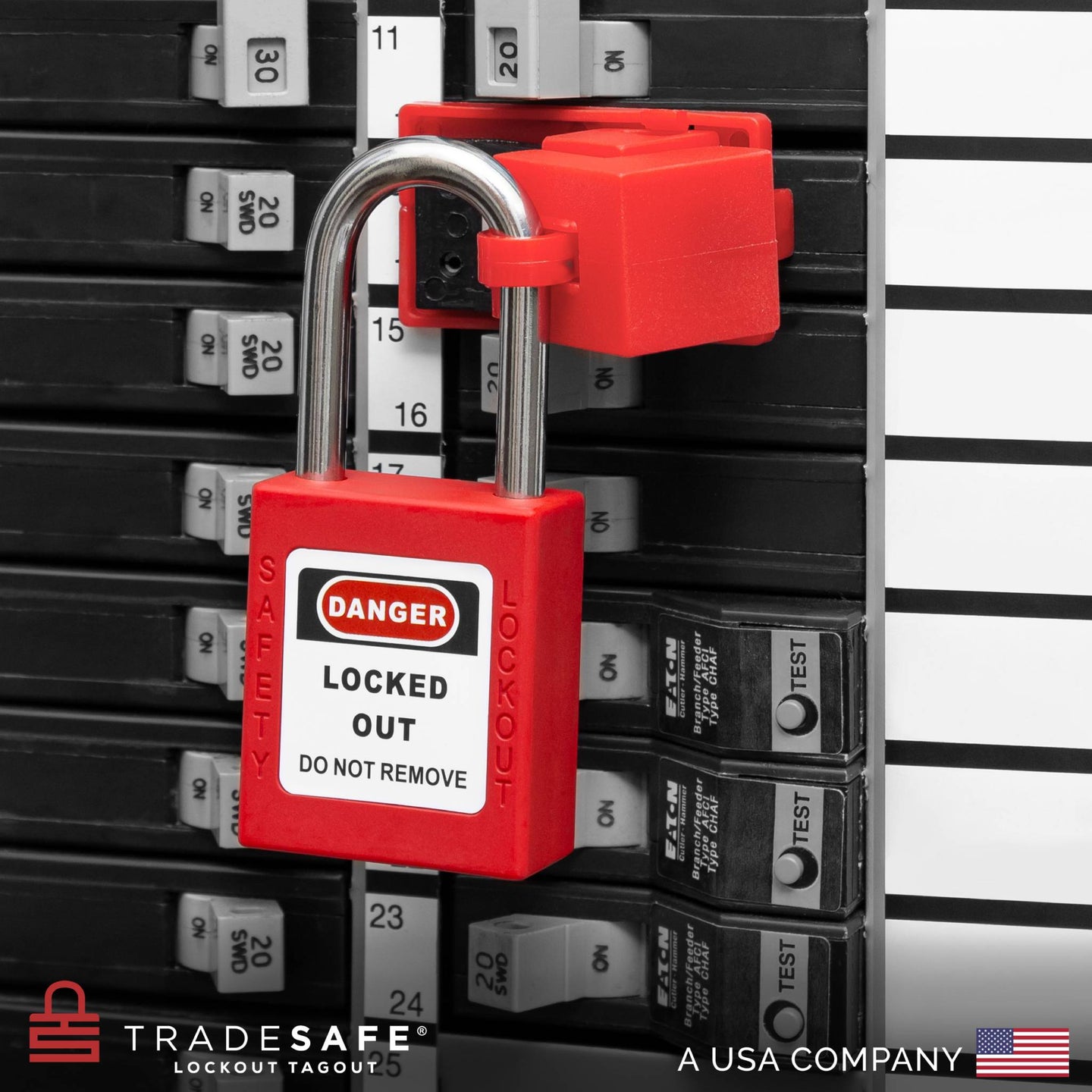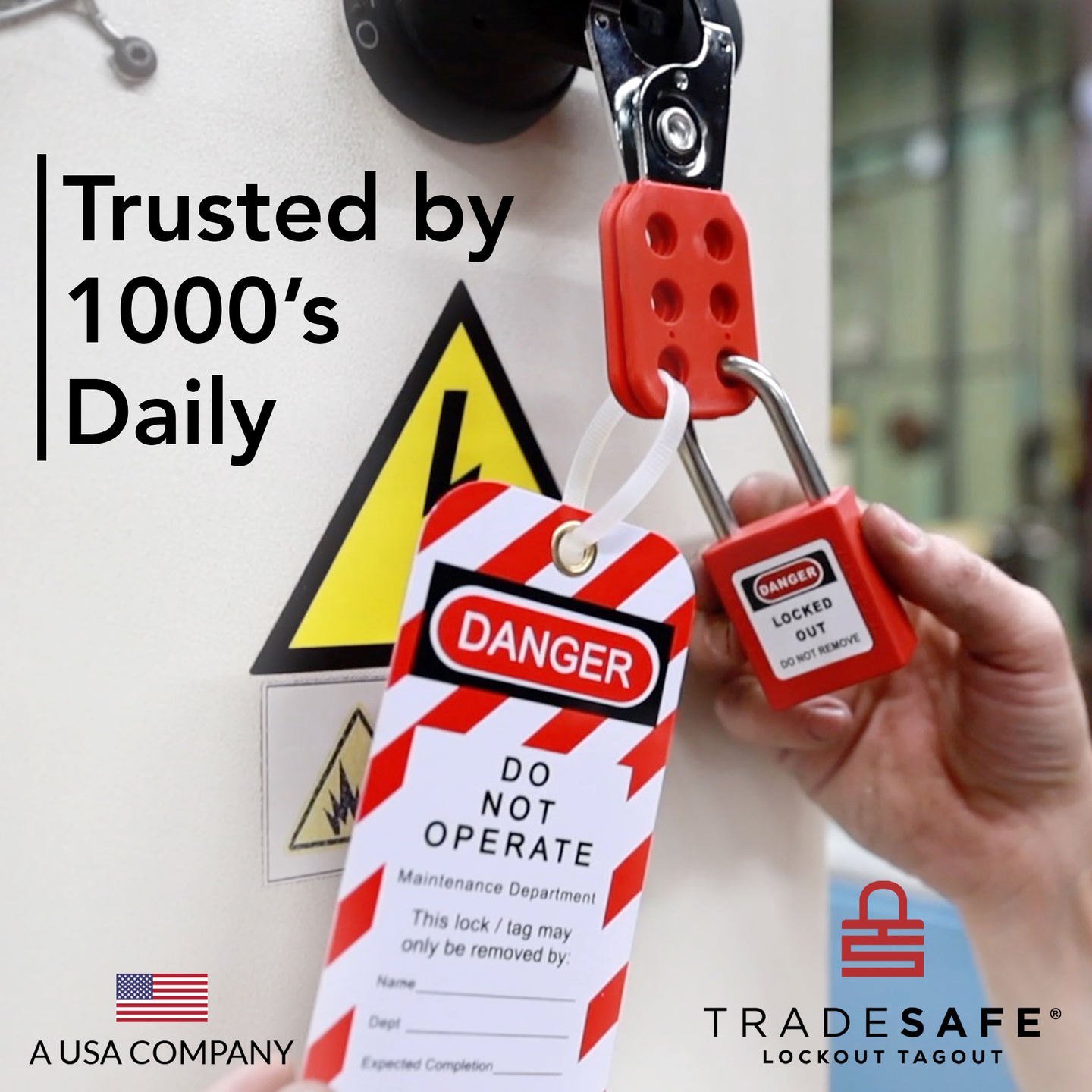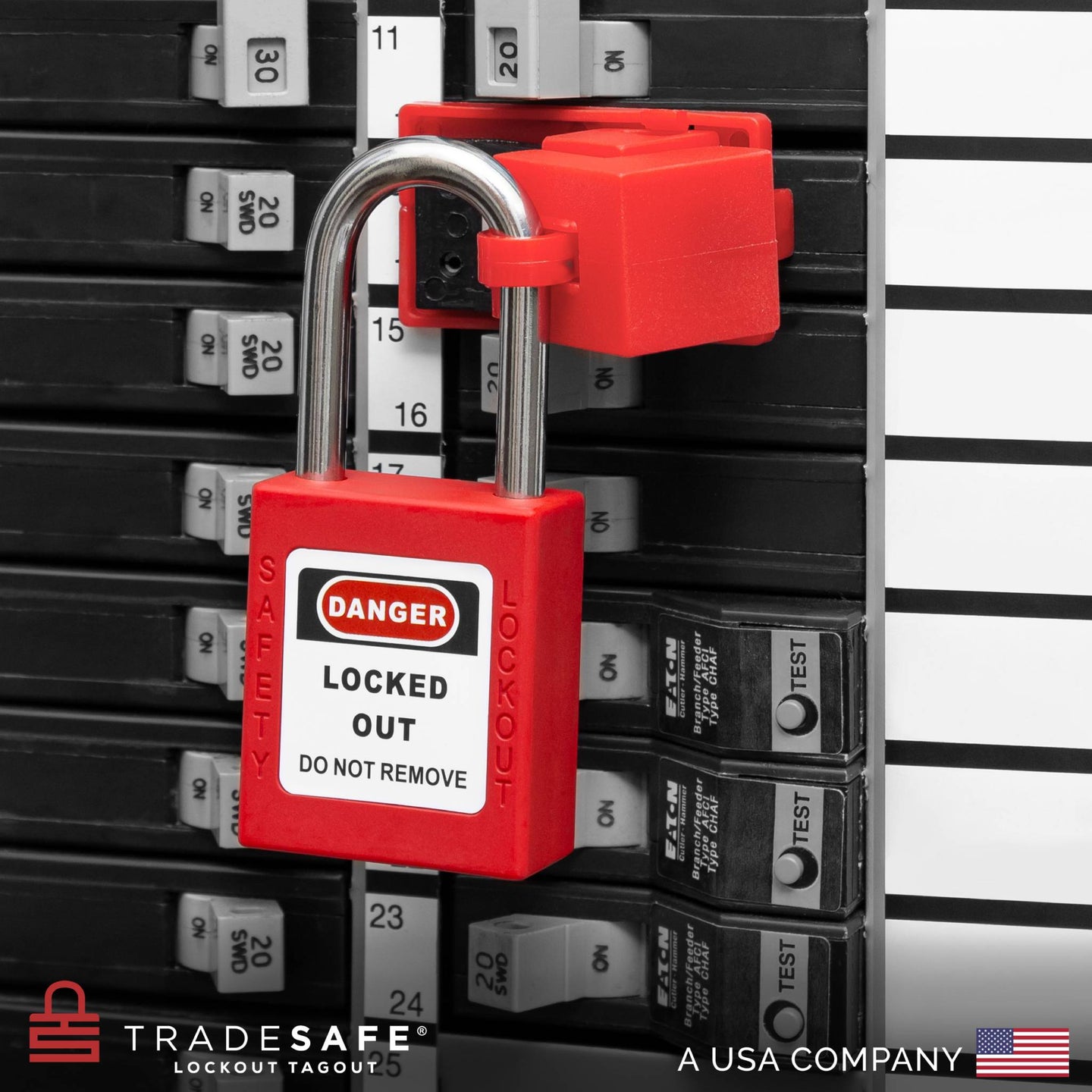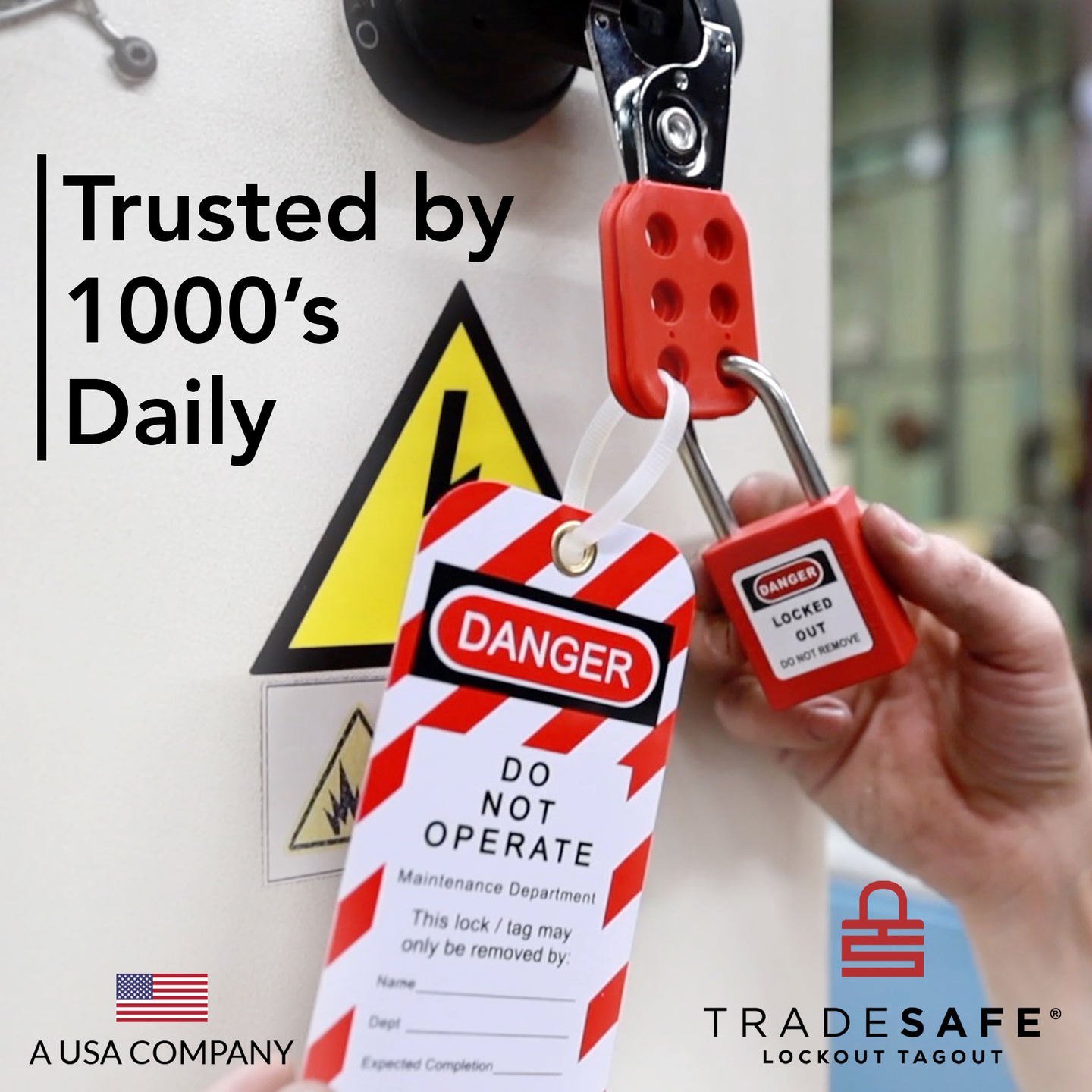 Personal Lockout Tagout Kit – 1 Key Per Lock
Regular price
$110.00
Sale price
$41.95
Unit price
per
Sale
Sold out
You Save 61% (

$68.05

)
2 keyed different padlocks; 1 key each

2 chrome-plated steel hasps

8 LOTO tags; 12 nylon zip ties

1 heavy-duty carrying canvas bag
More Details About Personal LOTO Kit
TRADESAFE Personal Lockout Tagout kit provides the most basic LOTO devices for locking out equipment safely and securely. Each of our portable lockout kits enables workers to perform efficient LOTO procedures whenever and wherever necessary. Specifically designed for safety, our lockout tagout devices included in this LOTO kit are well-engineered to comply with OSHA 1910.147.
Part Number: TSK1A; similar industry part number: 105969
(2) Corrosion-resistant padlocks with thermoplastic uni-body design; 1 key each
(2) Durable hasps with chrome-plated steel jaw & extra thick nylon handles
(8) Tear and weather-resistant LOTO tags
(12) Sturdy, self-locking nylon zip ties
(1) Heavy-duty, brightly-colored carrying canvas storage
Precision-engineered to comply with OSHA 29 CFR 1910.147 standard
TRADESAFE is an American-owned and based company

Specifications
Safety Padlocks

Lock Body: 1-3/4" x 1-1/2" x 3/4"
Shackle Length: 1-1/2"
Shackle Diameter: 1/4"
Lockout Hasps

Jaw Diameter: 1"
Secure with up to 6 padlocks
LOTO Tags

Dimensions: 5-1/2" x 3", 32-mil thick vinyl
Tie hole: 5/16
Nylon Zip Ties

Red Carry Canvas Bag

Dimensions: 6-5/16" x 3-11/16" x 2"
Durable and Reliable Lock Out Tag Out Kits
Made of chemical-resistant, tear-resistant, and impact-resistant materials, the lockout tagout devices in this kit can easily keep up with the harsh demands of industrial environments. Because ensuring worker safety is TRADESAFE's top priority, we make sure that our products are durable and highly difficult to damage.
Engineered for Safety Lockout Kit
This lockout tagout kit provides the most commonly used devices workers need for basic lockout tagout procedures. With industrial-grade padlocks, hasps, and "Danger Do Not Operate" lockout tags, this kit is ideal for lockout tagout applications as part of a comprehensive OSHA-compliant safety program
Portable Lockout Tagout Kit
TRADESAFE's Personal LOTO Kit comes with a heavy-duty carrying canvas bag where all included LOTO devices are stored and organized. The carrying canvas storage keeps devices ready whenever and wherever a basic lockout tagout procedure is necessary. All LOTO devices included in this kit can fit in the highly visible, vibrant red canvas bag; preventing damage and loss.
OSHA Compliance Kit
Compliance with the OSHA Standard for The Control of Hazardous Energy (Lockout/Tagout) (29 CFR 1910.147) is vital to the safety of every employee on site. That's why we make sure that all of our products help workplaces remain OSHA-compliant.
TRADESAFE products are made with the requirements for lockout tagout devices in mind. These are the requirements pursuant to OSHA Standard 1910.147:
Durable

: Devices must be able to withstand exposure to the environment in which they will be used for as long as necessary.

Standardized

: Devices used in a facility must be standardized according to color, shape, or size.

Substantial

: Devices must be difficult to remove without the use of excessive force or techniques that are not typically used to remove the devices. They should also be able to prevent accidental removal.

Identifiable

: Devices must be able to identify the employee who applied them.

Exclusive for Safety:

Devices must not be used for any purpose other than controlling energy
TRADESAFE: A Trusted USA-Based Partner in Lockout Tagout
TRADESAFE is a USA-based company well-versed in OSHA regulations

People-centered supplier of safety products

High-quality products made of heavy-duty and durable materials

Constant innovation and continuous adaptation to new standards
TRADESAFE is your partner in safety and we always keep the seriousness of that role in mind. That's why all of our lockout tagout products are industrial-grade and meet regulatory standards. They are all ideal for use in the lockout of electrical and many other energy applications.
We don't want to just be your supplier. We want to be your partner. For this reason, we approach things differently. Each and every day our team works to improve our products and the services we provide to the great people and businesses that put so much faith in us.
TRADESAFE is a USA-based company. This helps us stay up to date on the latest OSHA safety standards. We are inspired by the American worker and we are honored to help keep you safe from harm and hazards.