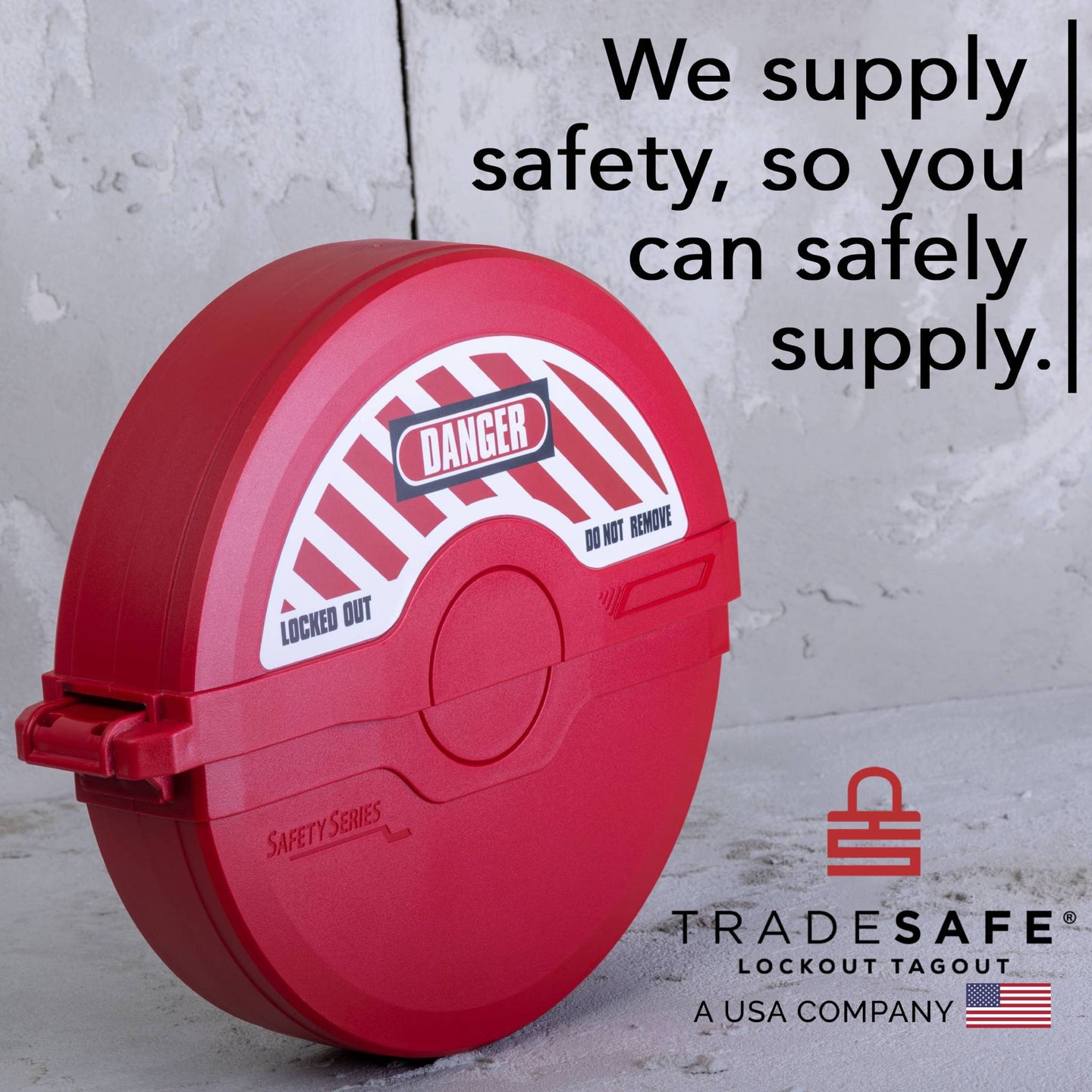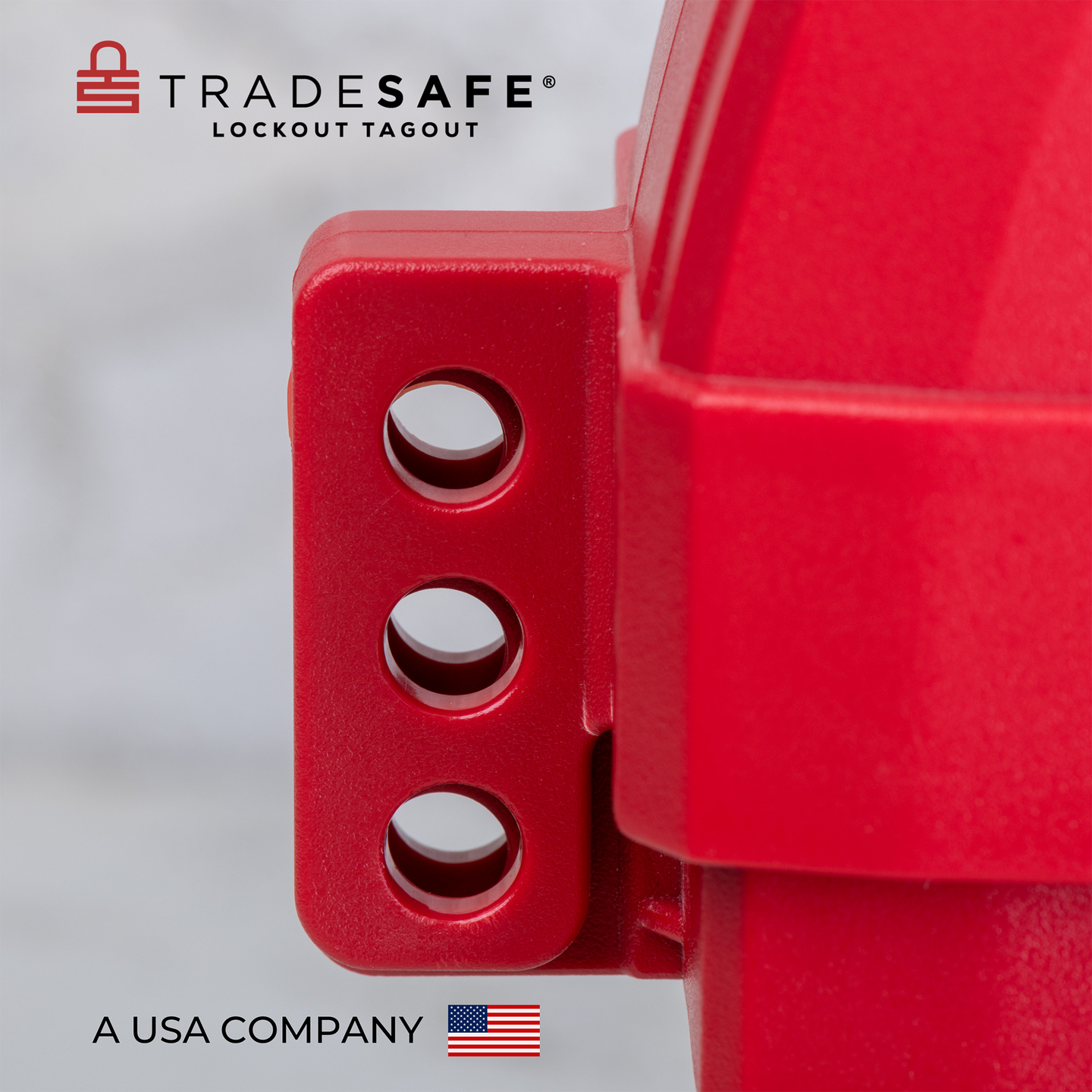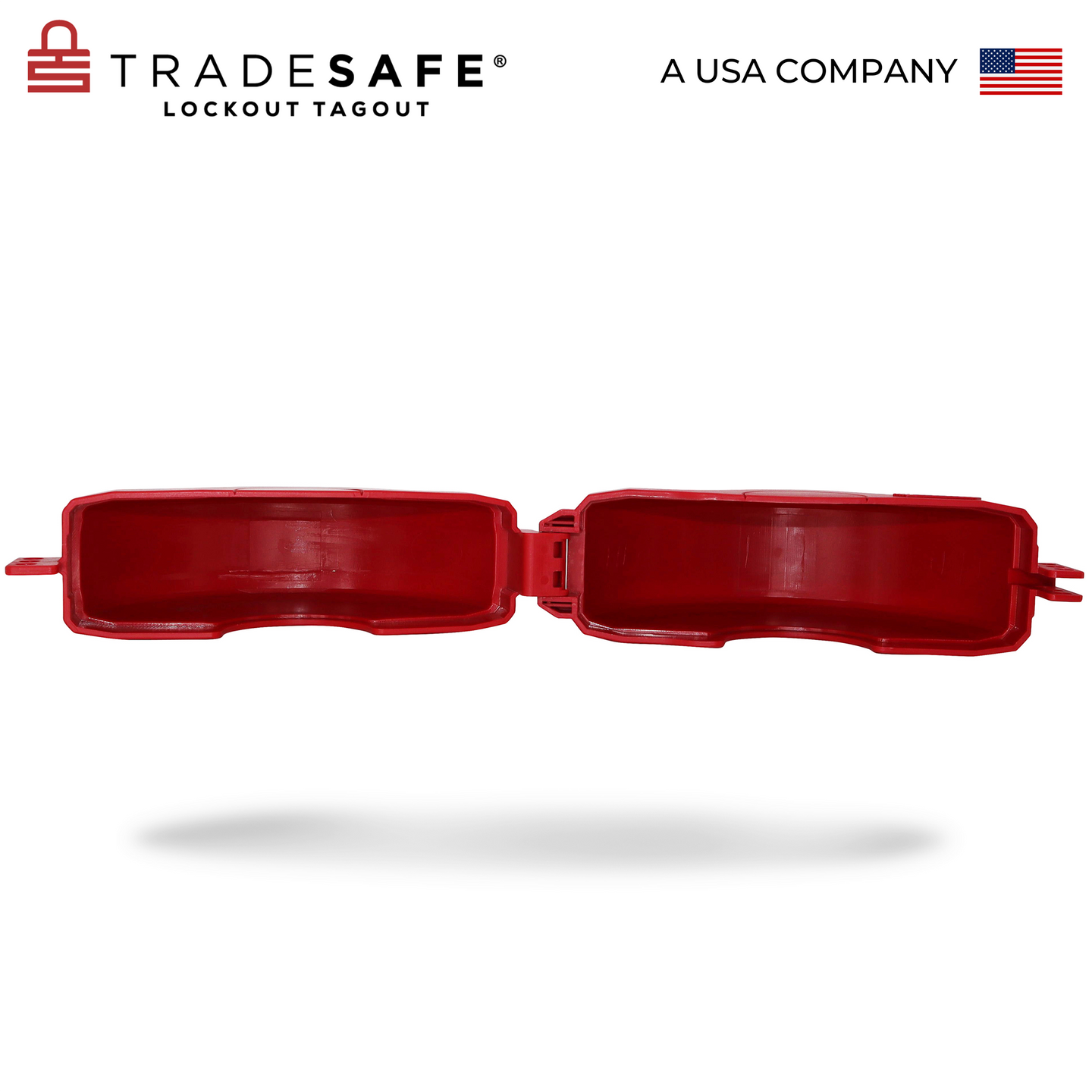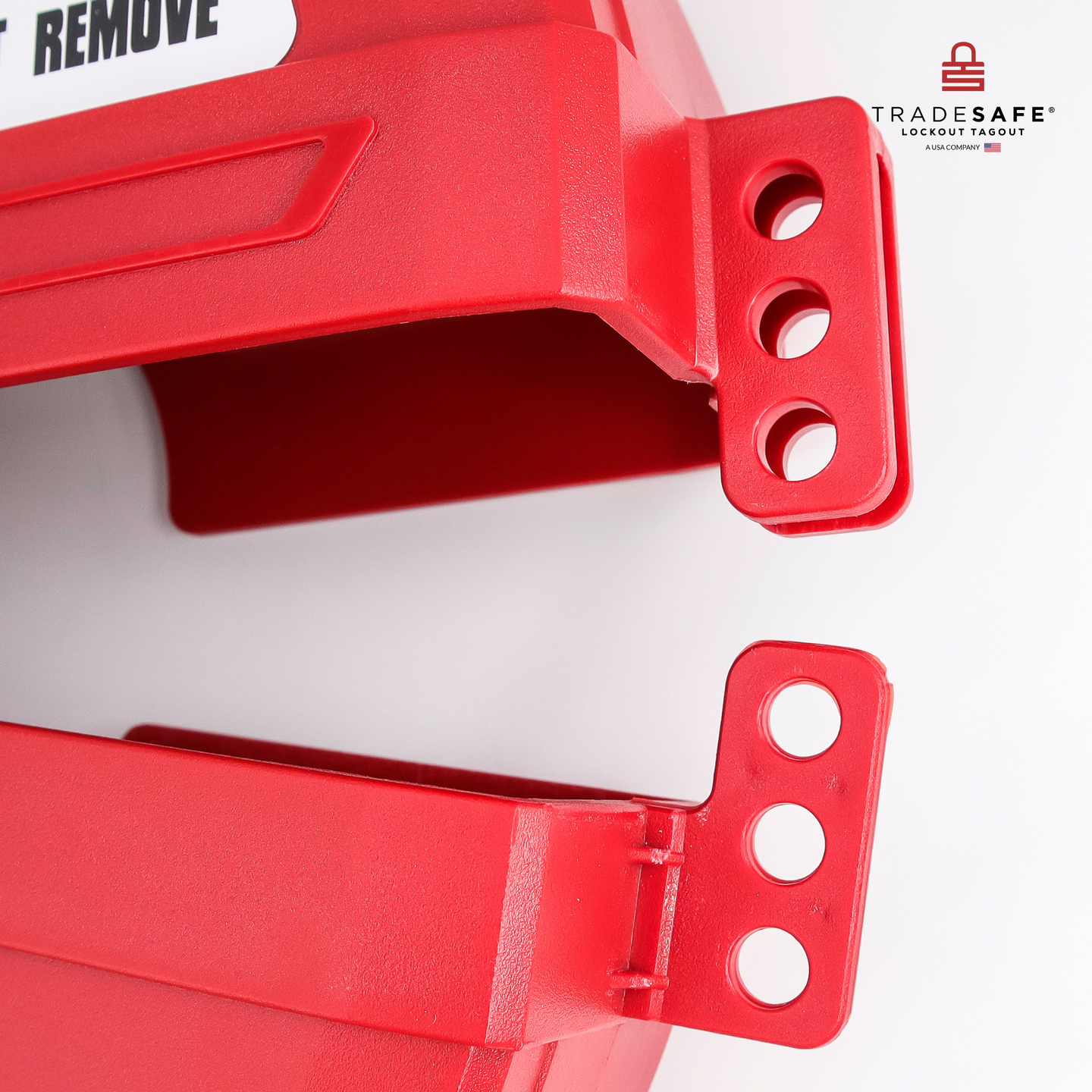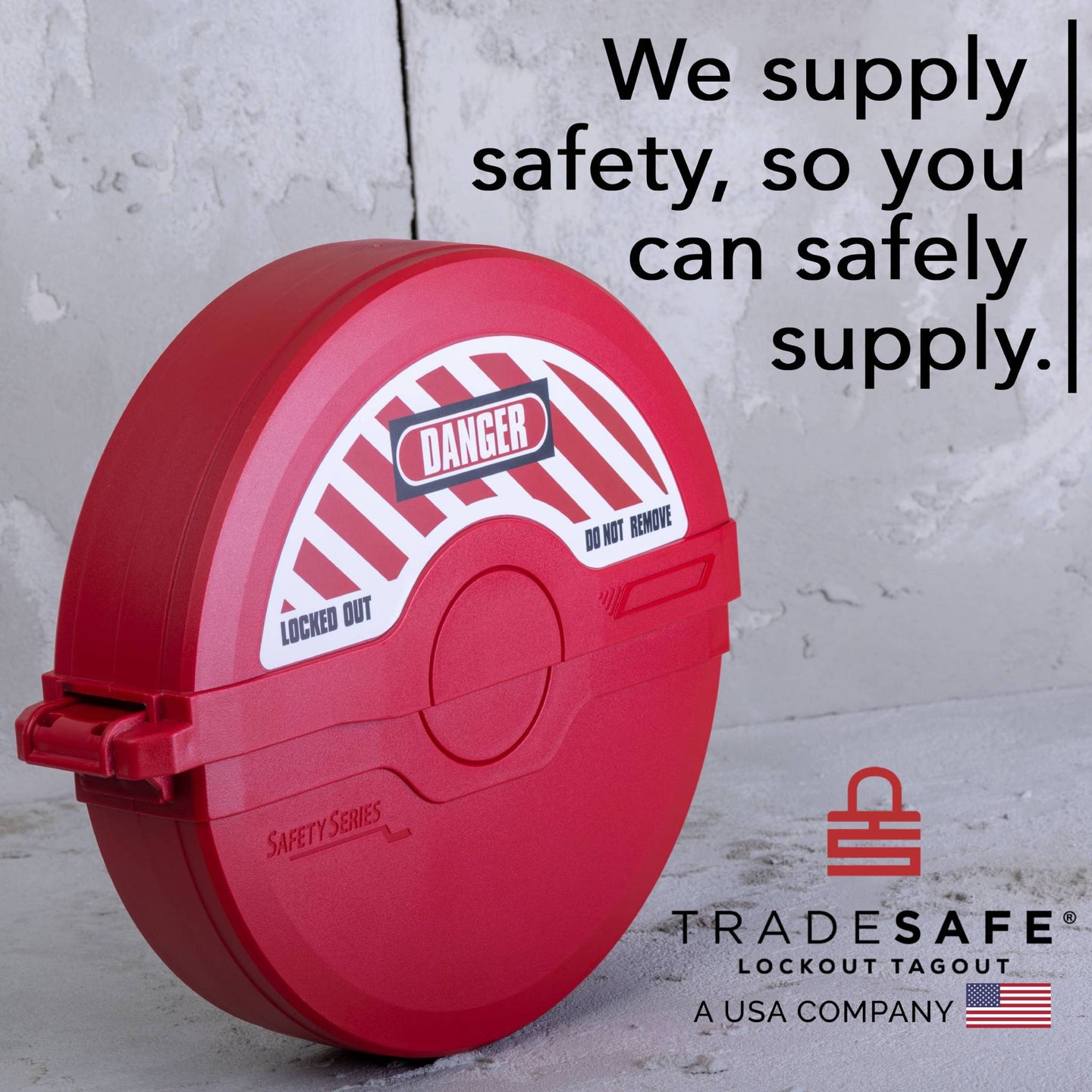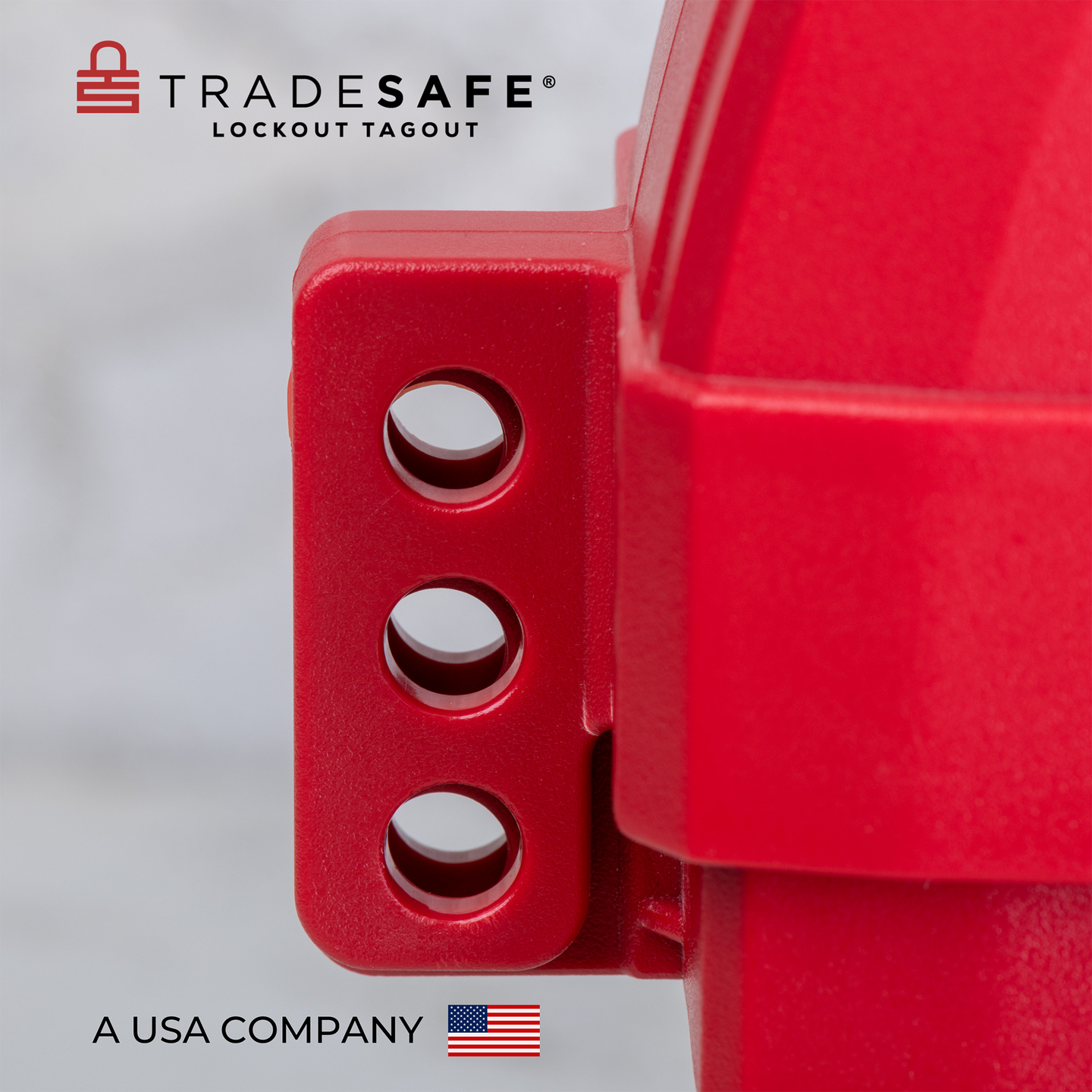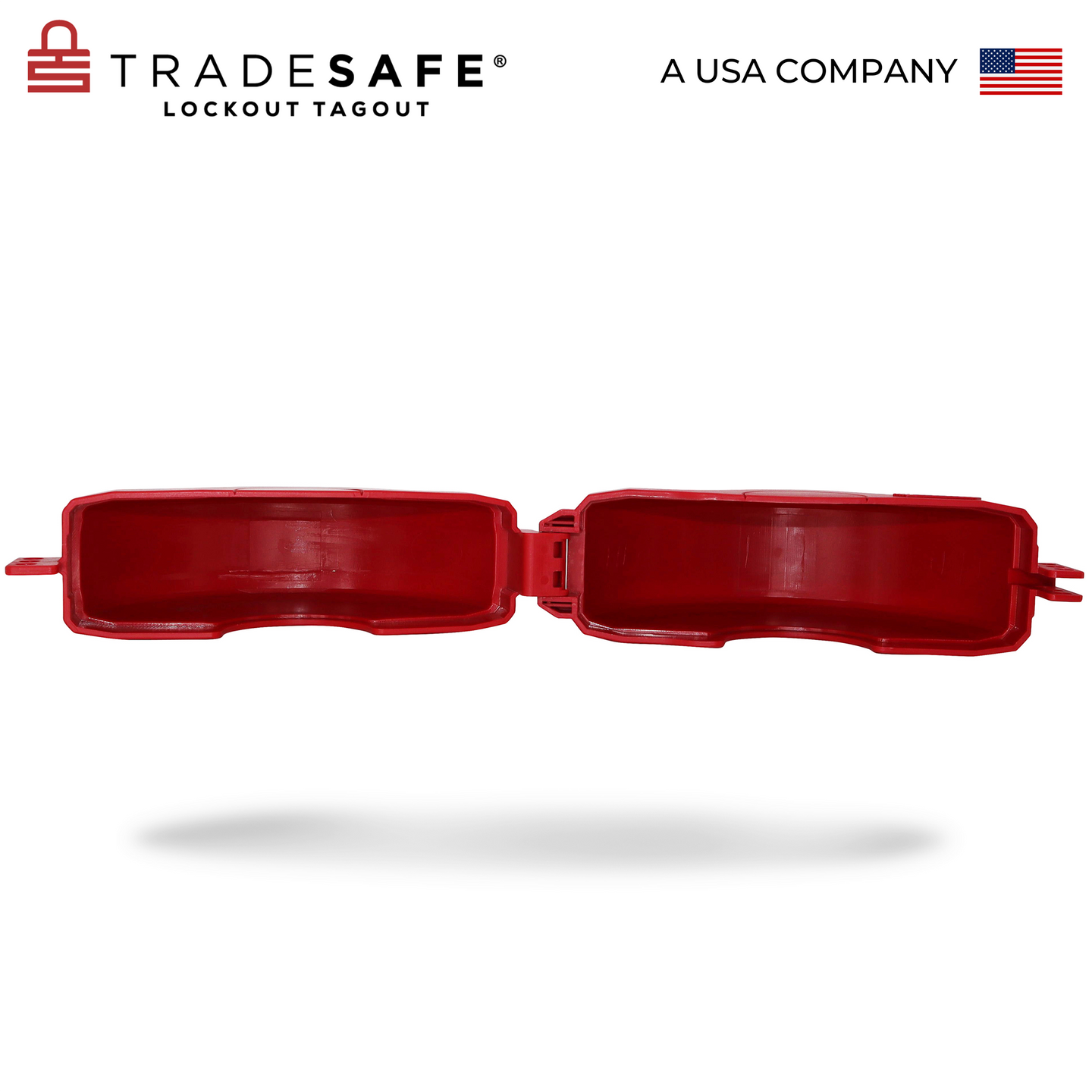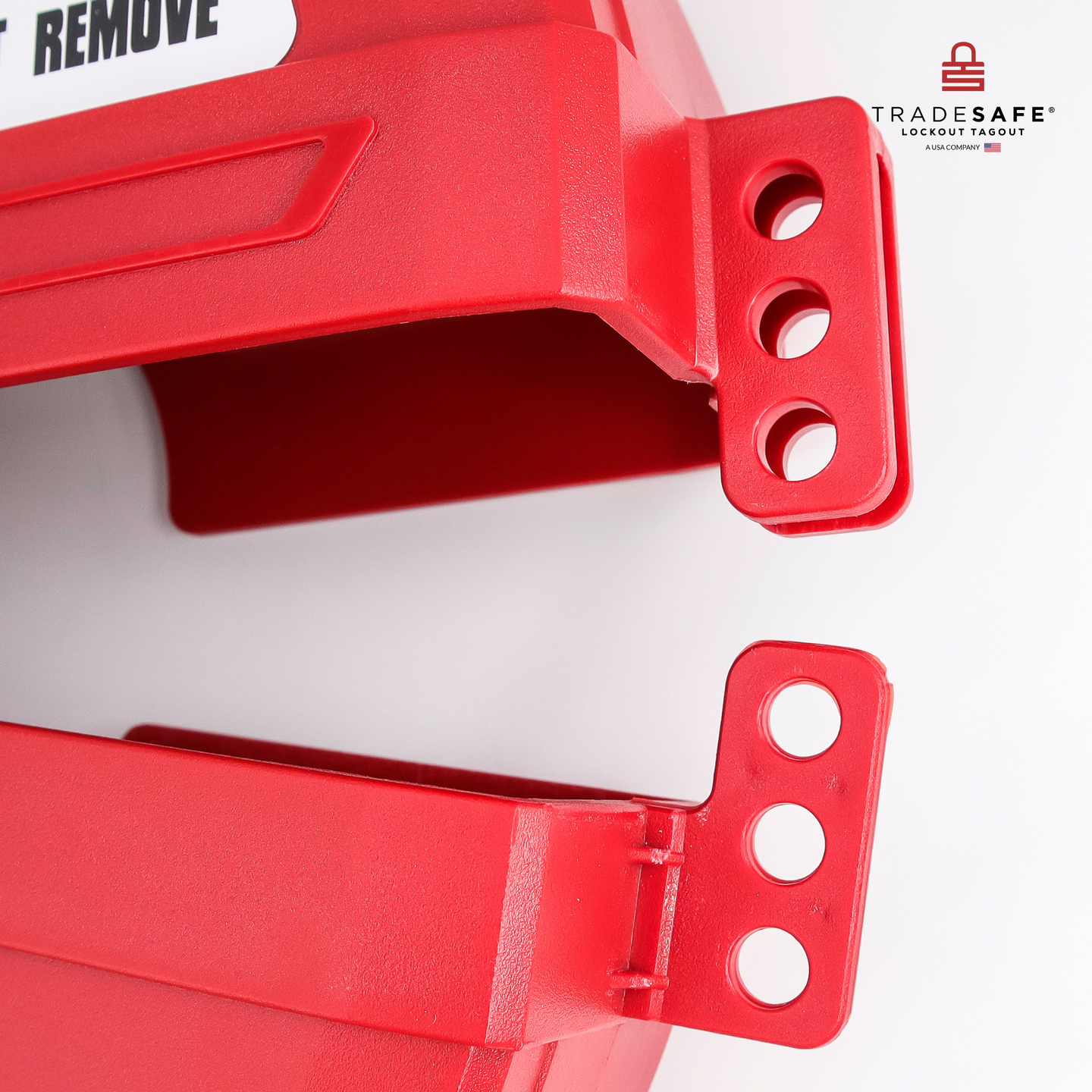 Gate Valve Lockout – 6-1/2" to 10" Valve Handle Diameter
Regular price
$109.00
Sale price
$54.95
Unit price
per
Sale
Sold out
You Save 49% (

$54.05

)
Industrial-grade ABS material valve lock
Removable center knockout for OS&Y or rising stem valves
Overlapping hinge & lock for a solid lockout
Secure with up tp 3 LOTO locks
More Details About Valve Lockout Device
TRADESAFE Gate Valve Lock effectively prevents unauthorized or accidental operation of the valve and can easily fit over 6-1/2" to 10" diameter valve handles with up to 3-1/2" diameter stems. Precision-engineered with extremely durable ABS plastic, these valve lockouts can withstand rough industrial conditions and are dependable during lockout tagout operations.
Part Number: TS1GTVR; similar industry part numbers: 65563, 483

(1) Red gate valve lockout; secures 6-1/2" to 10" diameter valve handles with up to 3-1/2" diameter stems

Endures temperatures from -51 to 300 degrees Fahrenheit
Works with gas valves, propane valves, and forklift gas valves and other industrial gate valves
Overlapping hinge and lock to ensure a reliable lockout; detachable hinges for convenient storage
Enables group LOTO of up to 3 safety padlocks with 11/32" shackle diameter
Valve Stem Hole Diameter: 3 1/2"
Inner Diameter: 11-1/8"
Inner Height: 2-7/16"
Total Body Length: 13-3/8"
ABS Plastic Thickness: 1/8"
Developed and tested to comply with OSHA 29 CFR 1910.147 standard
TRADESAFE is an established USA based and owned industry expert and reliable safety partner for LOTO compliance supplies
Ultra Durable Valve Lock
TRADESAFE Gate Valve Lock is developed with only the highest standards of quality materials and procedures. Each valve lockout device is built with engineering ABS plastic that is extremely resistant to chemicals, abrasion, and impact; enabling it to withstand the roughest conditions of industrial workplaces. Because ensuring workforce safety is TRADESAFE's top priority, we make sure that our products are difficult to damage or tamper with.
Premium Gate Valve Lockouts
This valve lock features overlapping hinges and locking points that ensure a strong lockout. It can be secured with up to 3 LOTO padlocks, enabling both individual and group lockout tagout procedures. These valve lockouts are also simple and convenient to use. It encircles the gate valve operating handle to protect against unintentional valve opening.

By securely locking the valve in place, gate valve lockouts help to prevent leaks, spills, and other types of release that could pose a risk to workers, the environment, and the public.

Exceptionally Versatile Rising Stem Valve Lockout
TRADESAFE gate valve lock is built to securely lock out different types of valves, including gas valves, forklift gas valves, propane valves, and more. These valve lockouts also feature a central knockout that can be removed with a pincer to fit perfectly over OS&Y or rising stem gate valves.

This LOTO device is typically used in industrial and commercial settings, such as pipelines, power plants, and chemical facilities to help maintain safety and control over the flow of hazardous materials.

OSHA-Compliant Gate Valve Lockouts
Compliance with the OSHA Standard for The Control of Hazardous Energy (Lockout/Tagout) (29 CFR 1910.147) is vital to the safety of every employee on site. That's why we make sure that all of our products help workplaces remain OSHA-compliant.
TRADESAFE products are made with the requirements for lockout tagout devices in mind. These are the requirements pursuant to OSHA Standard 1910.147:
Durable: Devices must be able to withstand exposure to the environment in which they will be used for as long as necessary.

Standardized: Devices used in a facility must be standardized according to color, shape, or size.

Substantial: Devices must be difficult to remove without the use of excessive force or techniques that are not typically used to remove the devices. They should also be able to prevent accidental removal.

Identifiable: Devices must be able to identify the employee who applied them.

Exclusive for Safety: Devices must not be used for any purpose other than controlling energy.

TRADESAFE: A Trusted USA-Based Partner in Lockout Tagout
TRADESAFE is a USA-based company well-versed in OSHA regulations

People-centered supplier of safety products

High-quality products made of heavy-duty and durable materials

Constant innovation and continuous adaptation to new standards

TRADESAFE is your partner in safety and we always keep the seriousness of that role in mind. That's why all of our lockout tagout products are industrial-grade and meet regulatory standards. They are all ideal for use in the lockout of electrical and many other energy applications.
We don't want to just be your supplier. We want to be your partner. For this reason, we approach things differently. Each and every day our team works to improve our products and the services we provide to the great people and businesses that put so much faith in us.
TRADESAFE is a USA-based company. This helps us stay up to date on the latest OSHA safety standards. We are inspired by the American worker and we are honored to help keep you safe from harm and hazards.