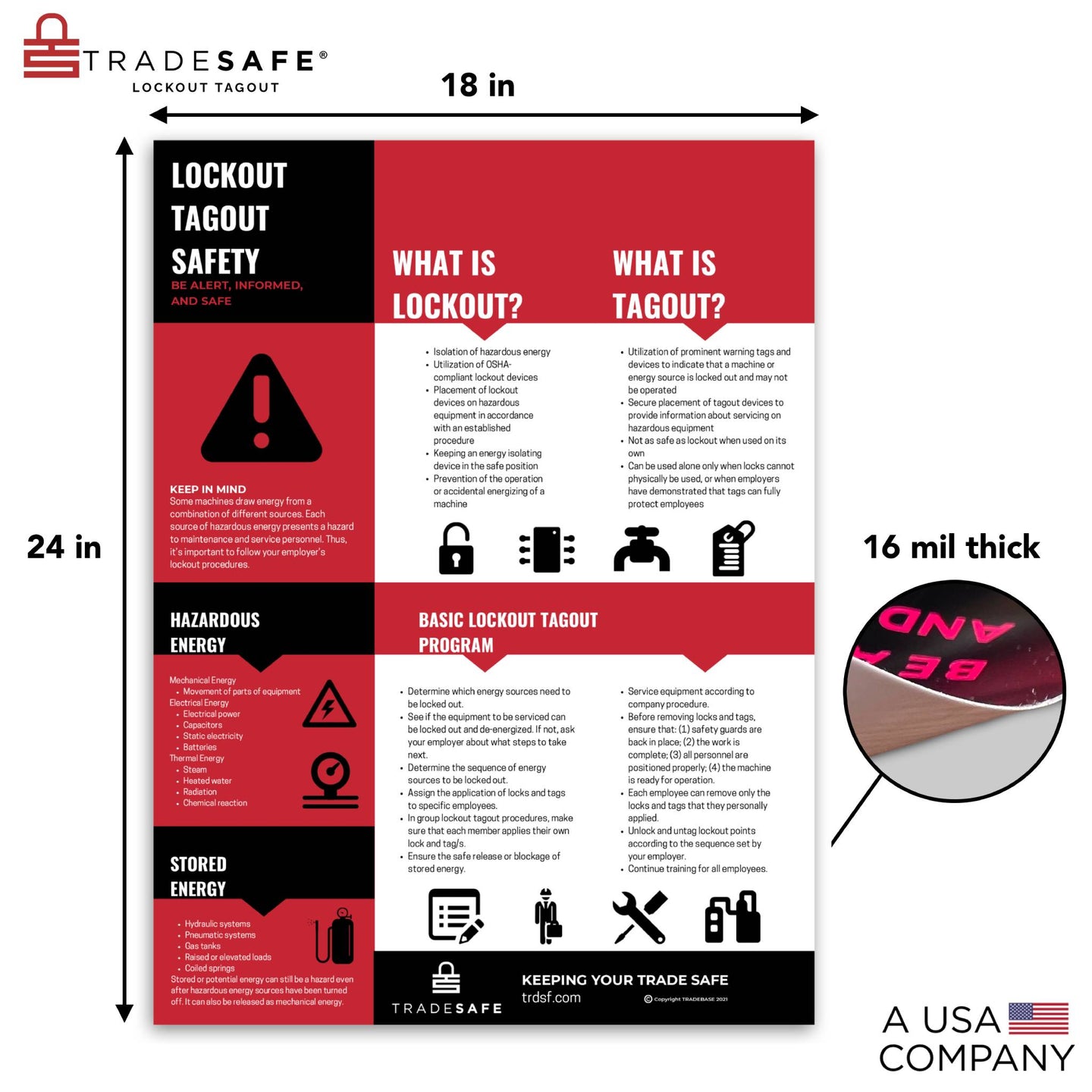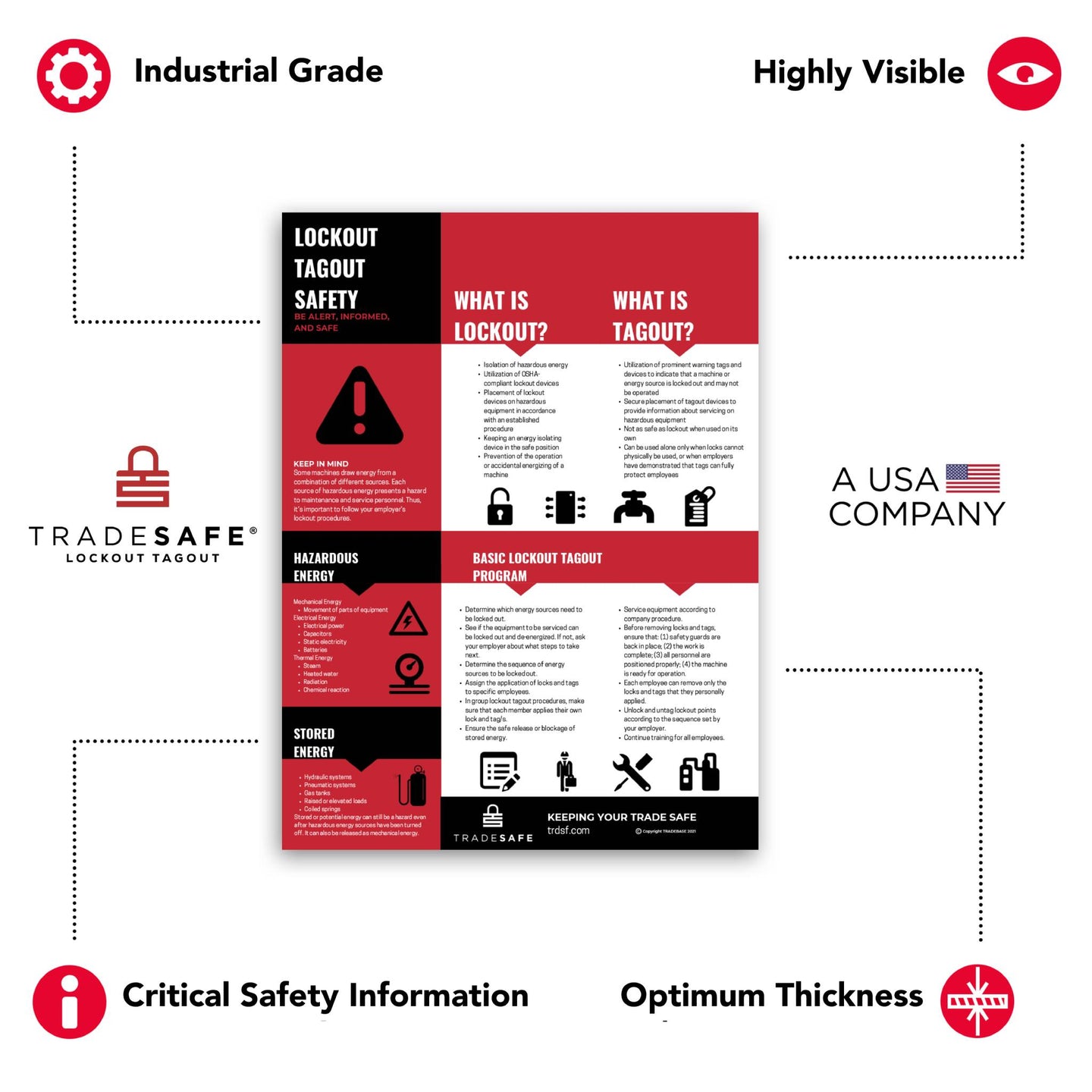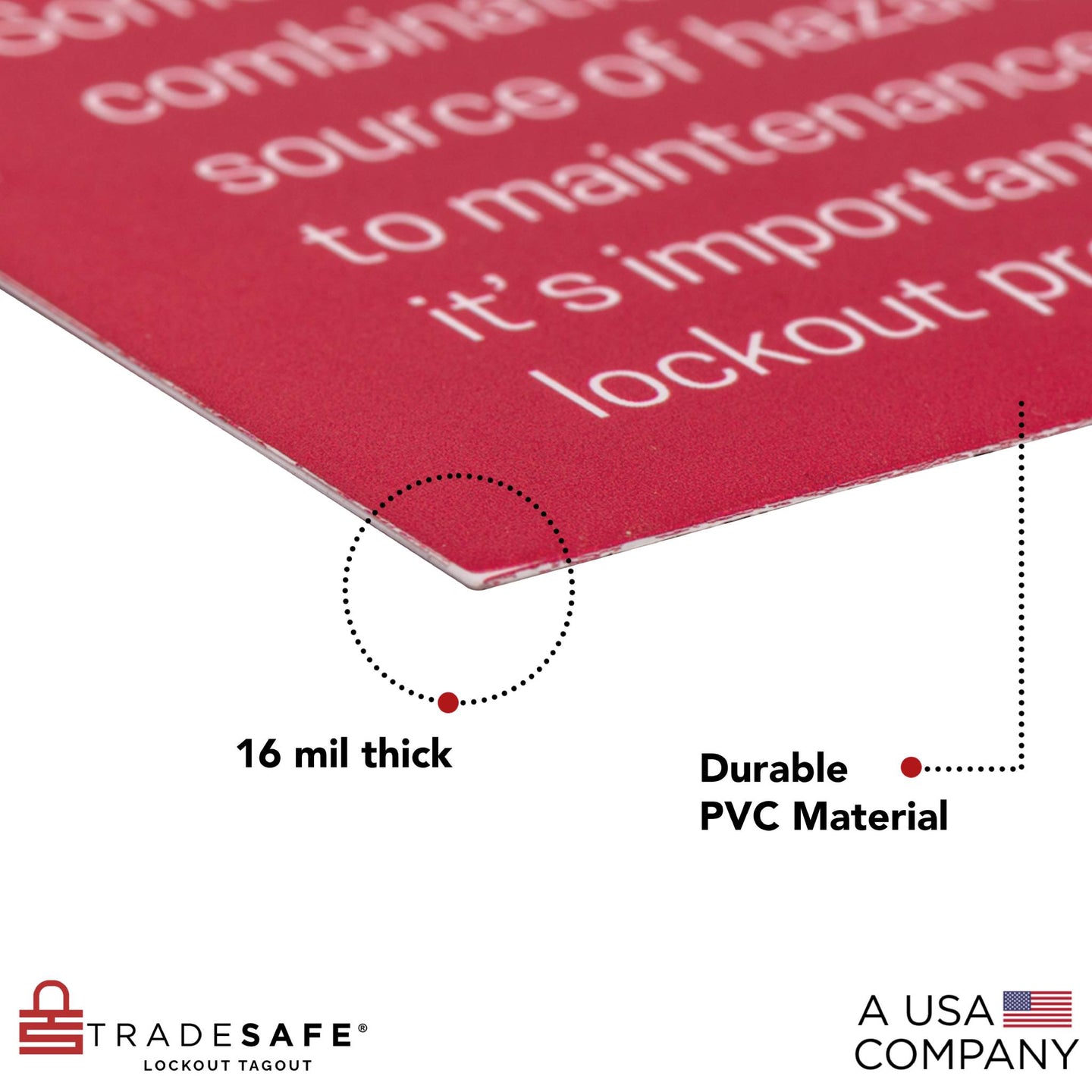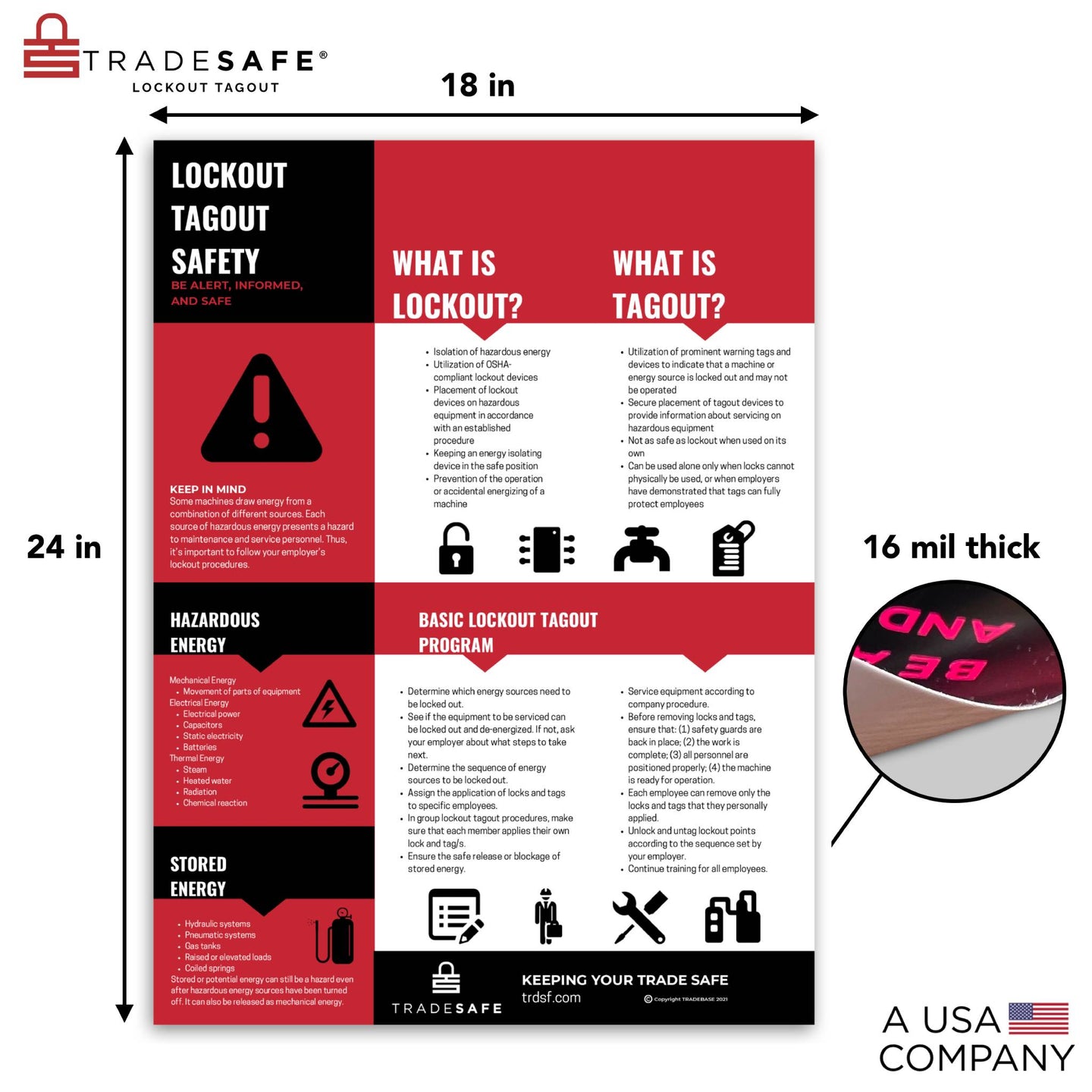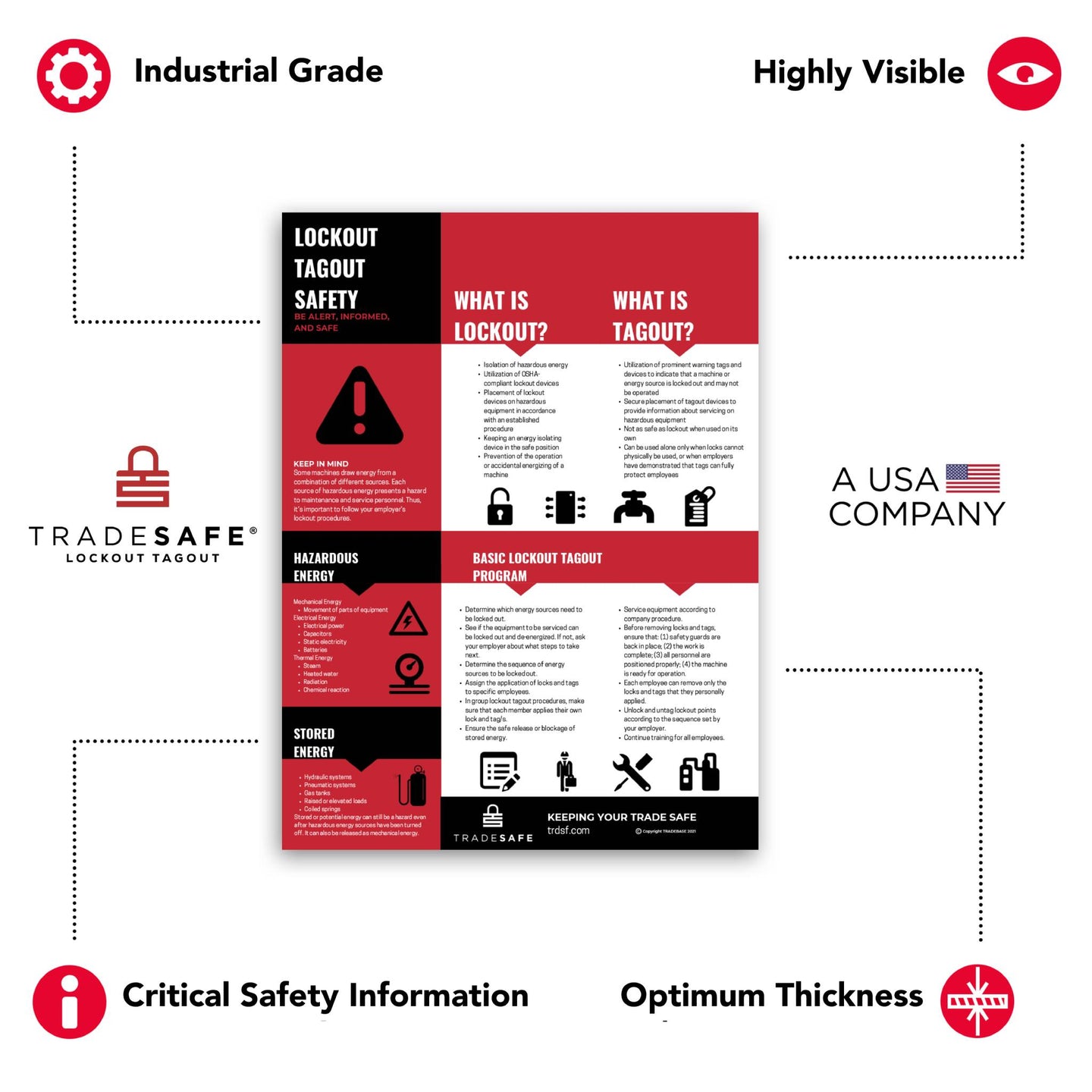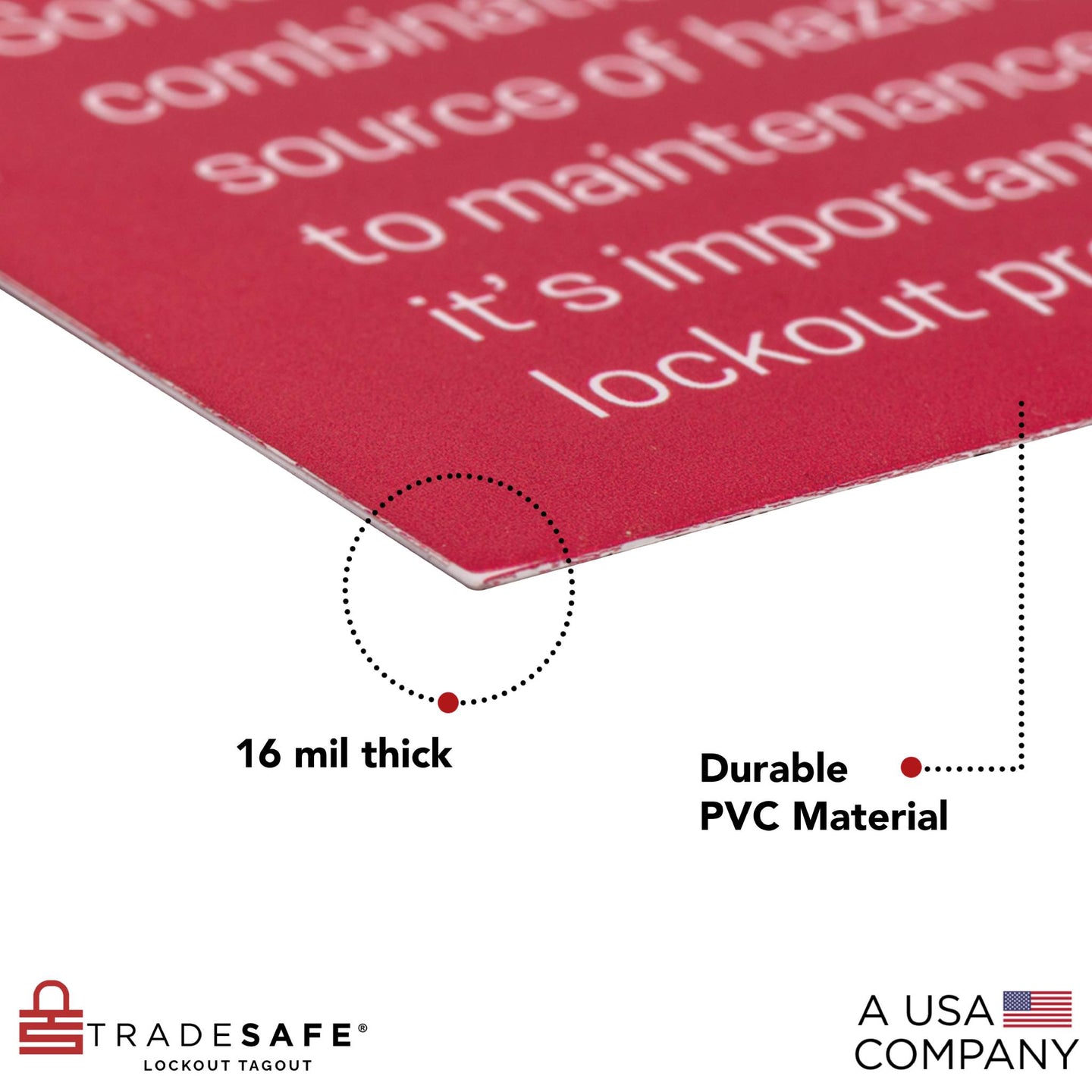 Lockout Tagout Safety Poster
Regular price
$70.00
Sale price
$30.95
Unit price
per
Sale
Sold out
You Save 55% (

$39.05

)
Quick guide for vital LOTO information

18" x 24", 16 mil tear-resistant PVC vinyl poster

Vivid colors with clear & bold texts for prominent visibility

Convenient holes on top corners for effortless hanging
More Details On Lockout Tagout Posters
Promoting a safe and secure work environment is a responsibility we take seriously. TRADESAFE Lockout Tagout Posters are visual testaments to our commitment to fostering a culture of safety. With detailed illustrations and concise instructions, our lockout safety posters ensure that hazard warnings and safety protocols for lockout tagout are effectively communicated, reducing the risk of accidents and enhancing overall workplace security.
Part Number: TSPOS2; similar industry part number: 104218
(1) LOTO Poster made from premium-quality PVC vinyl, waterproof and tough against wear, tear, and abrasion
Contains comprehensive safety information about lockout tagout, making it easy for employees to understand and follow LOTO programs
Efficient OSHA training materials for both new employees and experienced professionals
Dimensions: 18" x 24"
Thickness: 16 mil
Versatile size and design make it suitable for placement in key areas, such as break rooms, entrances, and equipment stations
TRADESAFE is an established USA based and owned industry expert and reliable safety partner for LOTO compliance supplies
Informative & Easy-to-Understand LOTO Poster
TRADESAFE Lockout Tagout Poster stands out for its ability to simplify complex procedures. Each step of the lockout tagout process is clearly discussed, ensuring that employees can easily grasp the sequence of actions required to safely isolate equipment. The strategic inclusion of hazard identification and core lockout tagout concepts further enhance the safety poster's effectiveness, enabling individuals of varying expertise levels to follow and understand the procedures accurately.
Reliable & Resilient Lockout Poster
Crafted from exceptional quality materials, this lock out tag out poster is built to withstand the rough environment of various industrial workplaces. Whether it's displayed in a bustling factory, a construction site, or an office setting, the poster's robust construction ensures that it remains an enduring lockout safety resource for years to come.
LOTO Safety Posters Designed for Optimal Visibility
Visual aids become significantly more impactful when they exhibit exceptional quality, a characteristic this lockout poster has. Utilizing cutting-edge printing technology, the visuals not only captivate attention but also endure with vibrancy and resistance to fading. This superior print quality ensures the poster's message remains clear and informative, reinforcing its role as a constant reminder of proper lockout tagout procedures.
OSHA Compliant Workplace Safety Posters
Compliance with the OSHA Standard for The Control of Hazardous Energy (Lockout/Tagout) (29 CFR 1910.147) is vital to the safety of every employee on site. That's why we make sure that all of our products help workplaces remain OSHA-compliant.
TRADESAFE products are made with the requirements for lockout tagout devices in mind. These are the requirements pursuant to OSHA Standard 1910.147:
Durable: Devices must be able to withstand exposure to the environment in which they will be used for as long as necessary.
Standardized: Devices used in a facility must be standardized according to color, shape, or size.
Substantial: Devices must be difficult to remove without the use of excessive force or techniques that are not typically used to remove the devices. They should also be able to prevent accidental removal.
Identifiable: Devices must be able to identify the employee who applied them.
Exclusive for Safety: Devices must not be used for any purpose other than controlling energy.
TRADESAFE: A Trusted USA-Based Partner in Lockout Tagout
TRADESAFE is a USA-based company well-versed in OSHA regulations
People-centered supplier of safety products
High-quality products made of heavy-duty and durable materials
Constant innovation and continuous adaptation to new standards
TRADESAFE is your partner in safety and we always keep the seriousness of that role in mind. That's why all of our lockout tagout products are industrial-grade and meet regulatory standards. They are all ideal for use in the lockout of electrical and many other energy applications.
We don't want to just be your supplier. We want to be your partner. For this reason, we approach things differently. Each and every day our team works to improve our products and the services we provide to the great people and businesses that put so much faith in us.
TRADESAFE is a USA-based company. This helps us stay up to date on the latest OSHA safety standards. We are inspired by the American worker and we are honored to help keep you safe from harm and hazards.