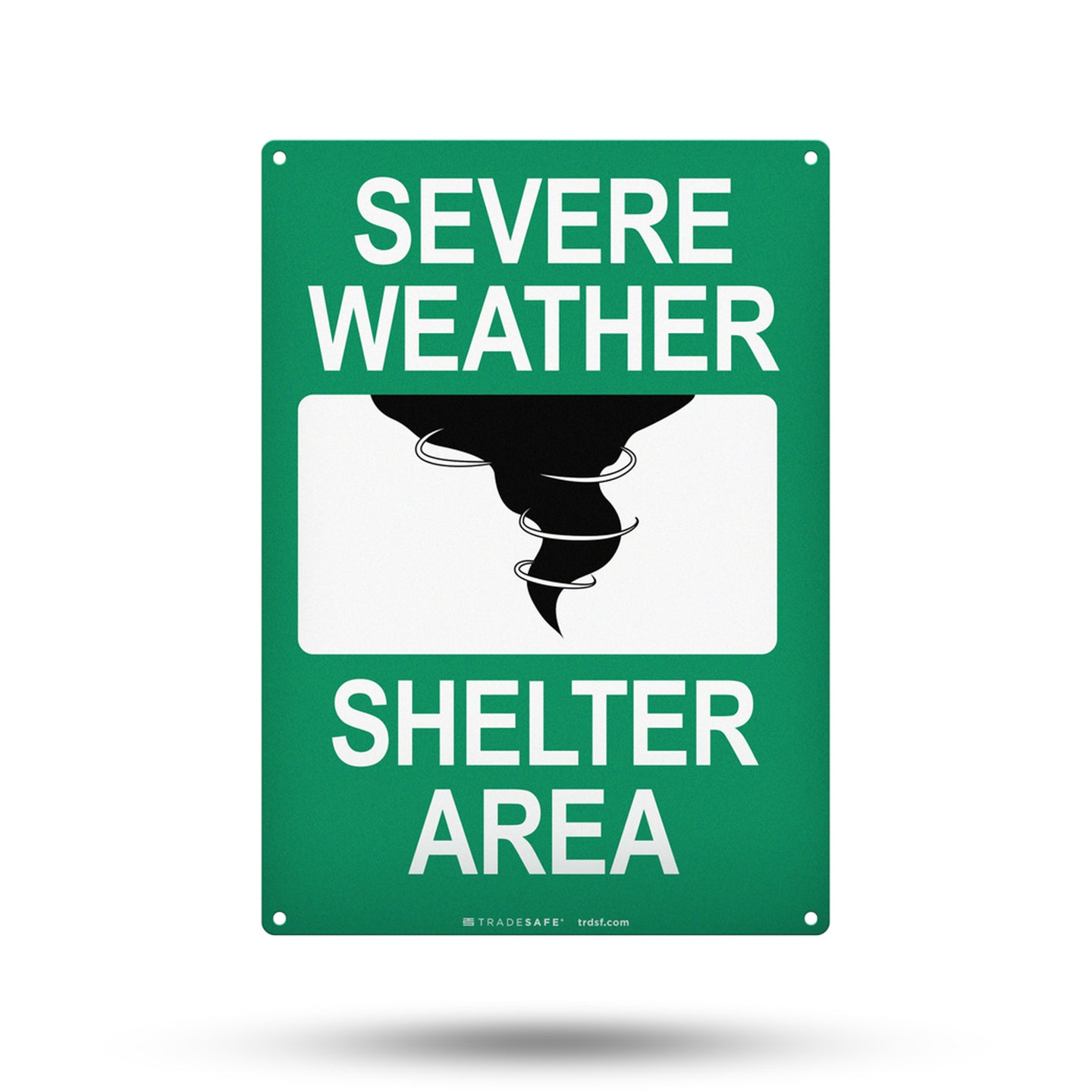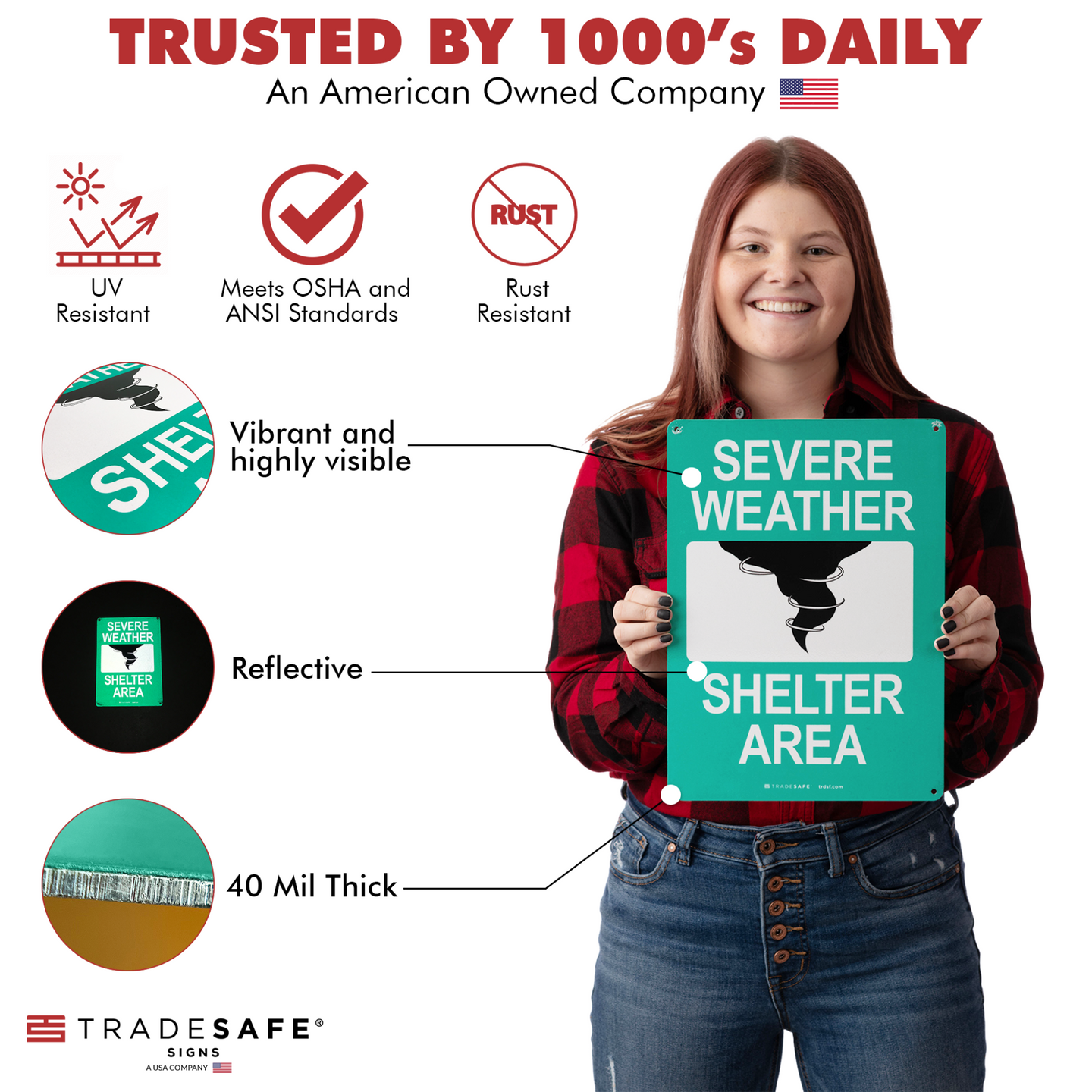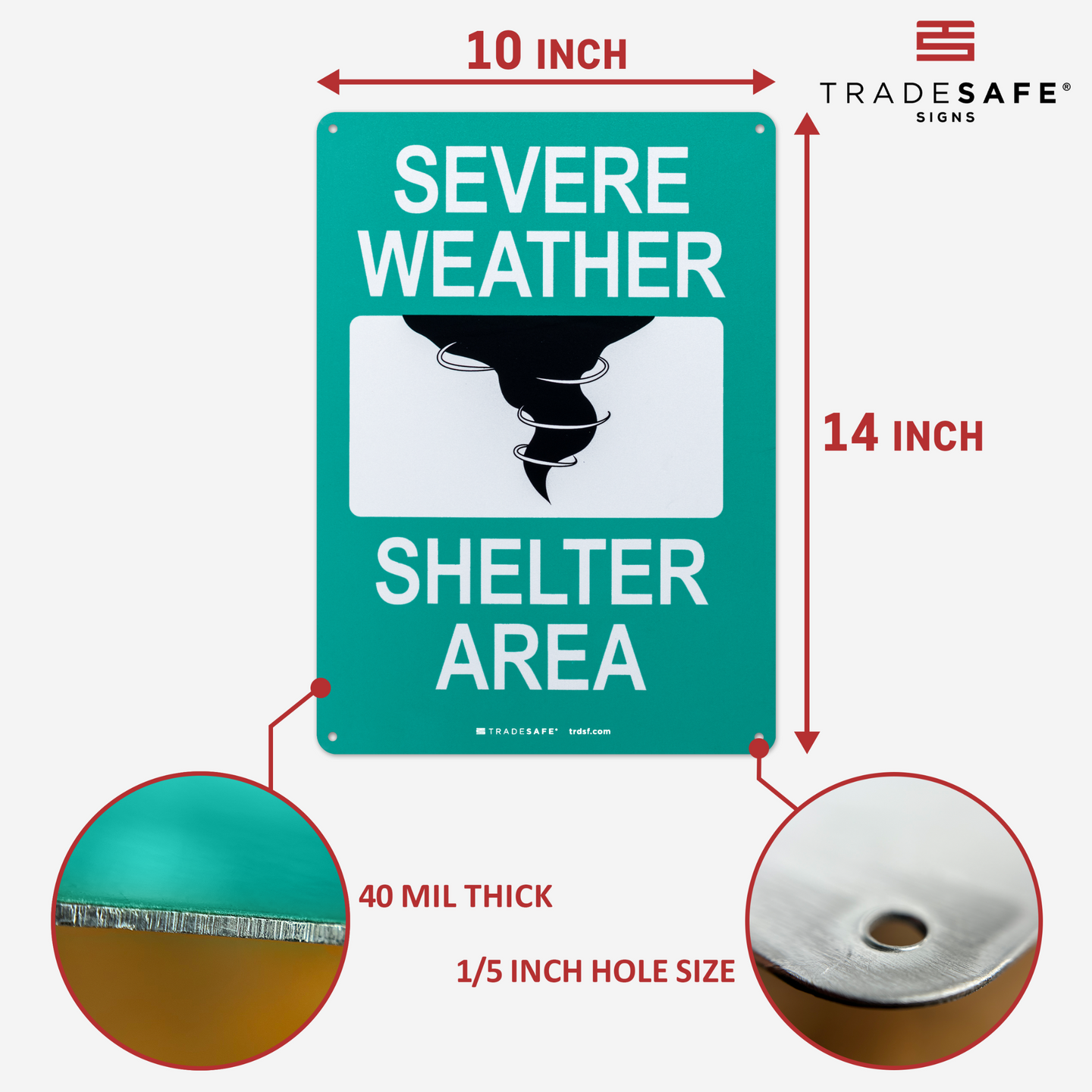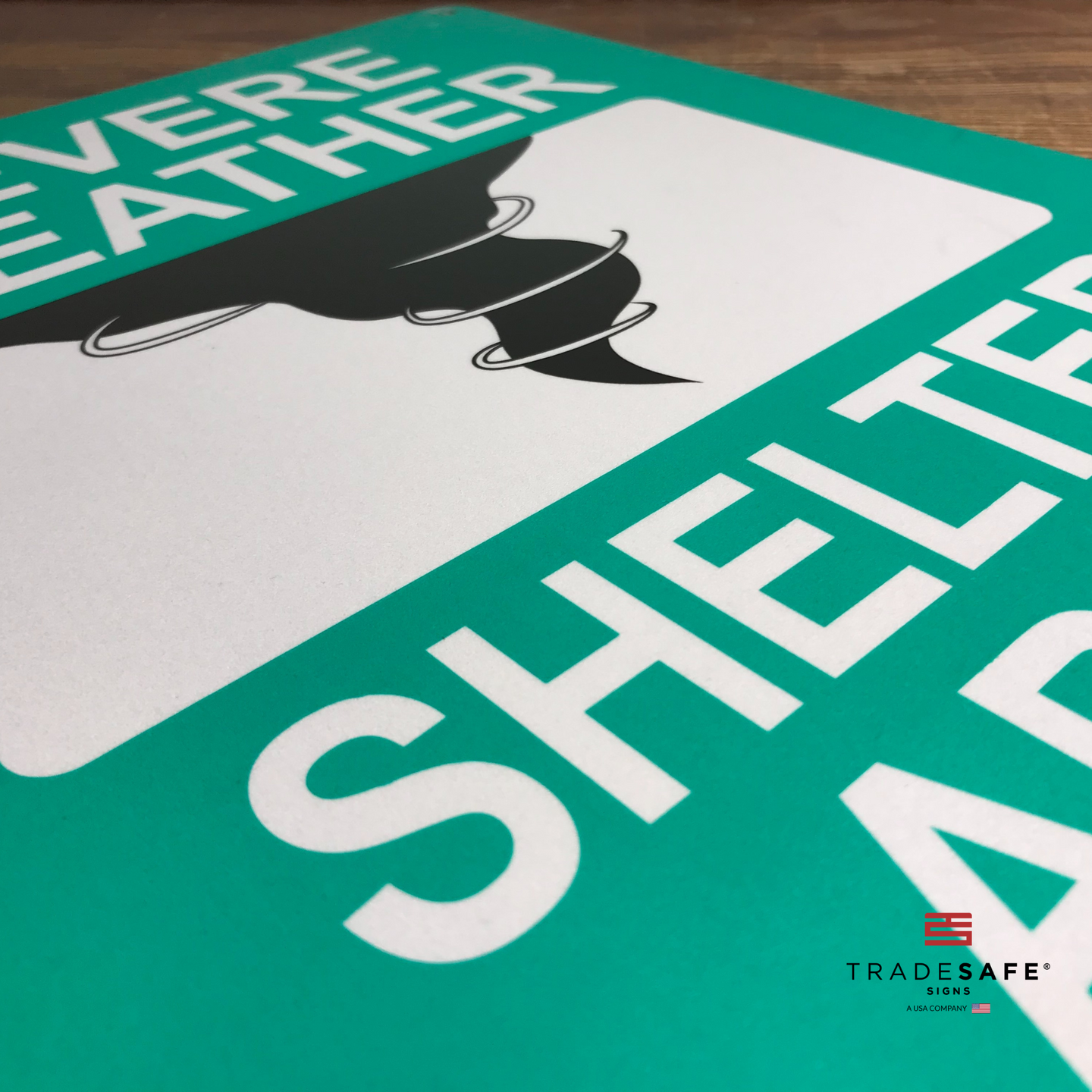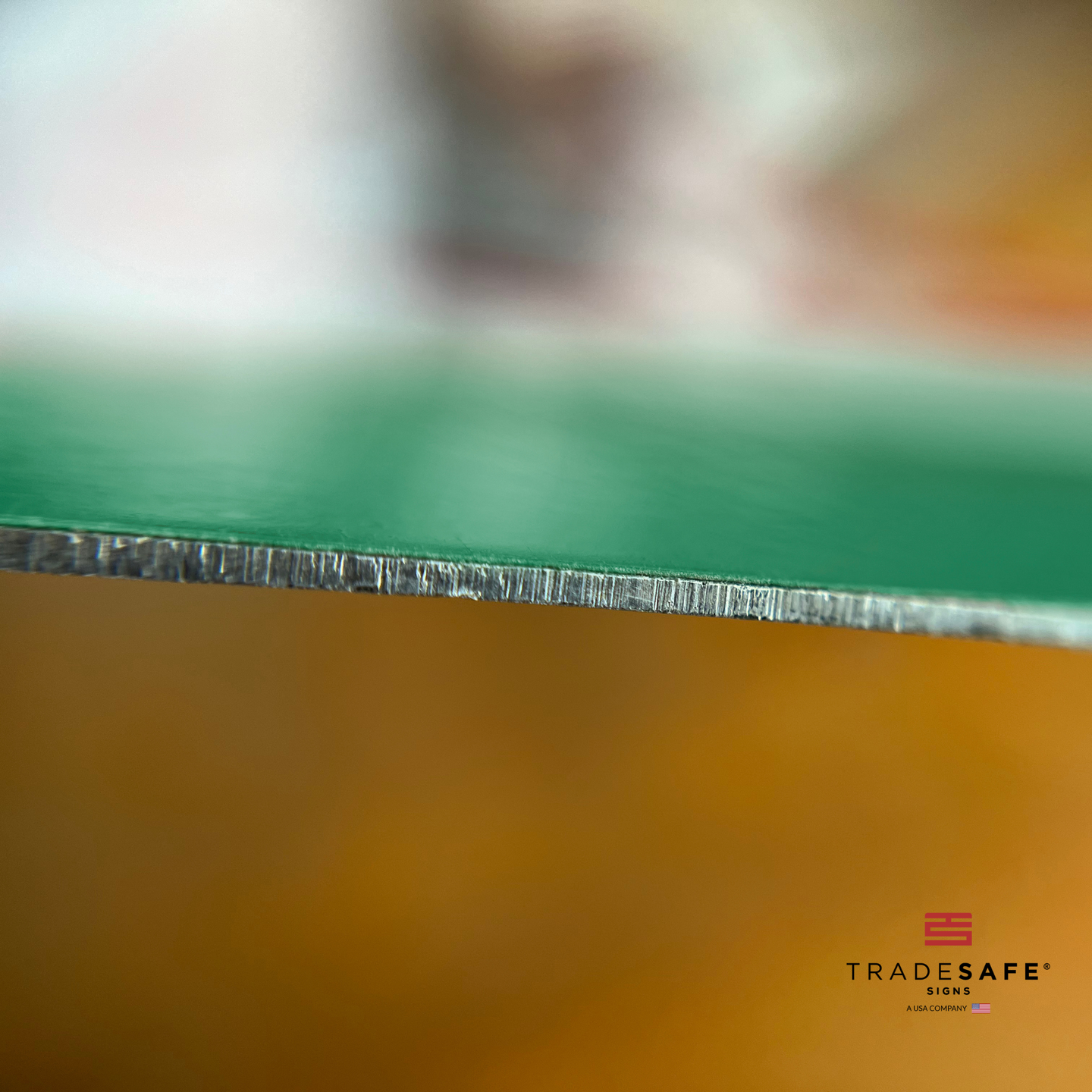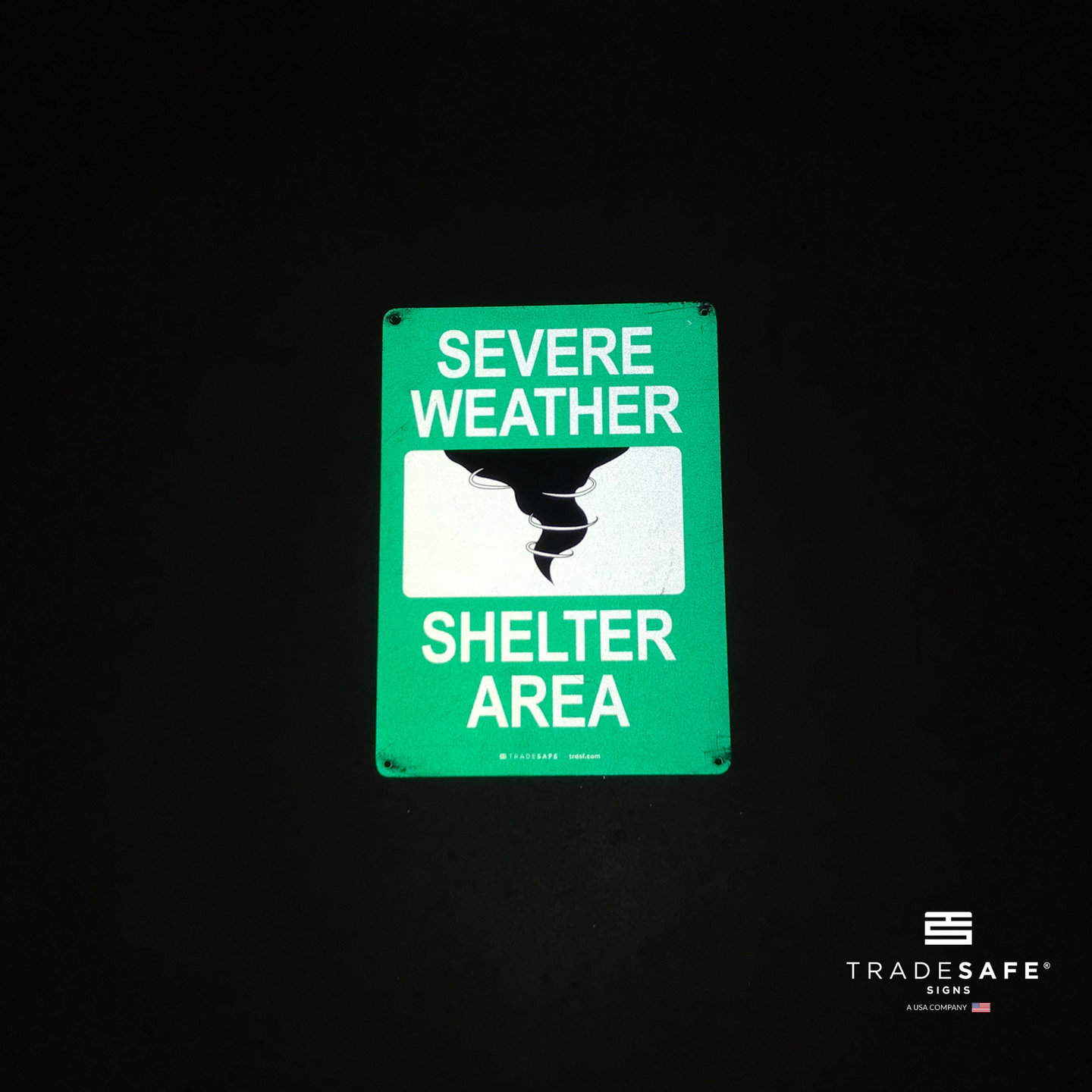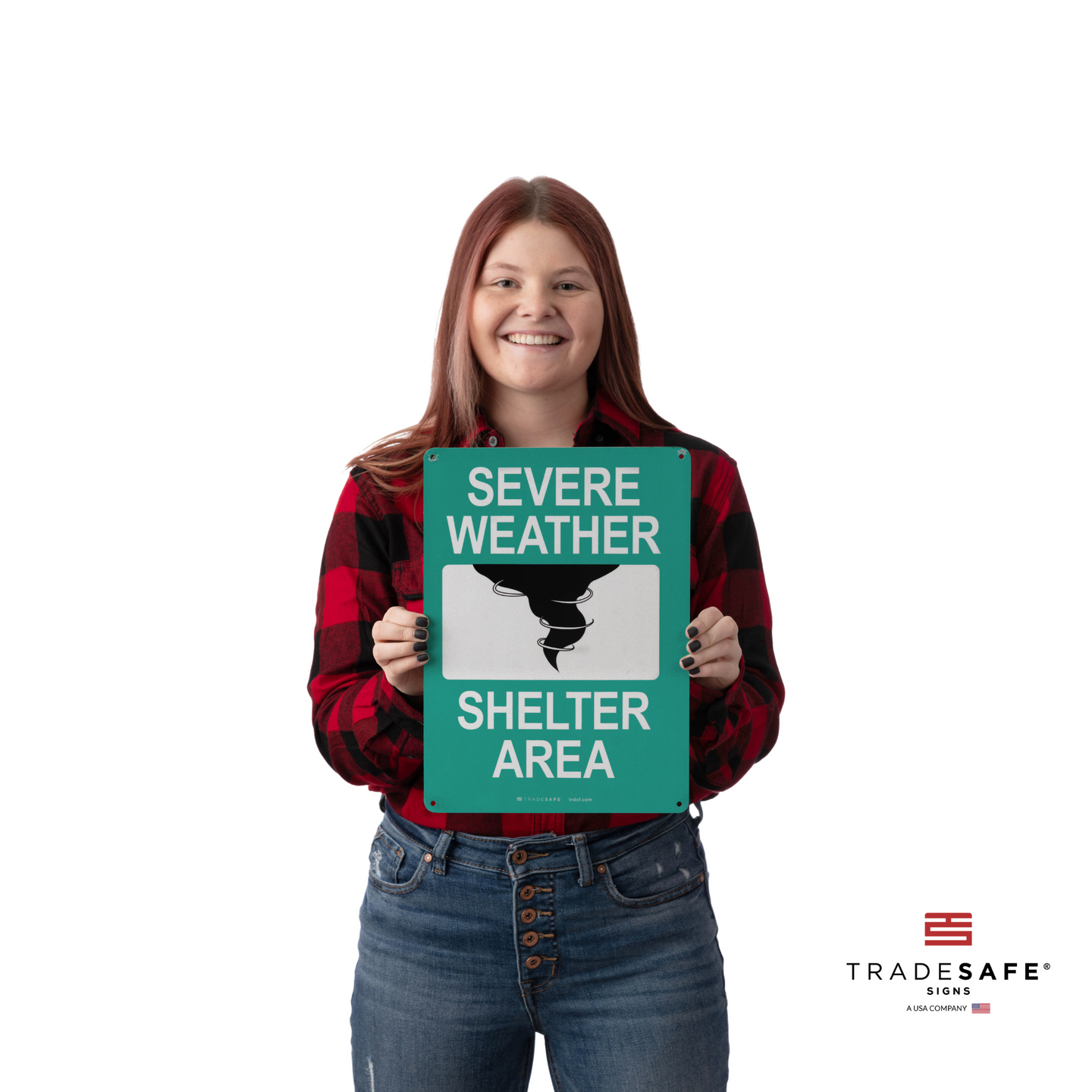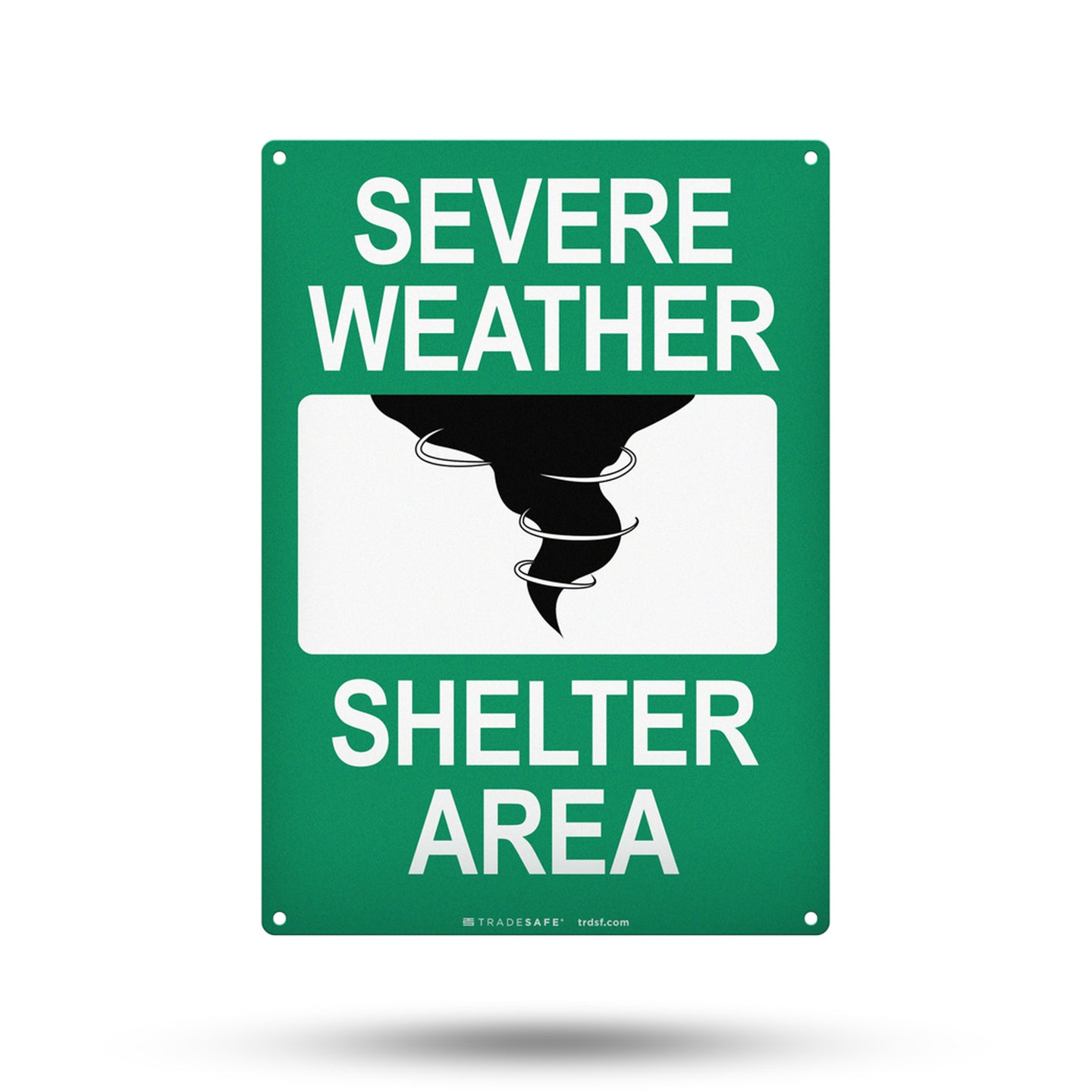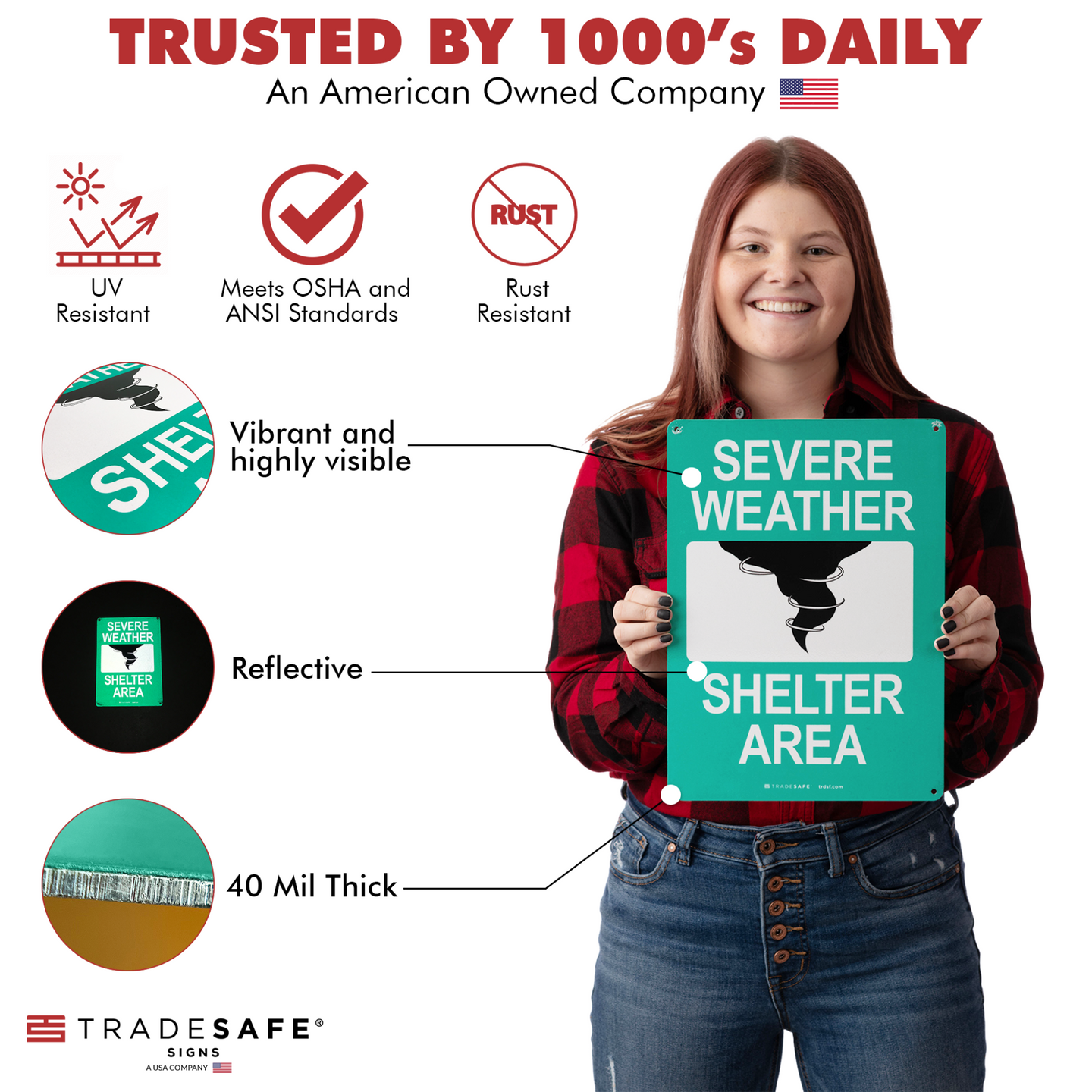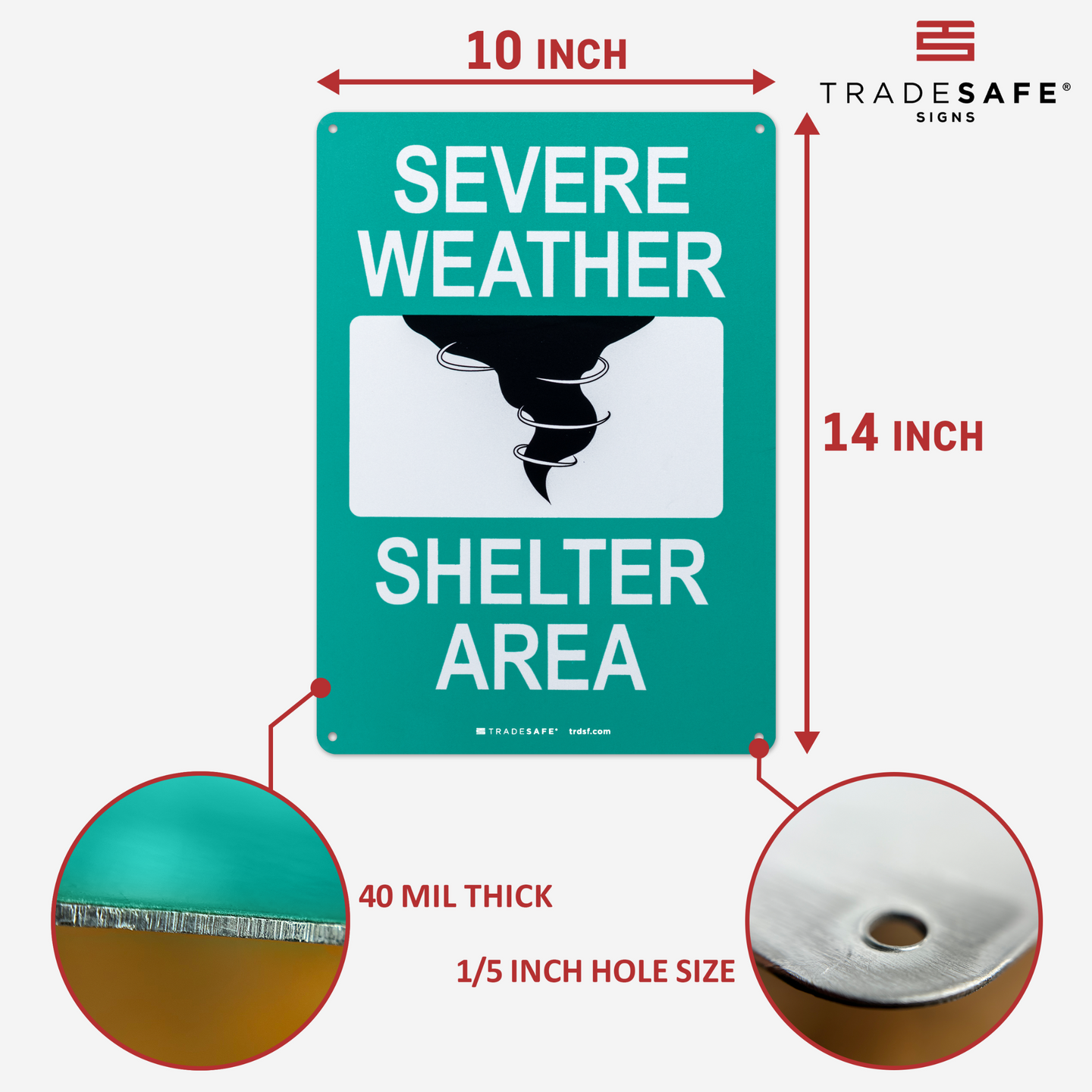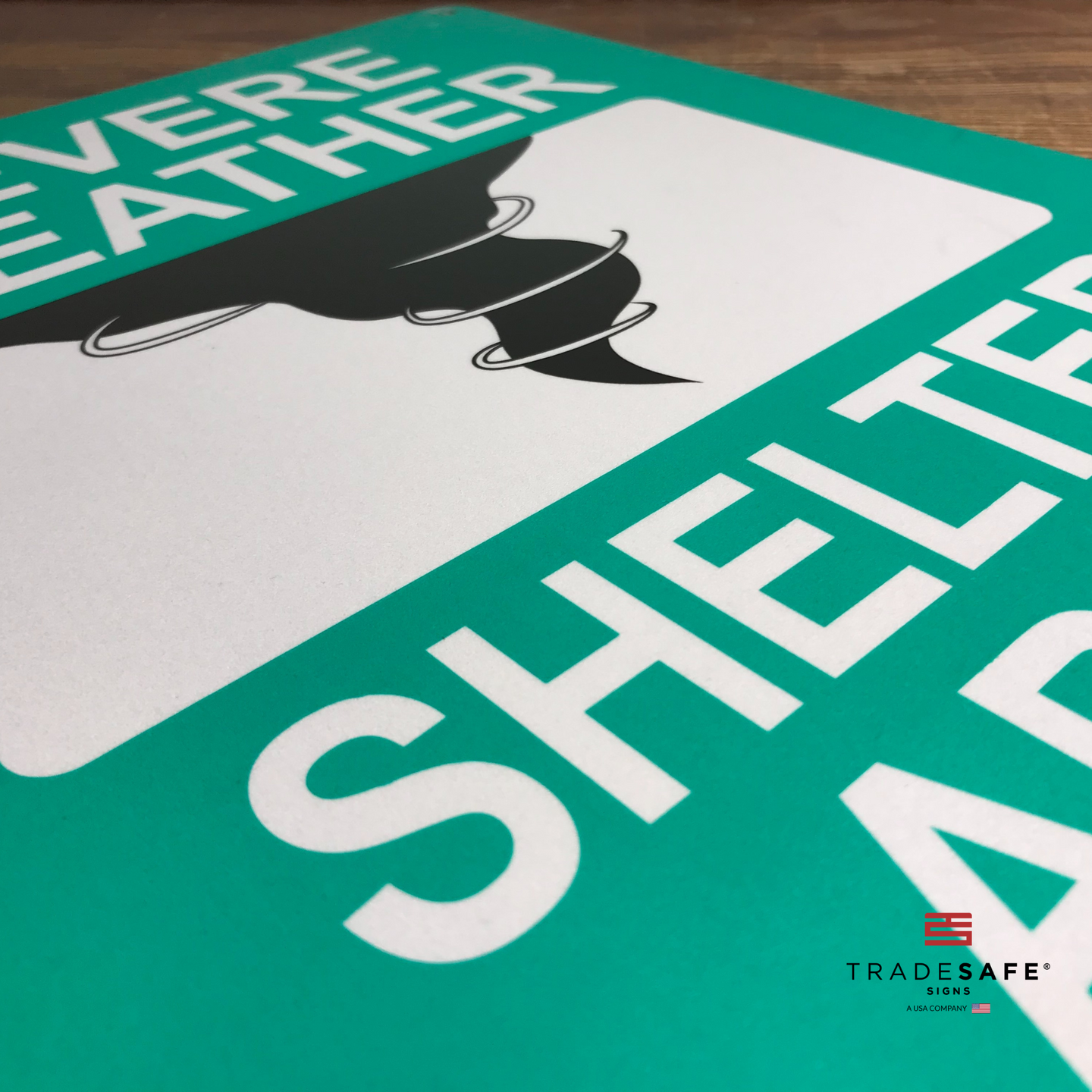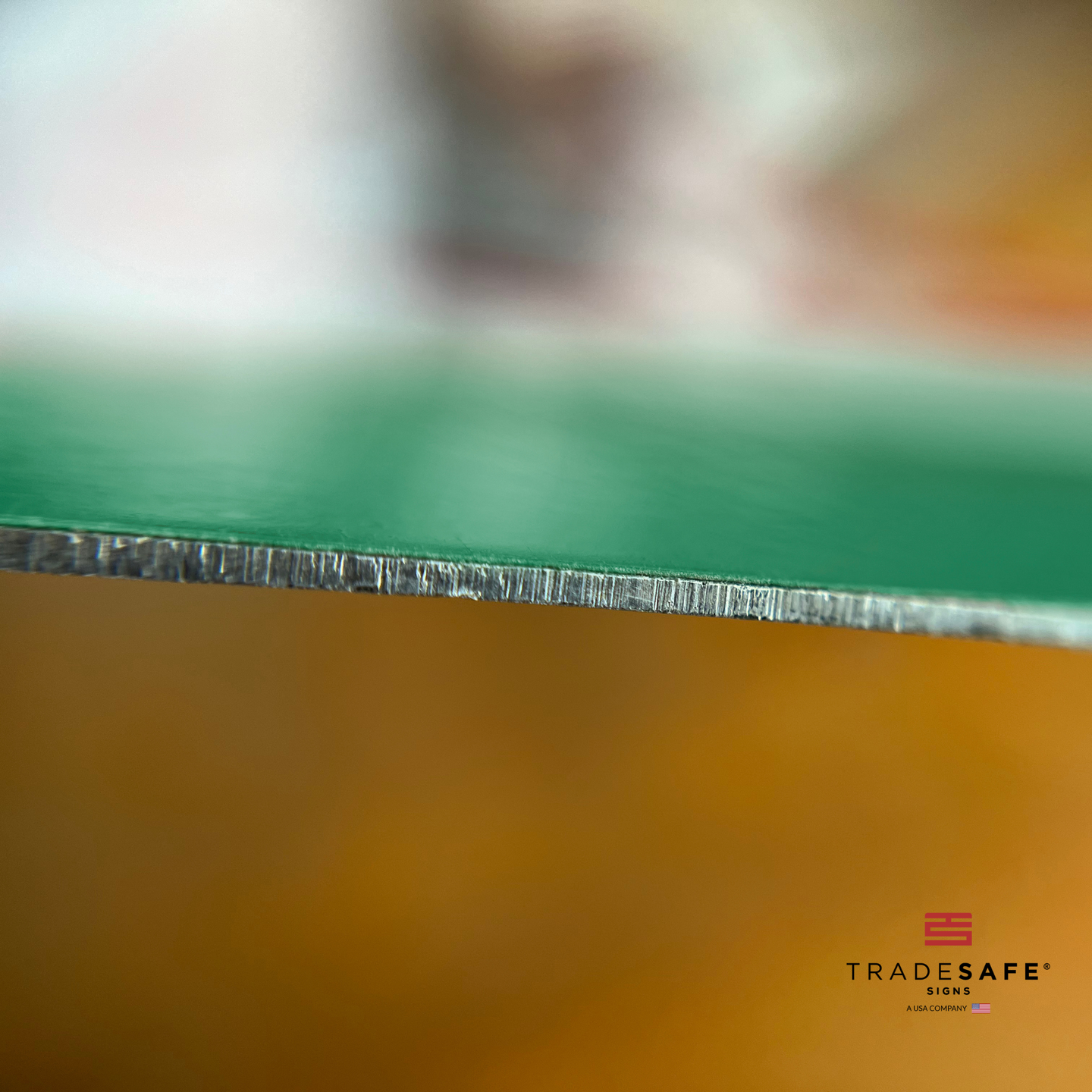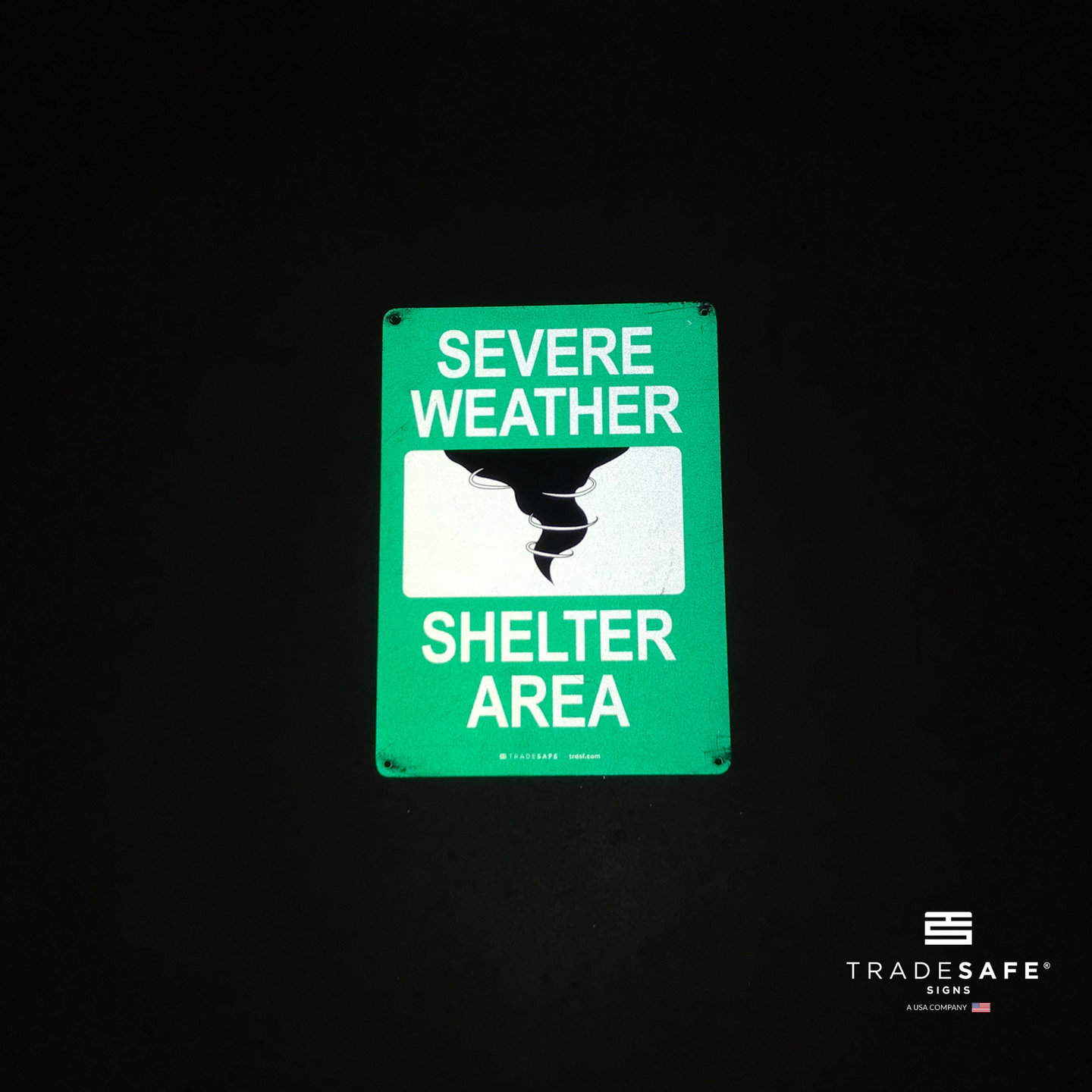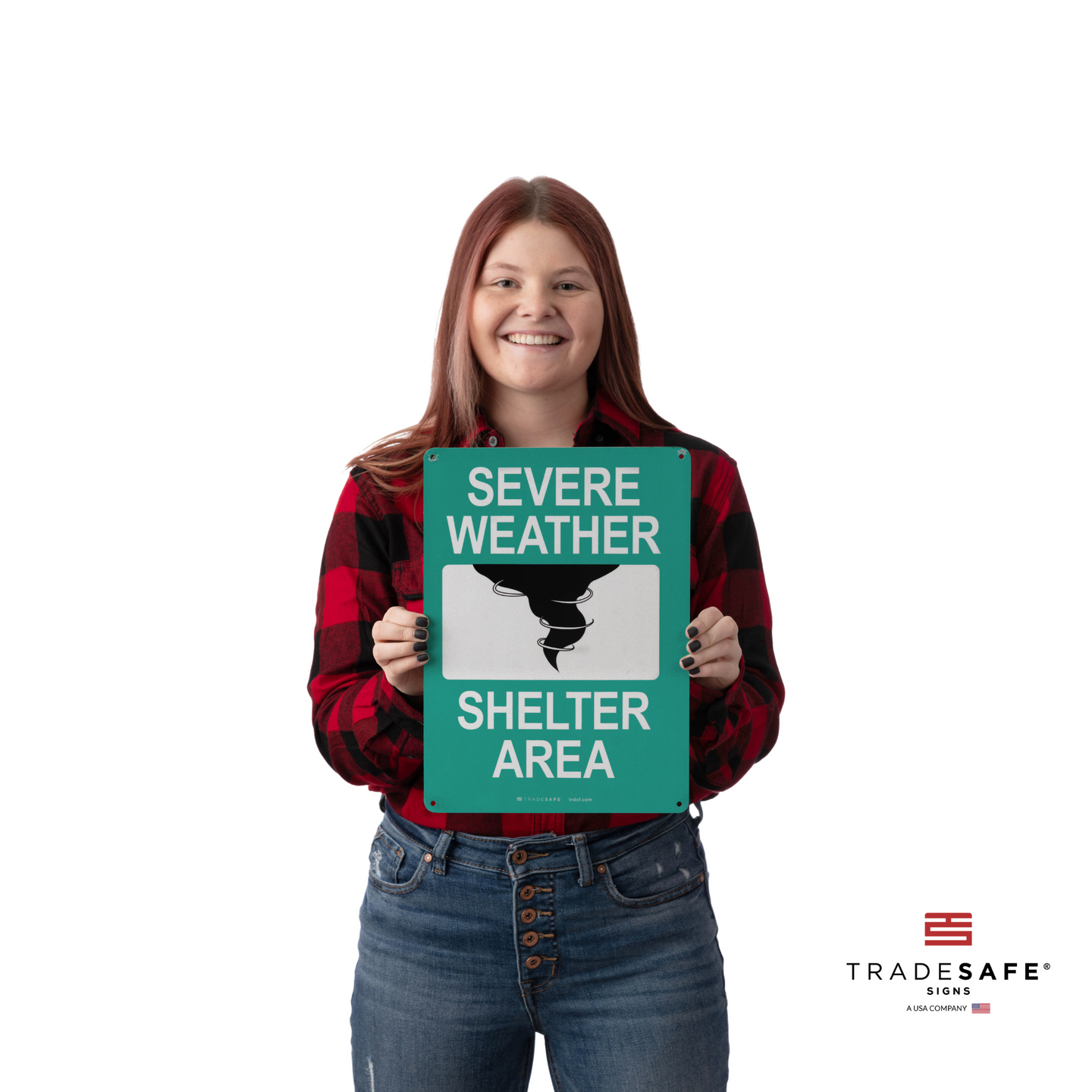 Severe Weather Shelter Area Aluminum Sign
Regular price
$25.00
Sale price
$24.95
Unit price
per
Sale
Sold out
You Save 0% (

$0.05

)
10" x 14", 40-mil thick shelter sign

Informs the location of evacuation shelters

Industrial-grade, ultra-tough material

Vibrant colors and high-quality print

UV, water, and fade-resistant surface
More Details
TRADESAFE's Severe Weather Shelter sign efficiently informs people where they should go for a safe evacuation shelter in case of emergencies, especially during severe weather conditions. With 1/5" pre-drilled holes in each corner, this evacuation sign is easy to mount in places that meet the height and visibility conditions to adhere to OSHA 1910.157(c)(1) standard and other safety regulatory requirements.
Part Number: TSEVSS7

One (1) "Severe Weather Shelter Area" sign in green, black, and white colors with a severe weather icon

Informs employees, visitors, and other personnel of emergency evacuation shelters in the place

Made with industrial-grade aluminum materials

Vivid colors and comprehensive graphics and texts

Highly visible even in low-light conditions with its reflective surface

Precision-engineered to help maintain compliance and workplace safety

TRADESAFE is an American-owned and -based company
Easy to Spot
With vivid green, black and white colors, bold "Severe Weather Shelter Area" words, and a severe weather icon, this evacuation sign is easy to spot. The reflective coating makes it highly visible even in low-light conditions, especially during emergency situations.
Our aluminum shelter signs already come with drilled holes for easy and secure installation.
Enforces Safety
Displaying this severe weather shelter sign will let people know the location of the nearest evacuation shelters in the place. It guides everyone to quickly identify safe shelters, especially during severe weather conditions and emergencies.
Made to Last
Aluminum is a durable, lightweight, and rigid material in itself. Industrial-grade ones are used in industrial settings such as construction sites and factories to withstand daily wear and tear and chemical exposure. Our shelter signs are made with aluminum and are perfect for both indoor and outdoor use because it is rust-resistant, waterproof, and weather-resistant.
OSHA and ANSI Compliance
TRADESAFE Evacuation Signs comply with OSHA Standard 29 CFR 1910.145 (Specifications for accident prevention signs and tags) and meet ANSI Z535 standards. Workplace signs play a vital role in communicating important information about hazards and are thus essential to maintaining workplace safety.
TRADESAFE: A Trusted USA-Based Partner in Industrial Safety
TRADESAFE is a USA-based company well-versed in OSHA regulations

People-centered supplier of safety products

High-quality products made of heavy-duty and durable materials

Constant innovation and continuous adaptation to new standards
TRADESAFE is your partner in safety and we always keep the seriousness of that role in mind. That's why all of our safety products are industrial-grade and meet regulatory standards. They are all ideal for use in various industrial facilities.
We don't want to just be your supplier. We want to be your partner. For this reason, we approach things differently. Each and every day our team works to improve our products and the services we provide to the great people and businesses that put so much faith in us.
TRADESAFE is a USA-based company. This helps us stay up to date on the latest OSHA safety standards and other regulations. We are inspired by the American worker and we are honored to help keep you safe from harm and hazards.