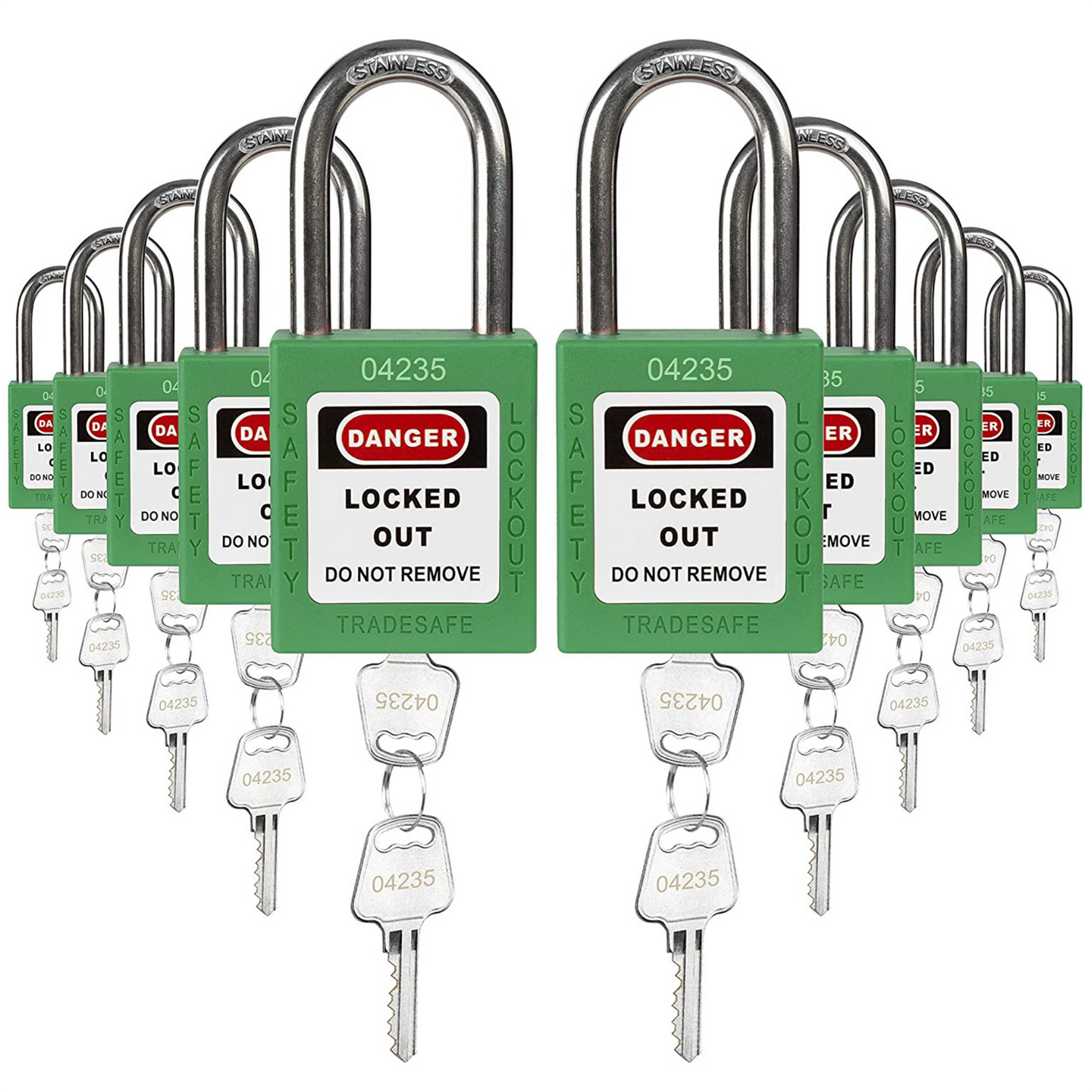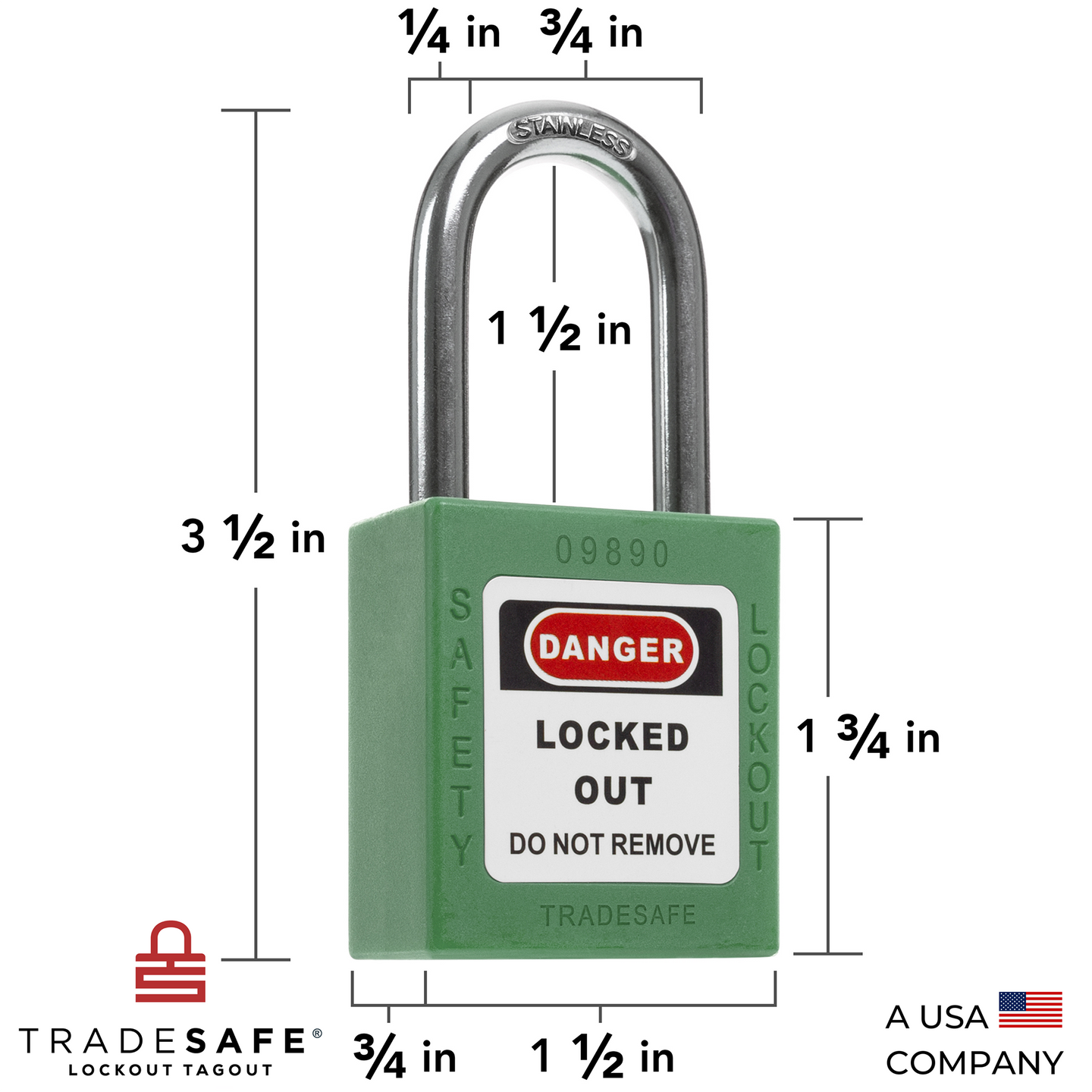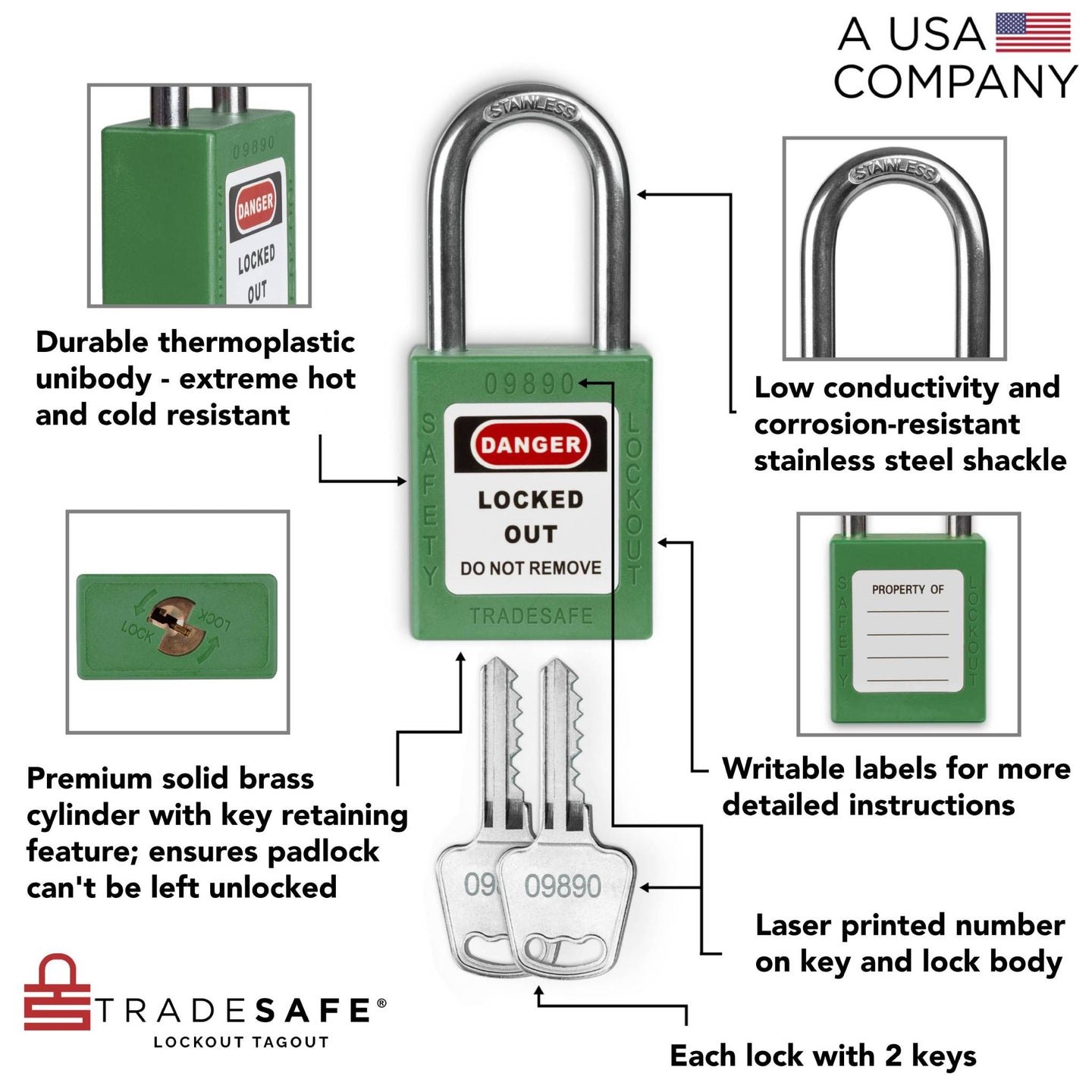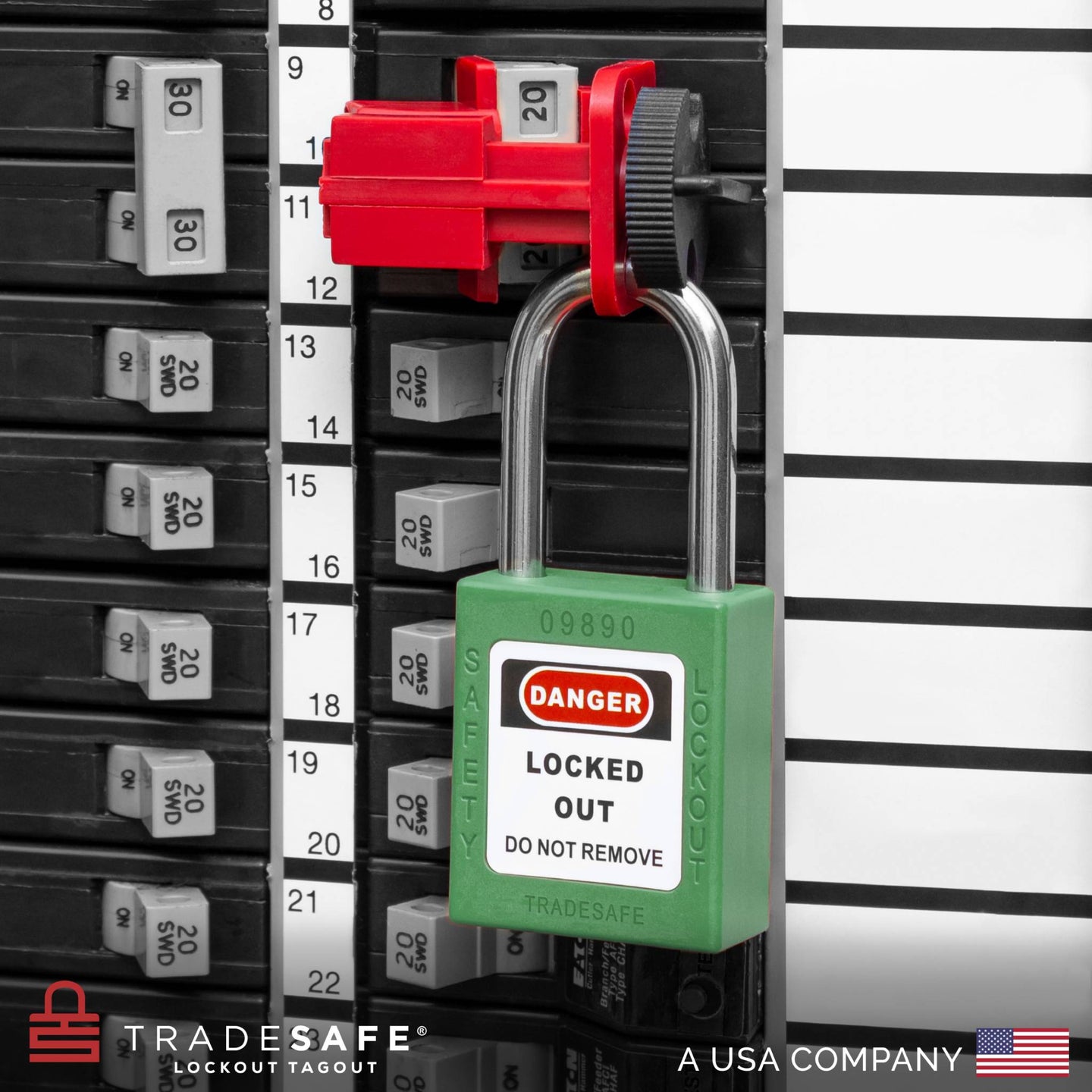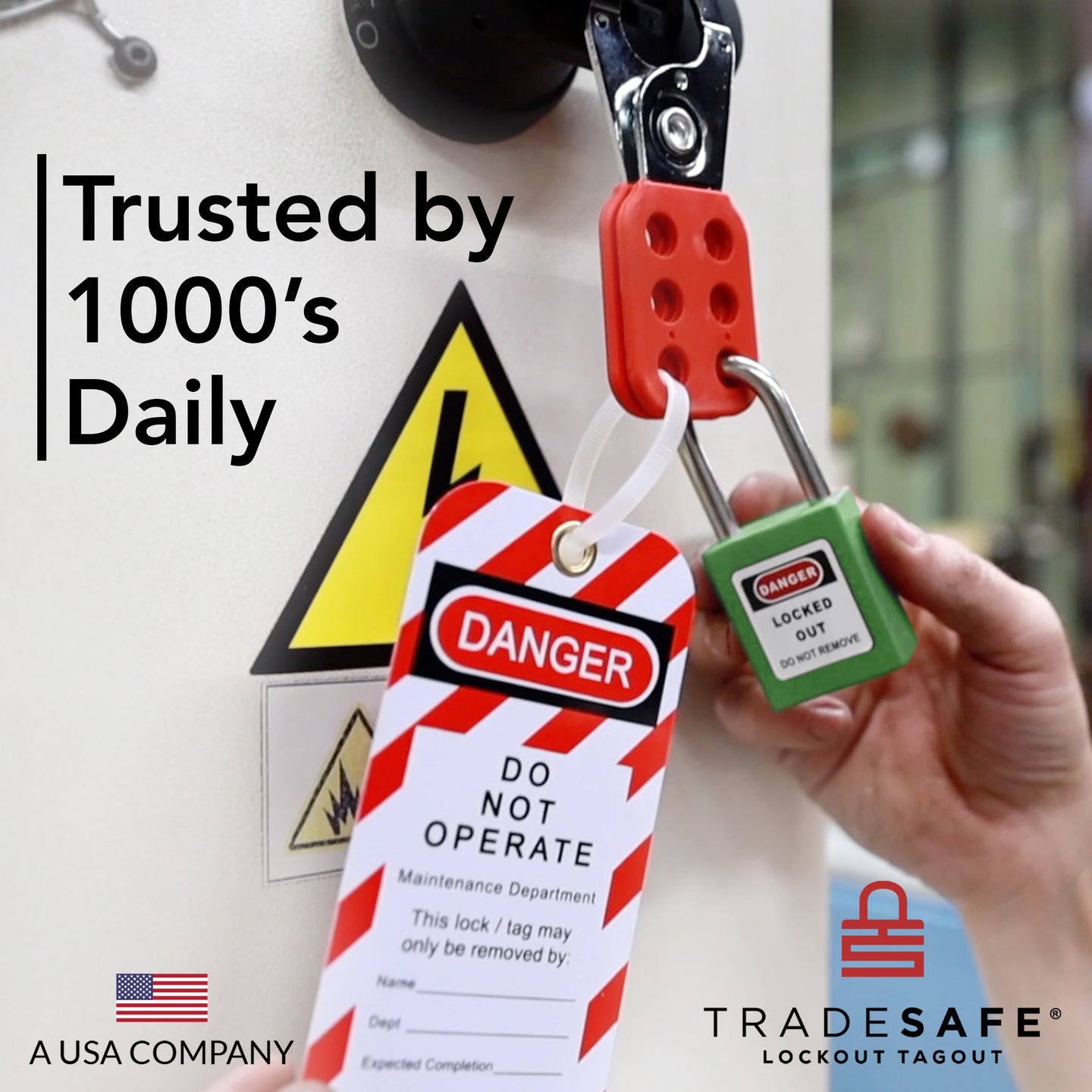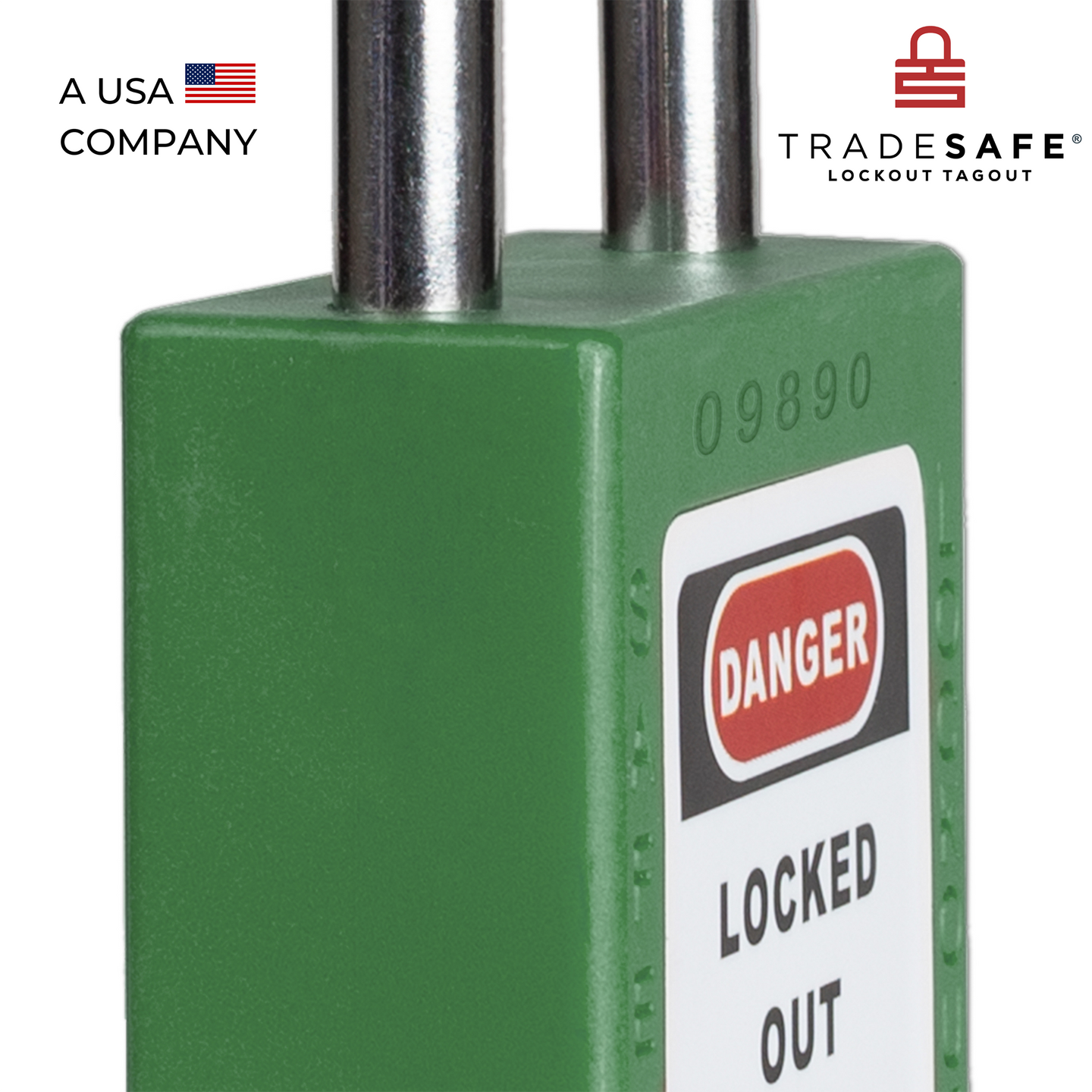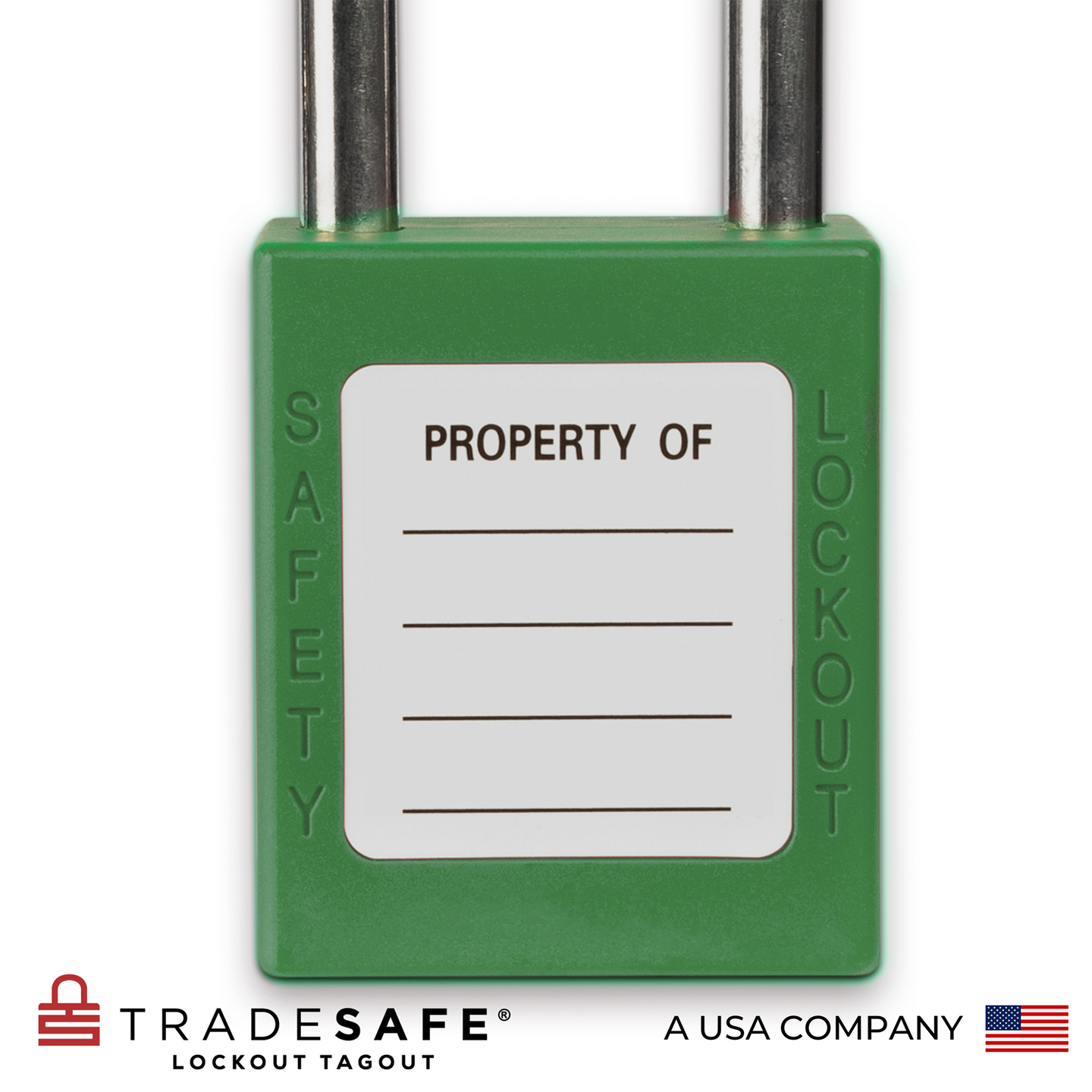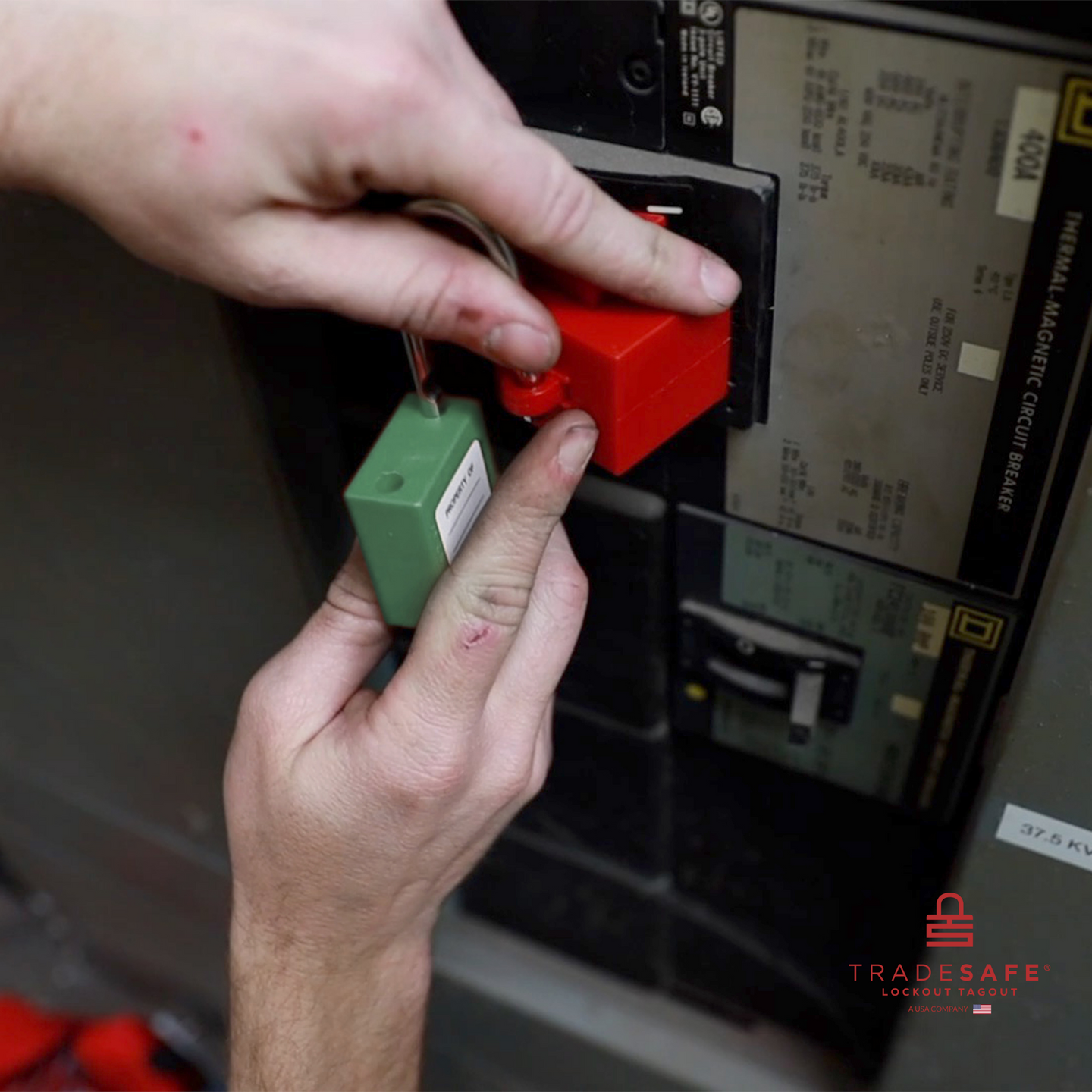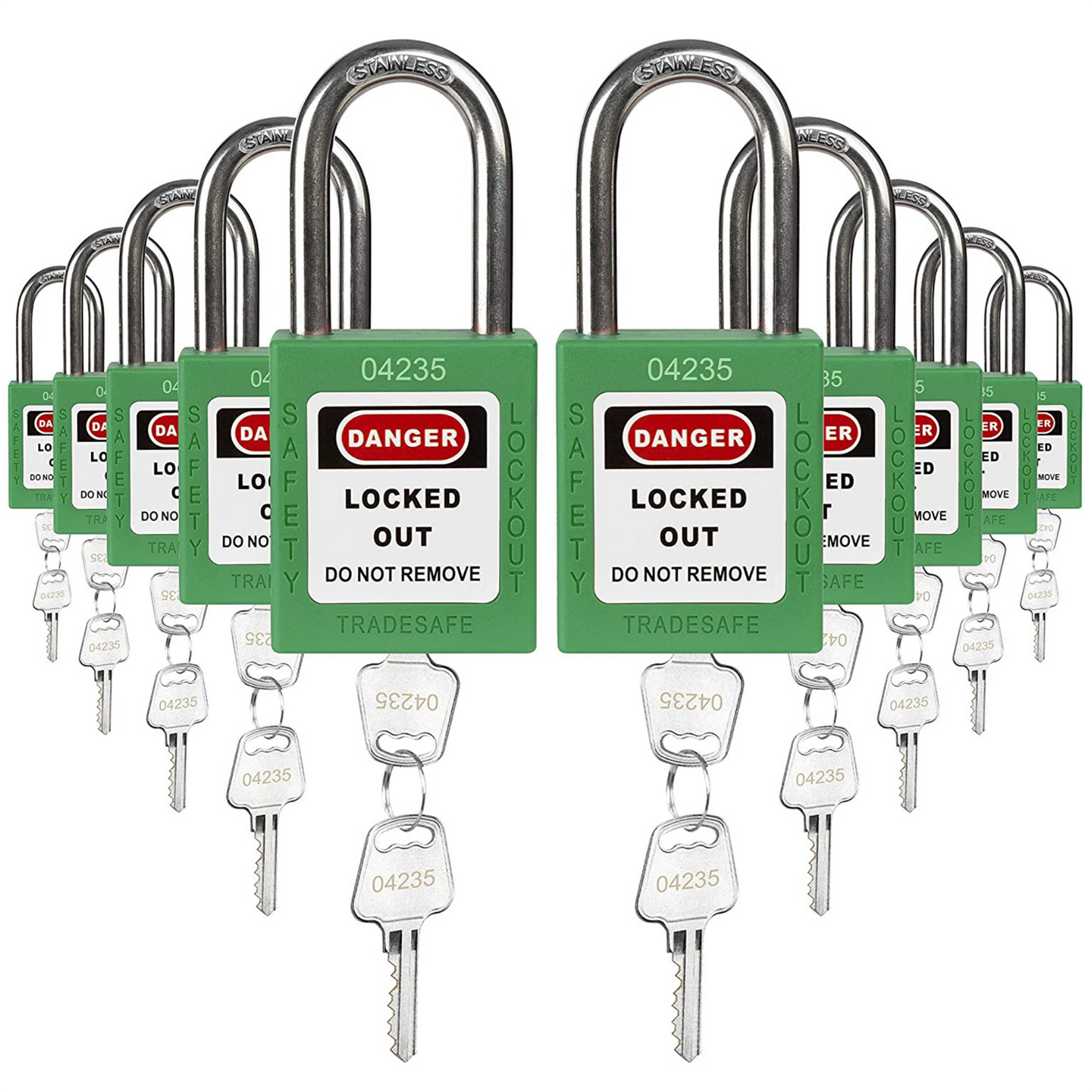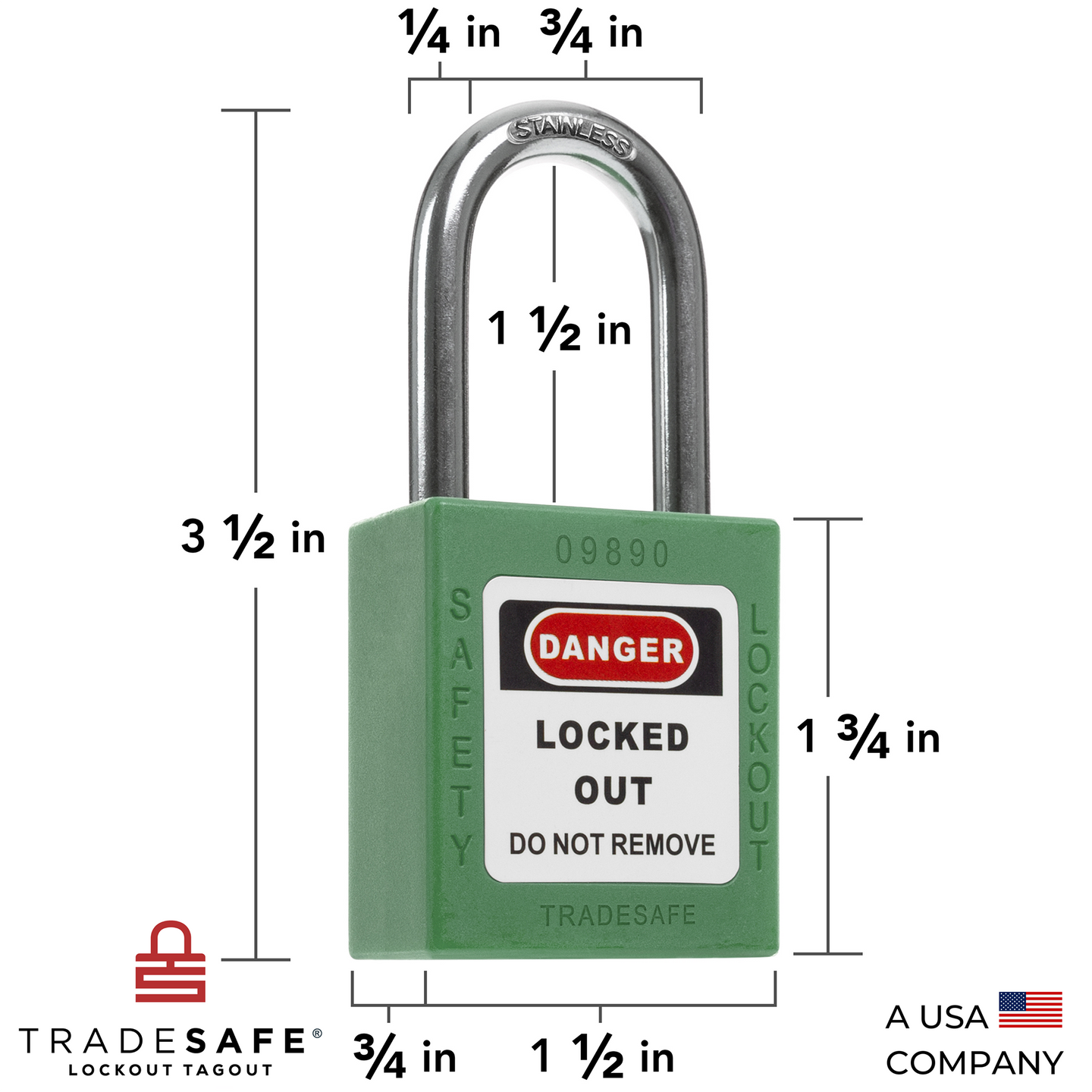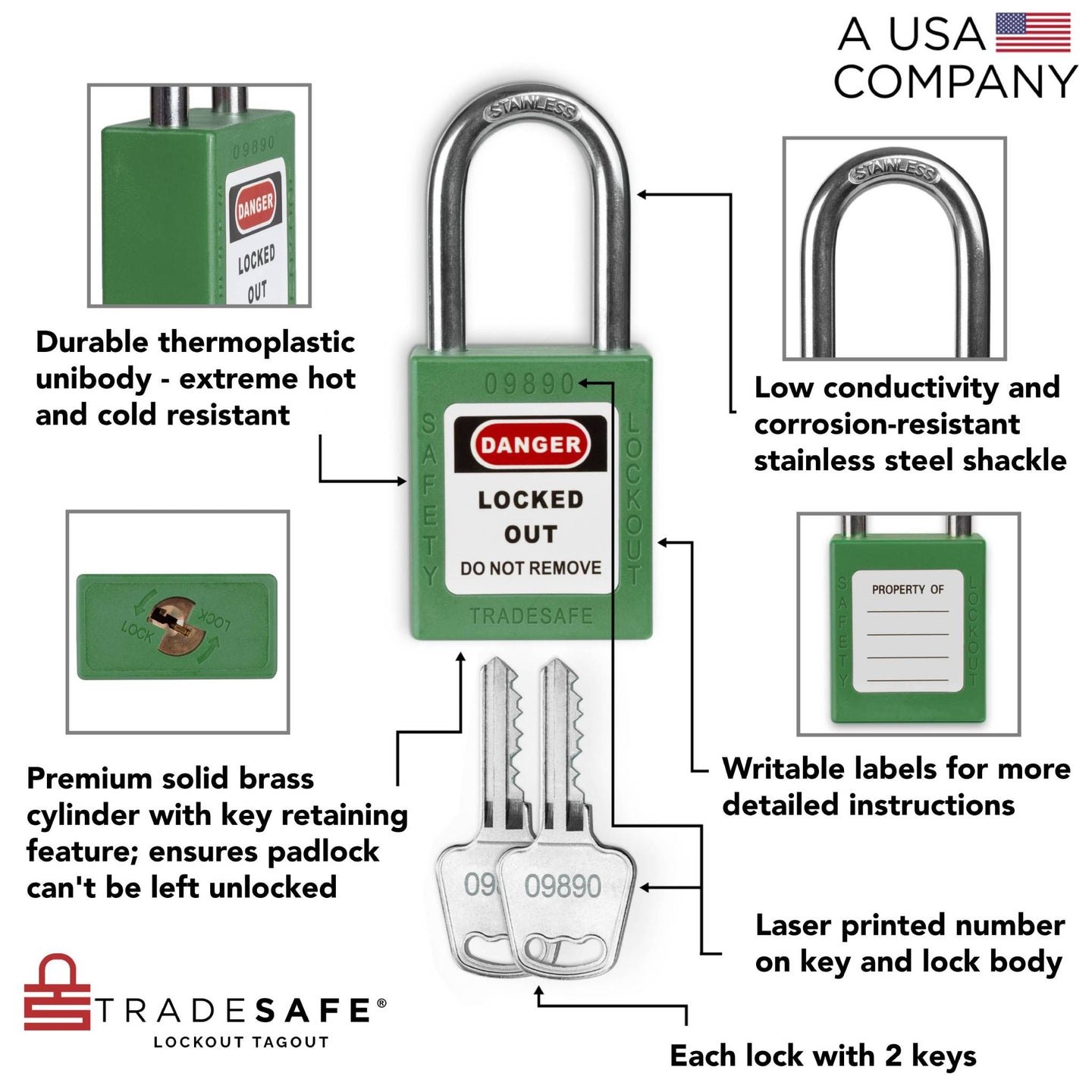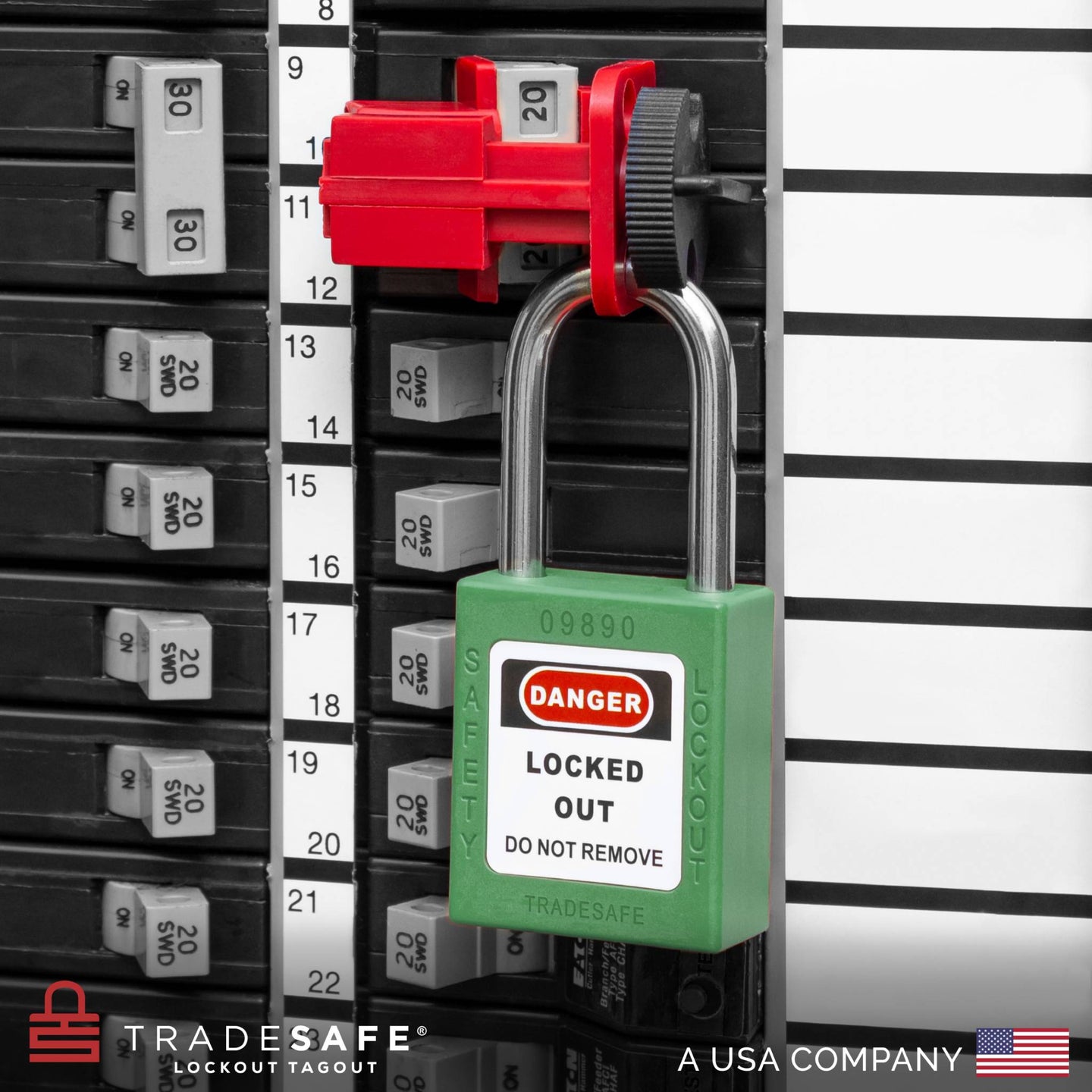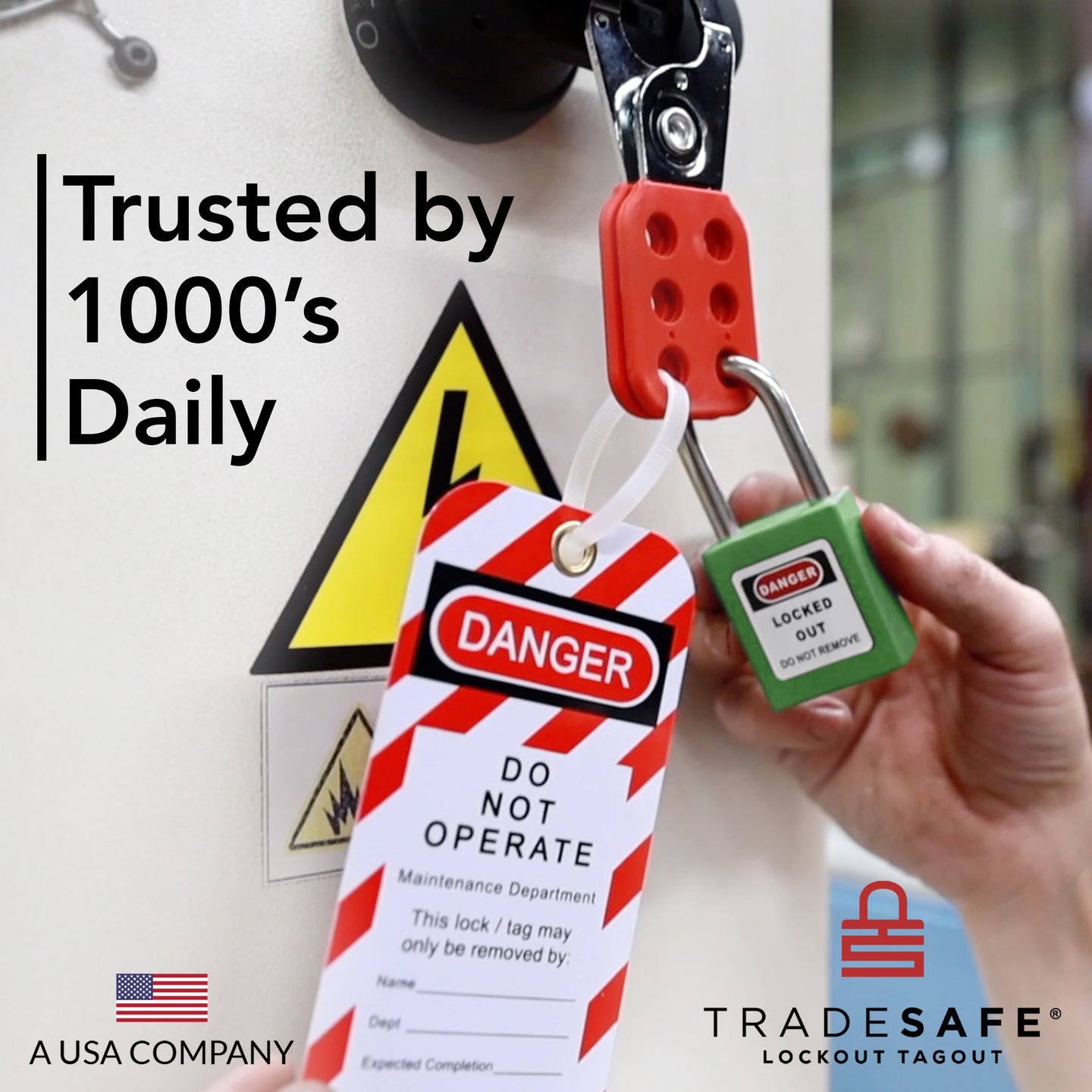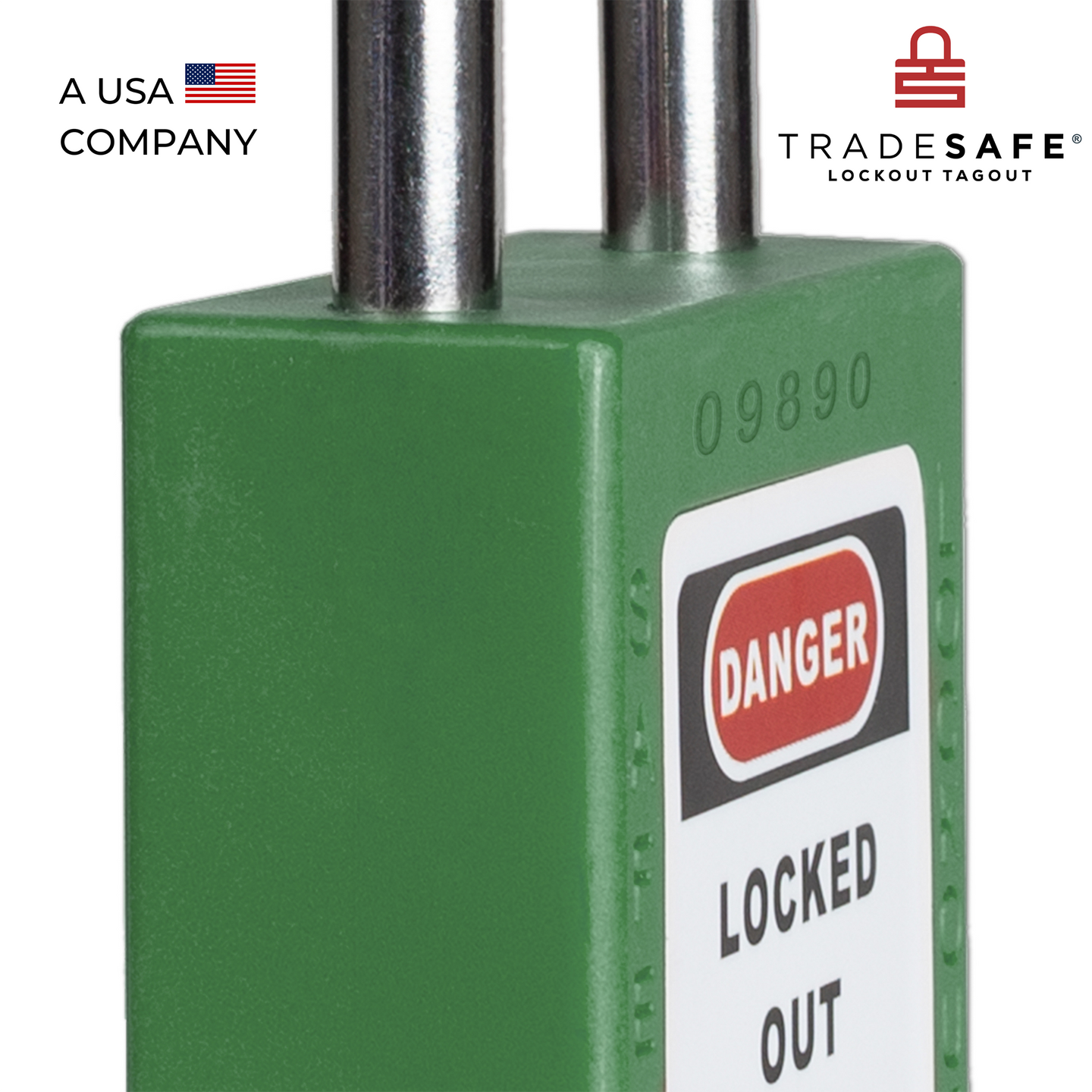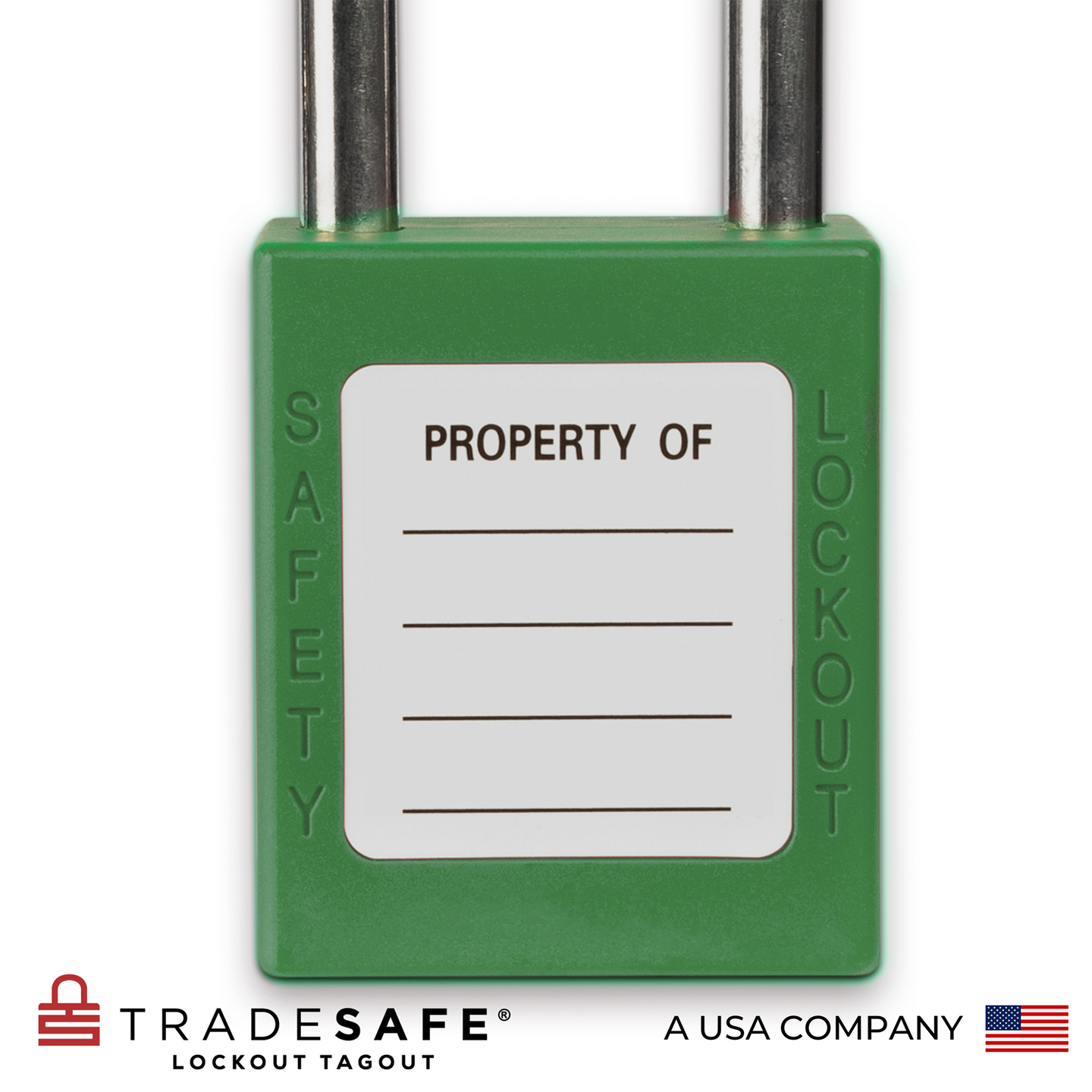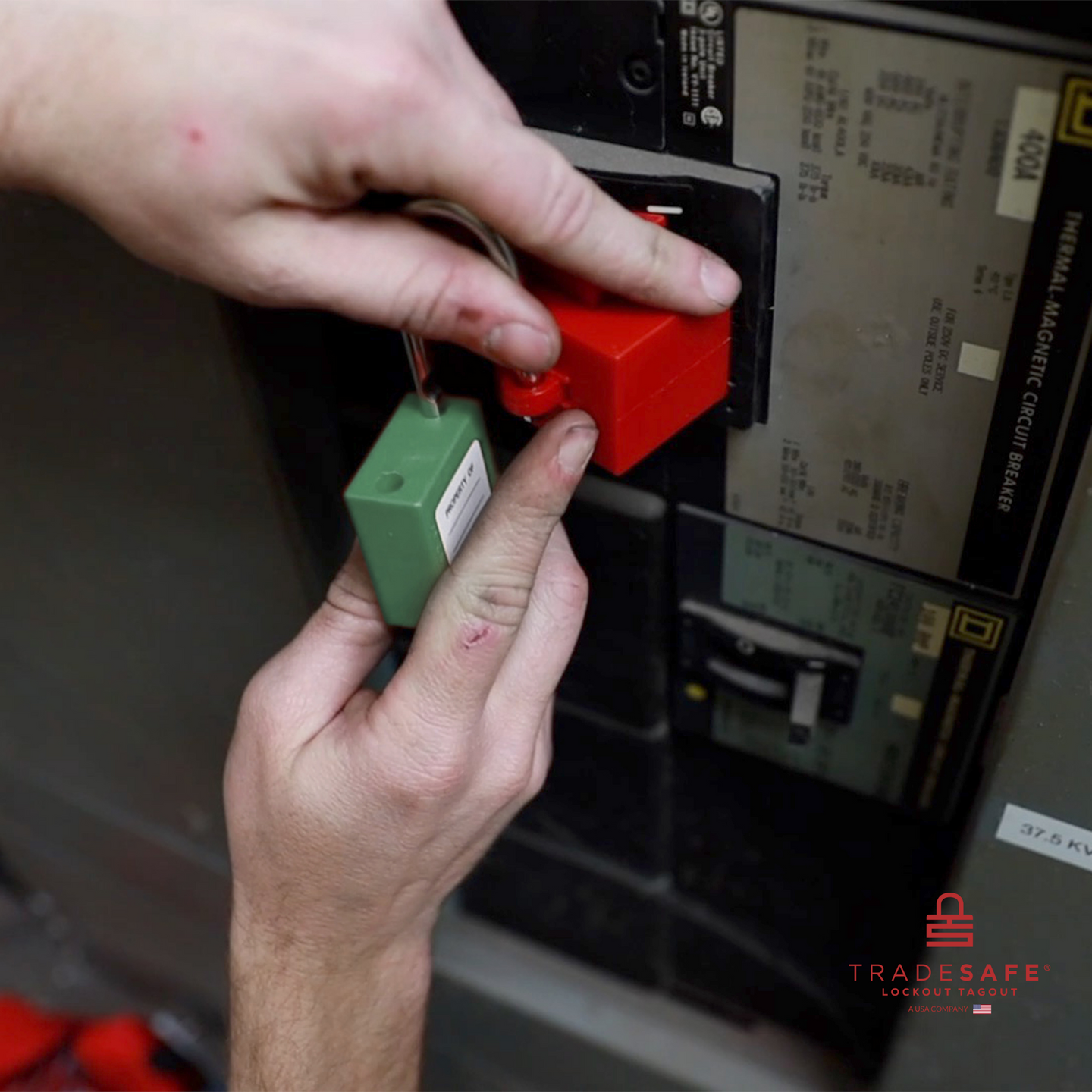 Keyed Alike Lockout Locks - 10 Green Padlocks - 2 Keys Per Lock
Regular price
$159.00
Sale price
$59.95
Unit price
per
Sale
Sold out
You Save 62% (

$99.05

)
Rust and corrosion-resistant stainless steel shackle

Nonconductive thermoplastic unibody

Key-retaining brass core cylinder

Matching numbers on padlock & keys

Each LOTO lock shares the same keys
More Details on Keyed Alike Locks
Introducing TRADESAFE Keyed Alike Lockout Tagout Locks - the superior LOTO device for a secure and reliable lockout/tagout procedure. Each LOTO lock is meticulously engineered with premium quality materials for the ultimate combination of extreme durability, high impact resistance, and low conductivity. Built to withstand adverse industrial settings, these lockout locks can endure the test of time while maintaining unparalleled performance.
Part Number: TSKA10GR
(10) Green Keyed Alike Lockout Tag Out Locks made of heavy-duty, non-conductive nylon unibody, corrosion-resistant stainless steel shackle, key-retaining brass core cylinder; 2 keys per lock
Features an integrated Danger label in front & a smooth label on the back for additional markings
Matching numbers on keys and padlock body; each padlock in the pack has the same numbers
Only every 10 locks share the same keys; additional packs will have different keys
Padlock Dimension (L x W x H): 1-1/2" x 3/4" x 3-1/2"
Lock Body: 1-1/2" x 3/4" x 1-3/4"
Shackle: 1/4" diameter; 1-1/2" length
Developed and tested to comply with OSHA 29 CFR 1910.147 standards
TRADESAFE is an established USA based and owned industry expert and reliable safety partner for LOTO compliance supplies
Keyed Alike vs Keyed Alike Unlimited Lockout Locks

Keyed Alike Locks: Available in packs of 7 or 10, each lock within the pack shares an identical set of keys. This means that any key from this group will unlock any padlock in this specific set. Engraved numbers on the lock body and key ensure accurate key-to-lock matching. All locks and keys from the same pack have the same engraved numbers for identification. A new set of Keyed Alike Padlocks will not have the same keys as the first set.

Keyed Alike Unlimited Locks: Regardless of the number of packs or purchase timing, each padlock can be unlocked using any key from unlimited grouping A pack of the same color. Engraved letters on the lock body and key ensure accurate key-to-lock matching. Each color has a unique set of engraved letters for identification. This means that a new set of Keyed Alike Unlimited locks with the same color will have the same keys as the first set while a different color set will have different keys.

Industrial Grade Keyed Alike Padlocks

What sets TRADESAFE Lockout Tagout Locks apart from other padlocks? These LOTO locks are equipped with solid stainless steel shackles offering superior strength compared with lower-quality steel from other brands. We spare no expense to ensure that our LOTO devices are consistently top-of-the-line. While stainless steel may come at a higher cost, we never hesitate to invest in premium materials to produce only the finest products.

Lockout Lock Designed for Safety

These lockout tag out locks feature a thermoplastic body made from a single injection process that eliminates seams - a quality of a strong and lasting product. This lightweight yet durable nylon material is designed to withstand strong impacts, making it an excellent choice for industrial environments. In compliance with OSHA lockout tagout requirements, each TRADESAFE lock out tag out lock has a "DANGER Locked Out Do Not Remove" label in front and a writable label at the back that aids in identifying the employee who applied the lock.

Our keyed alike locks are available in seven colors: red, purple, green, orange, blue, black, and yellow.

Exceptional Lock Out Padlocks Security

Each TRADESAFE LOTO lock comes with a premium-grade brass core cylinder carefully designed to retain the key until the padlock is fully locked. This innovative mechanism ensures that the key is released only when the shackle has been securely locked. With this dependable feature, our keyed alike padlocks provide an additional layer of security, guaranteeing that no safety padlock will ever be left unlocked.
OSHA-Compliant LOTO Locks

Compliance with the OSHA Standard for The Control of Hazardous Energy (Lockout/Tagout) (29 CFR 1910.147) is vital to the safety of every employee on site. That's why we make sure that all of our products help workplaces remain OSHA-compliant.

TRADESAFE products are made with the requirements for lockout tagout devices in mind. These are the requirements pursuant to OSHA Standard 1910.147:

Durable: Devices must be able to withstand exposure to the environment in which they will be used for as long as necessary.
Standardized: Devices used in a facility must be standardized according to color, shape, or size.
Substantial: Devices must be difficult to remove without the use of excessive force or techniques that are not typically used to remove the devices. They should also be able to prevent accidental removal.
Identifiable: Devices must be able to identify the employee who applied them.
Exclusive for Safety: Devices must not be used for any purpose other than controlling energy.
TRADESAFE: A Trusted USA-Based Partner in Lockout Tagout
TRADESAFE is a USA-based company well-versed in OSHA regulations
People-centered supplier of safety products
High-quality products made of heavy-duty and durable materials
Constant innovation and continuous adaptation to new standards
TRADESAFE is your partner in safety and we always keep the seriousness of that role in mind. That's why all of our lockout tagout products are industrial-grade and meet regulatory standards. They are all ideal for use in the lockout of electrical and many other energy applications.

We don't want to just be your supplier. We want to be your partner. For this reason, we approach things differently. Each and every day our team works to improve our products and the services we provide to the great people and businesses that put so much faith in us.

TRADESAFE is a USA-based company. This helps us stay up to date on the latest OSHA safety standards. We are inspired by the American worker and we are honored to help keep you safe from harm and hazards.