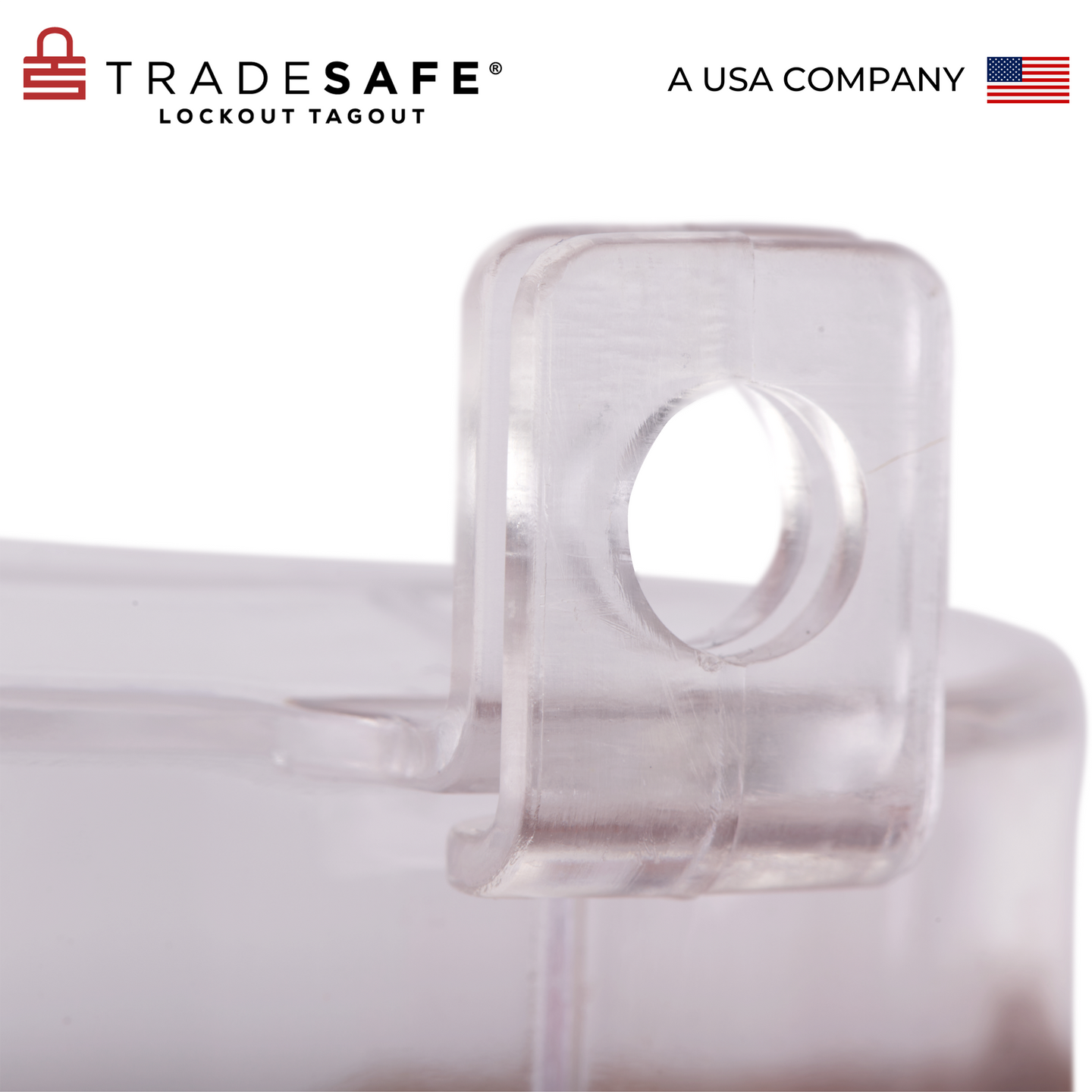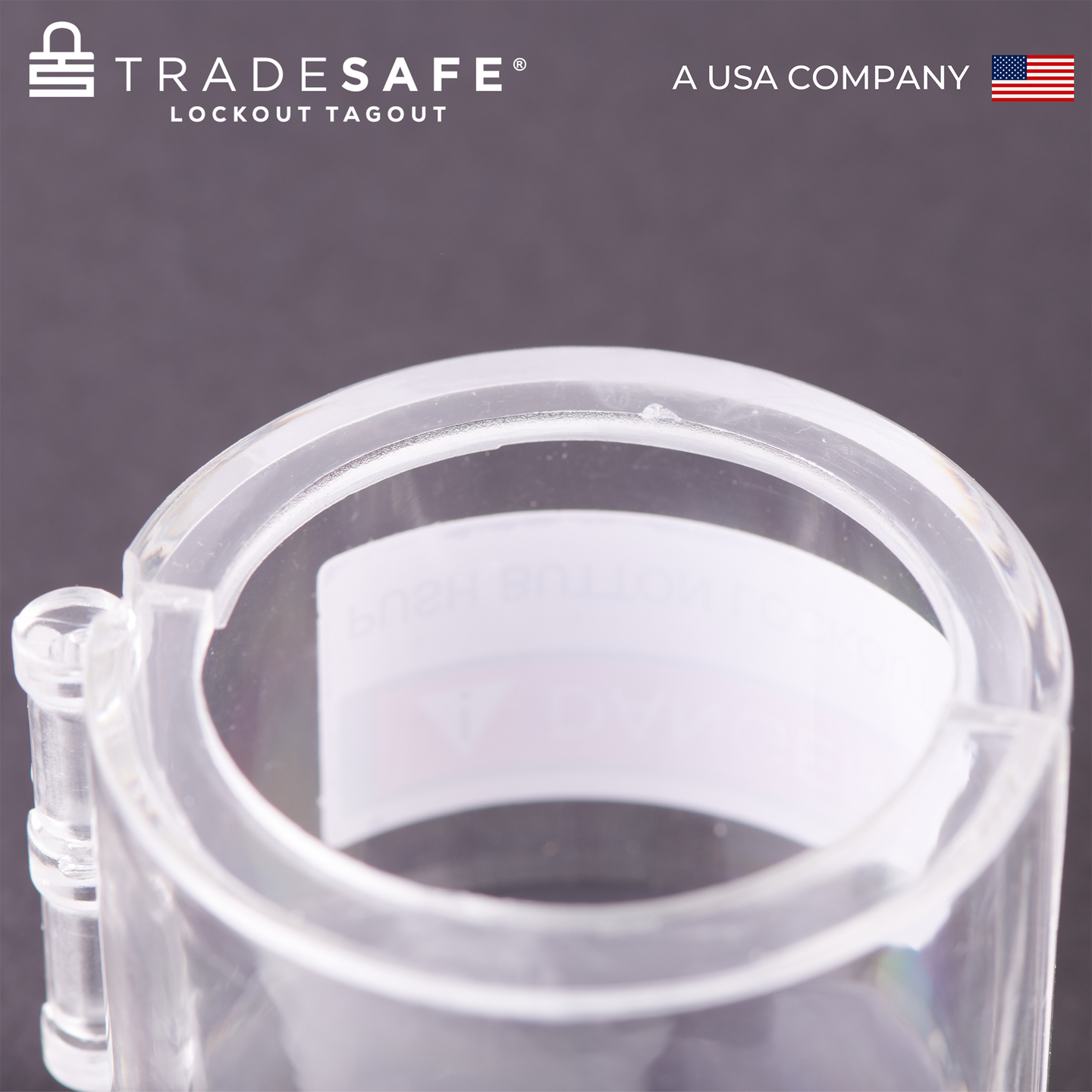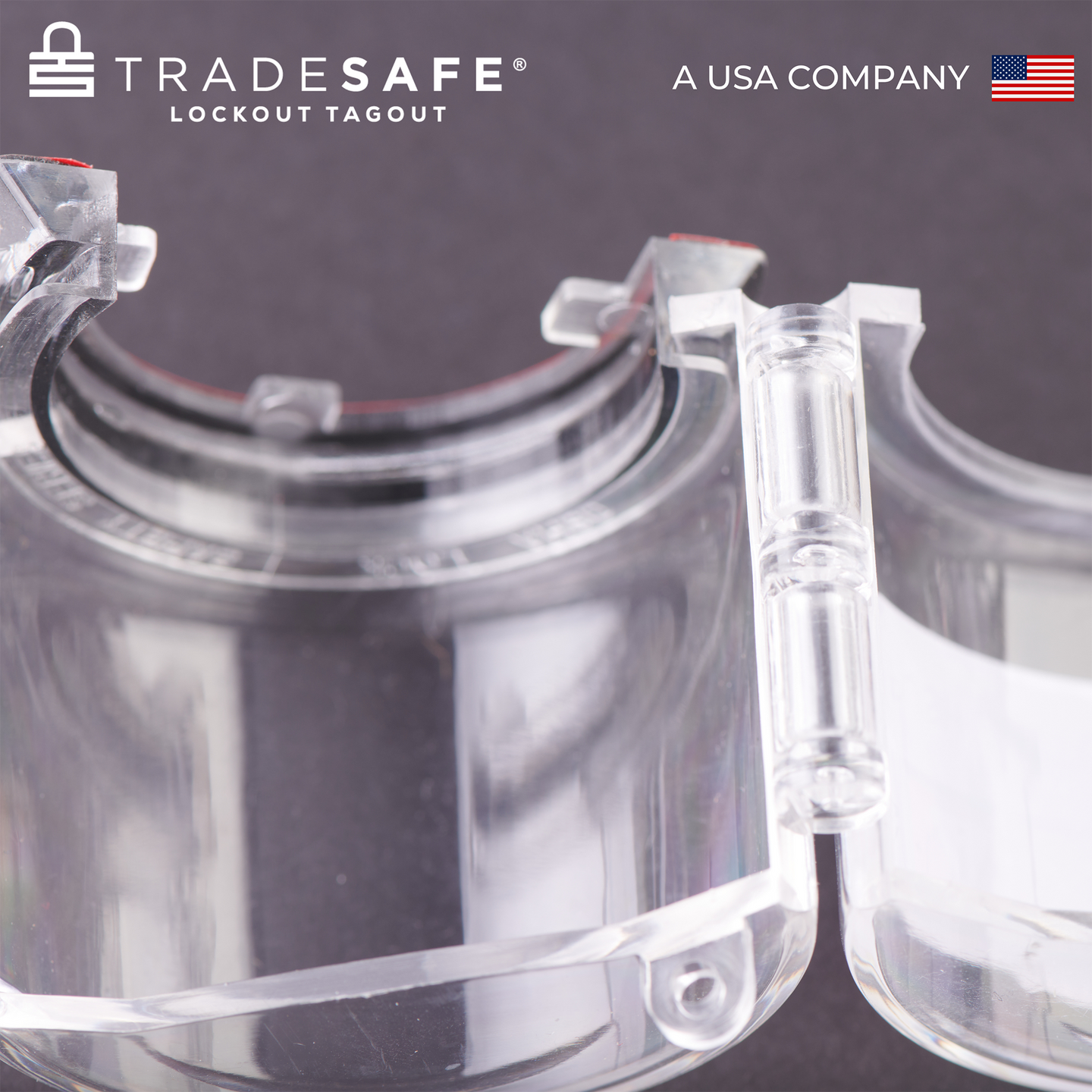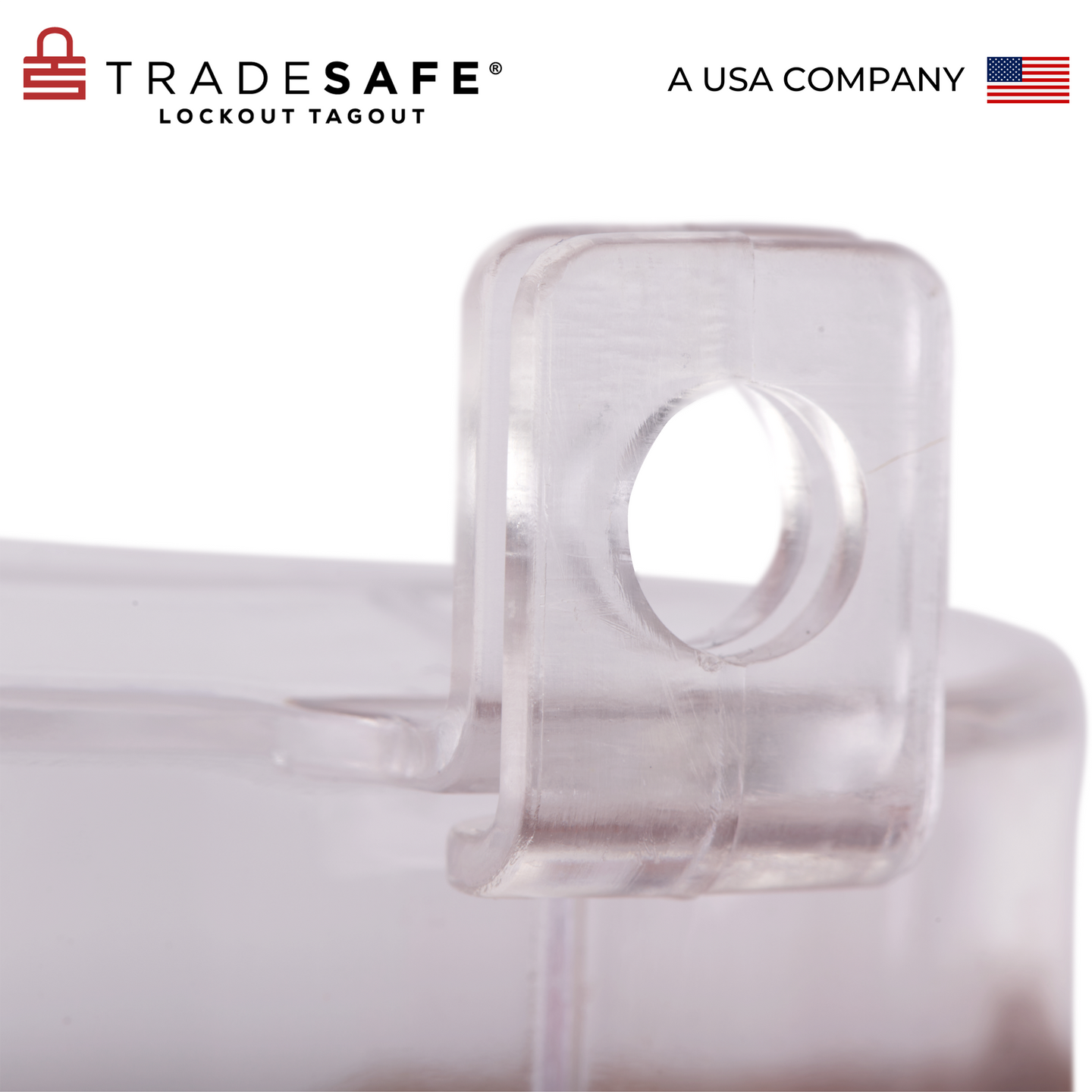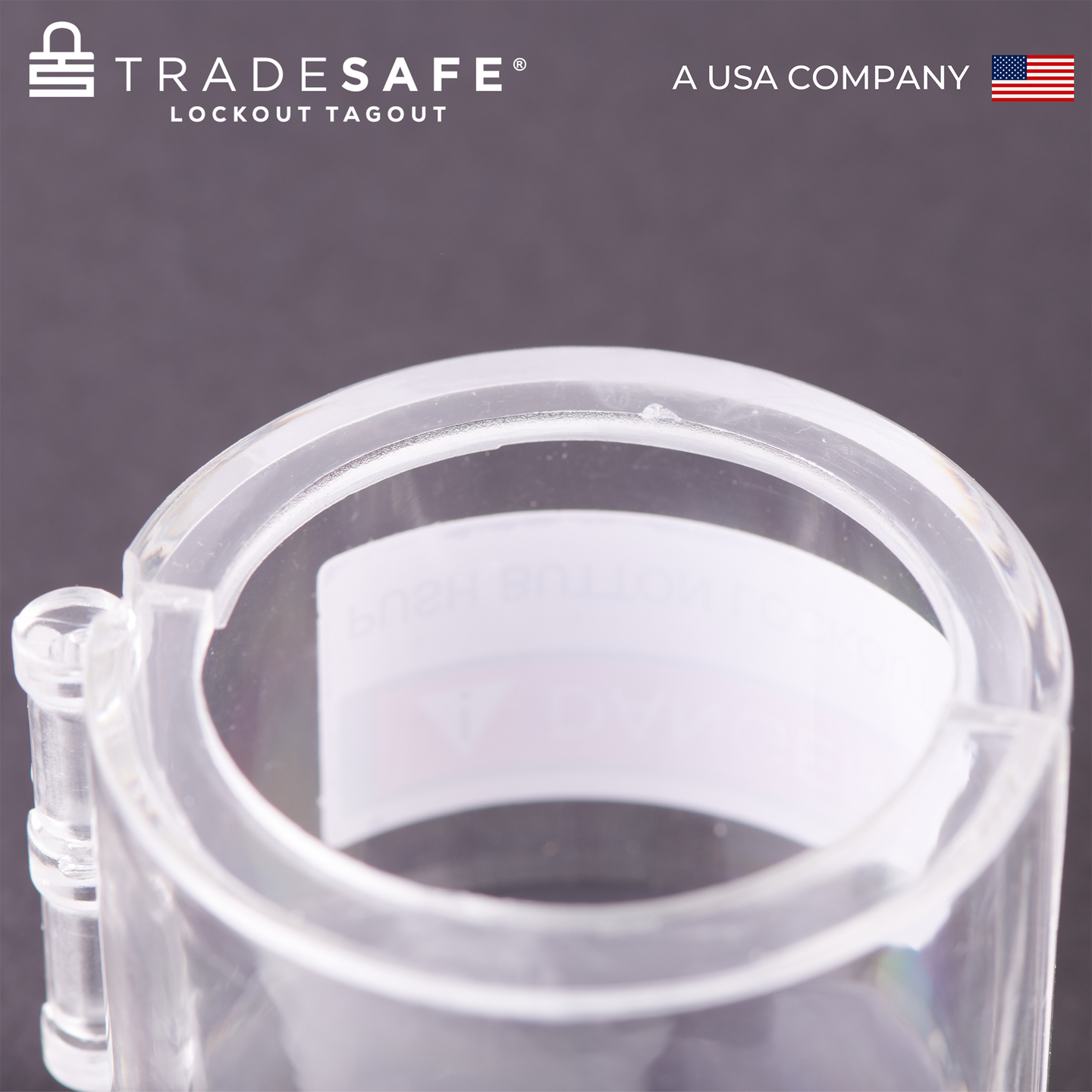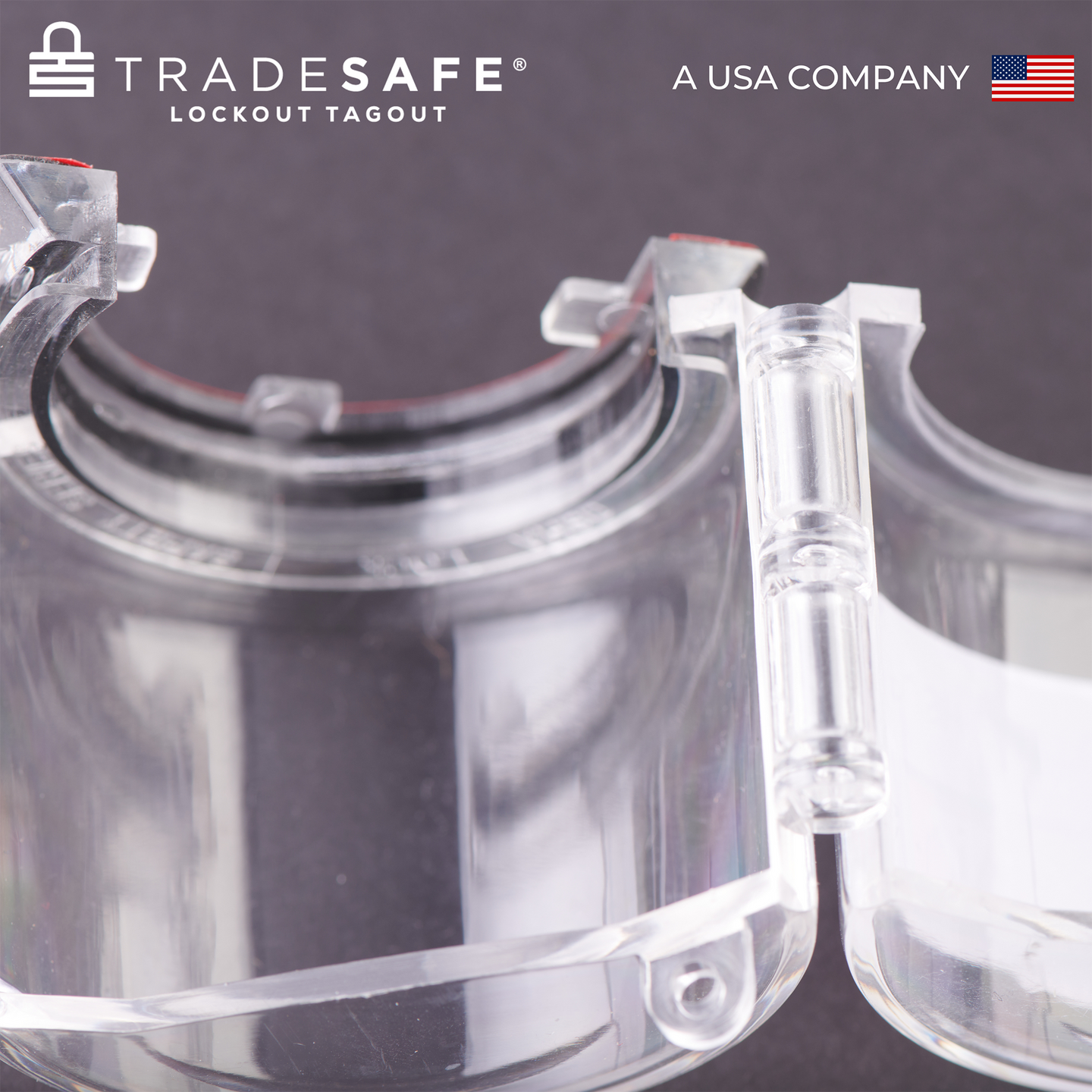 Push Button Lockout - Round - 3-Piece Set
Regular price
$59.00
Sale price
$29.95
Unit price
per
Sale
Sold out
You Save 49% (

$29.05

)
7/8" to 1-1/2" mounting hole diameter

1-11/16" inner height; 2-1/8" inner diameter

Tamper-resistant polycarbonate material

Quick & seamless installation using adhesive tape (included)

Secure with 1 LOTO lock
More Details on Emergency Button Cover Lockout
Introducing TRADESAFE Push Button Switch Cover, a powerhouse in safeguarding push or spiral release emergency stop buttons from unauthorized access. Engineered from premium polycarbonate material, this emergency stop button cover stands as an ultra-durable barrier, deterring tampering and resisting daily wear in the most demanding industrial settings. With its 3-piece feature, this push button cover provides a more versatile lock out solution for a wider range of e-stop buttons compared with standard covers.
Part Number: TSE53; similar industry part numbers: 139795, S2151
(1) Round 3-piece set push button cover lockout device built tough from industrial-grade transparent polycarbonate, suitable for heavy industrial use
Includes a double-faced adhesive tape for resilient grip
Locks out push or spiral-release emergency stop buttons to prevent accidental and unauthorized access
Mounting Hole Diameter: 7/8" to 1-1/2"
Inner Height: 1-11/16"
Inner Diameter: 2-1/8"
Secure using one lockout padlock or lockout hasp with up to 5/16" shackle diameter
Developed and tested to comply with OSHA 29 CFR 1910.147 standards
TRADESAFE is an established USA based and owned industry expert and reliable safety partner for LOTO compliance supplies
Premium Quality Push Button Switch Cover
Constructed from robust polycarbonate resin, this emergency stop push button lockout tagout boasts exceptional impact resistance. Its lightweight and transparent design allows for easy lockout status identification, without sacrificing resilience against tampering. Therefore, once the cover is secured by a lockout tagout lock, it effectively deters unauthorized individuals from accessing the e stop button.
Engineered for Safety Emergency Button Cover
The 3-piece push button cover lockout seamlessly safeguards the push button's normal mechanism. Even upon installing this lockout device, the push button can effortlessly maintain its functionality. Additionally, the package includes adhesive tape for a swift and seamless installation process. Applying the adhesive tape is simple and efficient, providing a secure attachment for the lockout device without the need for complex tools or procedures.
Versatile Push Button Lockout Solution
TRADESAFE Push Button Cover, with its innovative 3-piece design, ensures compatibility across a diverse range of push buttons, from 7/8" to 1-1/2" in diameter. This design not only accommodates standard buttons but also seamlessly locks out intricate spiral release switches and other specialized configurations. Expertly crafted for different industries, this lockout device ensures consistent operational integrity across various applications.
OSHA Compliant Emergency Stop Button Cover
Compliance with the OSHA Standard for The Control of Hazardous Energy (Lockout/Tagout) (29 CFR 1910.147) is vital to the safety of every employee on site. That's why we make sure that all of our products help workplaces remain OSHA-compliant.
TRADESAFE products are made with the requirements for lockout tagout devices in mind. These are the requirements pursuant to OSHA Standard 1910.147:
Durable: Devices must be able to withstand exposure to the environment in which they will be used for as long as necessary.
Standardized: Devices used in a facility must be standardized according to color, shape, or size.
Substantial: Devices must be difficult to remove without the use of excessive force or techniques that are not typically used to remove the devices. They should also be able to prevent accidental removal.
Identifiable: Devices must be able to identify the employee who applied them.
Exclusive for Safety: Devices must not be used for any purpose other than controlling energy.
TRADESAFE: A Trusted USA-Based Partner in Lockout Tagout
TRADESAFE is a USA-based company well-versed in OSHA regulations
People-centered supplier of safety products
High-quality products made of heavy-duty and durable materials
Constant innovation and continuous adaptation to new standards
TRADESAFE is your partner in safety and we always keep the seriousness of that role in mind. That's why all of our lockout tagout products are industrial-grade and meet regulatory standards. They are all ideal for use in the lockout of electrical and many other energy applications.
We don't want to just be your supplier. We want to be your partner. For this reason, we approach things differently. Each and every day our team works to improve our products and the services we provide to the great people and businesses that put so much faith in us.
TRADESAFE is a USA-based company. This helps us stay up to date on the latest OSHA safety standards. We are inspired by the American worker and we are honored to help keep you safe from harm and hazards.